With the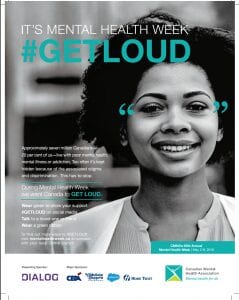 increase in awareness about mental health, people are starting to understand that addiction is a problem that affects many Canadians. According to the Centre of Addiction and Mental Health, one in five people will experience mental illness or addiction at some point in their lives. It's important we continue to address mental health at home, with our family doctors, at our workplaces, and with loved ones.
More companies and healthcare professionals are discovering the benefits of learning how to help and support employees or patients with addiction and substance abuse problems. Corporate and healthcare professionals need to have proper information and resources to make sound decisions regarding support or treatment options. Gone are the days where addiction or substance abuse issues were swept under the rug. With the introduction of Bill C-45, employers have a responsibility to address substance abuse in the workplace.
As the end of Mental Health Week in Canada approaches, it's a clear reminder that the conversation about addiction and mental health must continue. Employers and healthcare professionals now have more opportunities and information to educate and support people who need help. The Bellwood Education Seminar is one of those key opportunities that offers employers and healthcare professionals "a first-hand view of the inner workings of an accredited addiction treatment centre."
We spoke to Julie Bowles, Manager of Business Development at Bellwood Health Services, to discuss why companies and healthcare professionals should consider attending Bellwood's Education Seminar. "At some point in their careers, most healthcare and corporate professionals will deal with employees and patients struggling with addiction issues.  In many cases, their understanding and knowledge of how to manage and refer the individual may be limited.  Understanding the levels and types of treatment available, as well as resources, is a critical part of a successful support plan.  Professionals who attend a Bellwood Education Seminar not only learn about Bellwood and our programs, they participate in a valuable learning experience about addiction, treatment, and how they can support their employee or patient."
Some of the seminar's learning outcomes as stated on Bellwood's website are:
Understanding addiction and the recovery process.
The role of the family in treatment and the importance of family support programs.
How employers can support an employee's recovery from addiction.
The importance of proper nutrition and healthy eating patterns in addiction treatment and recovery.
Bellwood's treatment model which includes assessment, treatment, continuing care and relapse prevention.
Various treatment options, approaches and success rates.
In addition, attendees can experience a Bellwood alumni testimonial, meet Bellwood's multi-disciplinary team, tour the facility, and enjoy a complimentary continental breakfast and lunch.
Often, attendees who visit Bellwood for the first time state that they've heard about Bellwood but have never actually visited a treatment centre. Julie Bowles shares, "Attendees are grateful for the opportunity to visit Bellwood, meet staff, and see how an addiction treatment centre operates.  Having participated in the seminar, they say that they can confidently describe and recommend Bellwood's program to individuals and families needing help."
According to the Canadian Mental Health Association in Ontario, "employees who have battled these issues say that having a supportive manager say, 'We need your skills, we need you here, so tell me what you need from us', can make a big difference. Employers can help employees build their self-esteem, confidence and loyalty to the organization when they make employees feel valuable and valued."[1]
Healthcare professionals can play a vital role in early intervention with patients. Physicians, nurses or psychologists can shed light on a problem to individuals who may be in denial of how serious their drinking, drug use, or eating disorder really is. Having professional care by trained and certified professionals is key in addiction recovery.
If you'd like to learn more about the next Bellwood Education Seminar or to book a group visit for your organization, please call Julie Bowles at 416-495-0926 or visit Bellwood.ca. Bellwood's goal is to help your patients and employees enjoy healthy and productive addiction-free lives.
[1] Substance Use, Misuse and Abuse at Work. Canadian Mental Health Association Ontario. (February 2016) Retrieved from: https://wmhp.cmhaontario.ca/workplace-mental-health-core-concepts-issues/issues-in-the-workplace-that-affect-employee-mental-health/substance-use-misuse-and-abuse-at-work