Do therapy dogs have a place in addiction treatment? According to a 2015 research initiative by three Canadian universities (University of Regina, University of Saskatchewan, McMaster University) therapy dogs can help people with addiction and mental illness. The study had therapy dogs visit patients at various addictions and mental health treatment centres for six months.
The study found that therapy dogs can help people with mental health, addiction, and trauma concerns. According to this study, "in 2014, the Substance Abuse and Mental Health Services Administration (SAMHSA)  identified six evidence- based principles for service providers to address the consequences of trauma in the individual and to facilitate healing." These principles focus on supporting recovery, resilience, emotional regulation and relational connection.
It was discovered at the end of the study that the dog's instincts and "effortless interactions" with participants were in accord with those principles. These principles are:
Safety
Trustworthiness and transparency
Peer Support and mutual self-help
Collaboration and mutuality
Empowerment, voice and choice
Cultural, historical and gender issues
One of the researchers from the University of Regina states that dogs can help patients focus and feel more comfortable to open up during counselling sessions. The interaction with man's best friend "initiates the release of the hormone oxytocin in humans, which makes us feel good." Edgewood Health Network last year introduced a therapy dog at each of our addiction treatment centres.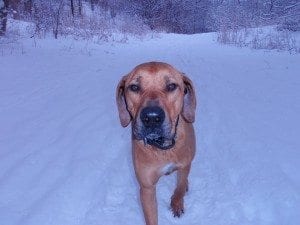 Findlay, a beautiful Rhodesian Ridgeback trained therapy dog, owned by Cara Heitmann- therapist at Bellwood Health Services introduced him to Bellwood's inpatient community last December and so far the feedback has been positive. Cara says that clients and staff love having Findlay at Bellwood. "Clients comment on how much they love him, how it brightens their day to see him, and how it helps clients who are missing their pets while they are here."
Cara believes having a therapy dog like Findlay provides many benefits for clients and clinical staff during therapy sessions and for overall mental health. "Findlay attends group therapy and individual therapy sessions with me because with his mere presence he can calm the room. As for staff, we have a job that can be highly stressful and I have heard many staff members share that seeing Findlay's face brightens their day and their interaction with him is very soothing."
Cara remembers a time where Findlay helped a new client entering treatment feel welcomed, "Introducing Findlay certainly has made a difference. An example that immediately springs to mind is a first day client who came to group late due to an orientation of sorts, knocked on the door before entering and was immediately greeted by a smiling face with a wagging tail. I can't imagine that didn't ease some discomfort! I have had many, many clients share how Fin has helped them while in treatment and they are shocked that anyone would not just automatically know that. It's a no brainer."
According to the Executive Director of National Service Dogs (NSD) in Canada, they've received a ton of praise from their clients about the benefits of using service dogs in the treatment of PTSD. Last year, Wounded Warriors Canada donated $50,000 to help fund more certification of service dogs for Canadian Forces members, Veterans and First Responders with Post Traumatic Stress Disorder (PTSD) in BC and Alberta.
In addition, NSD believes animals can lower anxiety, reduce the cost of medication, provide comfort and security for a client and their loved ones. Cara believes therapy dogs work because the connection is different than that with other humans, "It's less threatening and highly comforting. A dog's instinct to sense when a person is struggling or having a difficult moment and seeing how they are comforted has no words."
Colleen Dell one of the researchers that was part of the study last year was amazed to see how consistent the outcomes were from all the centres they had considered. It didn't matter if they were youth, seniors or groups of people. In their study, therapy dogs had a positive impact on each person's "healing journey in a multitude of ways, from providing comfort through to increasing therapeutic alliances with service providers."
Chalmers, research from the University of Regina believes there are still other animals that need to be studied, such as horses to better understand the benefits of service animals. The three universities released their study's findings during Addictions Awareness Week last year on purpose, "The theme of Addictions Awareness Week this year is 'Addiction Matters.' And it is precisely for this reason that our team has stepped outside the box, so to speak, to research an intervention that can potentially support long-term recovery."
As more research is conducted and more testimonies are accrued, it seems therapy dogs can play a role in helping clients who are in rehab by providing comfort, security and non- judgmental love.  Cara shares, "I am honoured to have Findley work for a number of years. Every time I see that interaction it warms my heart, puts a smile on my face, and makes me proud to be his mom." At Bellwood it seems Findlay's natural instincts and interactions continues to have a positive effect on our clients and team.
In our next issue of the Phoenix magazine we discuss in further detail EHN's valuable experience introducing therapy dogs at our treatment centres. To subscribe to our magazine, please click here.
Want to learn more about our addiction treatment programs and what they include email us or give us a call at 1-800-387-6198.
Sources:
Colleen Anne Dell, Nancy Poole, (2015). Taking a PAWS to Reflect on How the Work of a Therapy Dog Supports a Trauma-Informed Approach to Prisoner Health. Journal of Forensic Nursing, Volume 11, Issue 3.