Meet Russell Purdy, the one-time NHL-hopeful turned Executive Director of EHN Canada's Recovery Ranch in Fort Steele, B.C.
It has been a whirlwind summer for Russell Purdy. He got married, moved to a new province, and took on a new job.
Purdy is the new Executive Director of the EHN Canada's newest facility, Recovery Ranch. An addiction and mental health treatment centre unlike any other, it is located on over 600 acres of stunning East Kootenay property in Fort Steele, British Columbia.
"It is breathtaking," Purdy says. "Every drive that I have had into work so far, just looking at the mountains, everything around you, then standing on the site … I mean it is not uncommon for the staff to just see me standing there looking off in the distance. This can't be real," he says, with a smile.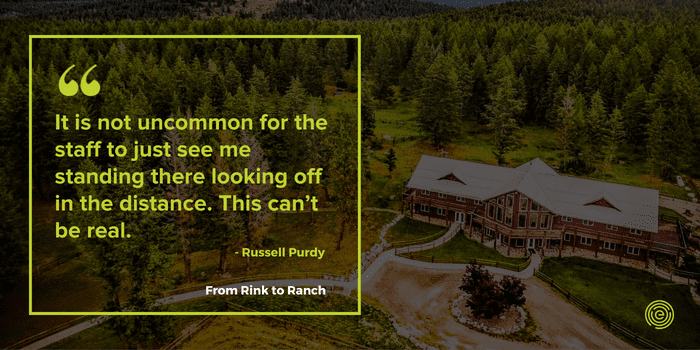 EHN Canada is the nation's largest network of industry-leading mental health, trauma, and addiction treatment facilities. With over 100 years of collective experience, its inpatient, outpatient, and online programs provide essential compassionate care to patients wherever they are in locations from the Annapolis Valley of Nova Scotia to big cities of Montreal, Toronto, Calgary.
With a lengthy background in resource and business management, Purdy is on a steep learning curve. But one thing is certain – he is in his element. Purdy himself is in long term recovery. He has been abstinent of substances for over five years now. Recovery is not something he is casual about.
He has a sobriety date, going back to his entrance into treatment on Jan 3, 2017. He has a sponsor, a home group, attends several meetings a week in person and online. He knows from where he comes.
He aspired to be an NHL defenceman and climbed the ladder of junior hockey until a knee injury shut down that dream. So dialed in on making the big leagues, he didn't even drink until 17. By the time he shut it down 13 years later, he had been through the wringer, progressing or spiraling through the tell-tale signs of substance use disorders – from beer to hard alcohol, from pills and powders to crack.
"My drinking the first few years, I wouldn't have called it problematic, the frequency of it, but the way that I drank was problematic. I was the guy drinking until I was blacking out, puking, disappearing, being found in bushes. Things like that," he says. "I just thought that was boys being boys and that is how everybody drinks. I've since come to find out, as I got into recovery and got some time under my belt, while having conversations with old friends and teammates, they were like, no, you drank on a different level than the rest of us."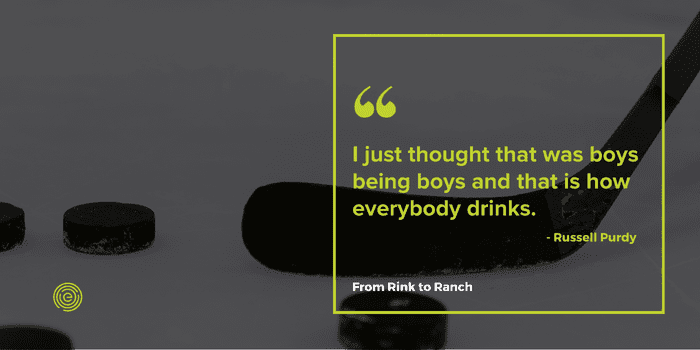 At Grant MacEwan College, he was chasing his Bachelor of Arts, with a major of sociology and a minor in business when he decided to follow in his father's footsteps into the auto industry.
"Yeah, I started out from the very bottom as a grease monkey, worked my way into a service advisory role, then dispatcher in the shop, then assistant service manager, then service manager, and ended up doing what they call fixed operations, parts and services – numbers and people," he says.
He had the gift of the gab and the stimulants and other substances, as well as a highly competitive nature propelled him up the corporate ladder. He bought his first house at age 24, and on the outside at least, he seemed to be an up-and-coming star of the auto community in which he circulated.
But he had his secret life, and it was starting to wreck his plans.
"There were lots of other people in the industry I was using with, making different connections with. Also, there was my lifestyle in the backside of it. I had started hanging out with the wrong people. Instead of being with good friends, I isolated away from them. I was hanging out with drug dealers and gangsters, all these things. And it got to the point of everyday usage of a very large quantity. I still progressed at work, but there were telltale signs. Taking sick days or just not showing up for work, saying I was working remotely, which didn't make sense given the role I was doing."
By the end, he was deep in debt to family and institutions. Physically, he was a mess. His weight had gone from an athletic 190 pounds to 155. His relationships were falling apart.
"From a spiritual standpoint, my own self talk was beating myself up a lot. There was also a lot of suicidal thoughts. A lot of self-hatred, a lot of shame, a lot of guilt, multiple moments where I put a gun in my mouth. Lots of moments when I'd just try and use as much as I could to try and induce a heart attack of some sort."
He promised his family he would get sober.
"Really, I made zero attempt to quit. I lied all the time. I just got much better at hiding it," he says. "I would go to meetings I would take clean tags. I would get high in the parking lot, go to the meeting, use in the bathroom at the halfway point in the meeting, and when the meeting was done, I would go use in my car and drive away."
The darkness consumed him until the end of 2016.
"I was at my mom's place. All day I was telling myself only use a little bit, only use a little bit so you could be normal for Christmas. But of course, I couldn't do that. I used heavily all day. I got there and I was full of anxiety, I was very sketchy. I was in and out of the bathroom probably about six times in the span of 45 minutes, until finally I said I can't be here, I gotta go. I gotta problem. I gotta go to a meeting. I took off.
"I lied. I wasn't going to go to a meeting, I was going to go use. So, I shut my phone off and I disappeared for three days. It was bouncing from couch to couch, different house to different house, avoiding everybody. It was a Friday, I woke up. I was in my house. I turned my phone on, lots of missed calls, lots of missed messages. I was driving to work. All I could think of was this stretch between Fort Saskatchewan and Sherwood Park and if I unbuckle my seat belt, how hard do I have to yank on this steering wheel to put myself in the ditch, to roll this vehicle and hopefully die?"
He reached out to a friend for help and finally agreed to treatment in the early days of 2017. He is one of the rare ones who managed to find and maintain abstinence from the date he checked into rehabilitation on Vancouver Island.
"When I got to treatment, it was said to me 'You come here to see professionals, you wouldn't argue with professionals in other trades, right?' I learned the same thing in the auto industry. People come in and they want to complain about things. Why did you come here and pay $130 an hour to have a professional look at your vehicle if you want to tell me how to do it? Like, listen to the professionals!"
So, he did, and for once, did as he was told. His life was on the line.
"I realized really quickly that I was really good at screwing up my life, really good at turning it into a dumpster fire. It was time for me to shut my mouth and open my ears and listen to what was really going on. And try anything recommended to me."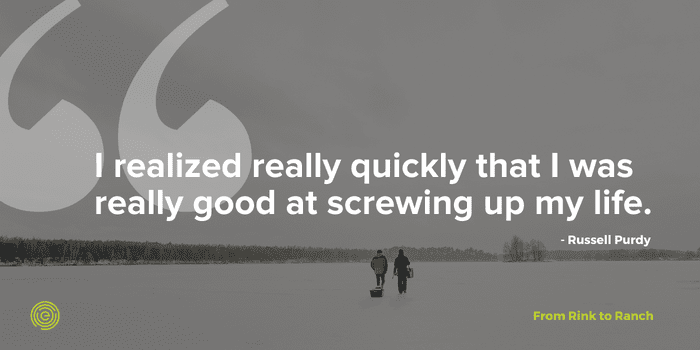 After completing treatment, Purdy lived in recovery houses and attended meetings, did volunteer work, Step studies and helped others do the same. But he had money to pay back, so he returned to the auto industry for nearly two years, until the treatment centre he had attended offered him a managerial position at their second stage facilities. He left the lucrative car industry to return to his roots of recovery.
"They were a bit baffled that I was willing to walk away from the amount of money that I was walking from with them to go to doing something for less money. I told them for me right now, it is not about the money. It is about my job satisfaction. I've got passion for it."
He spent a couple more years working in the treatment industry at centres on Vancouver Island and in Estevan, Saskatchewan. When he heard about the new opportunities coming up in the EHN orbit in the Kootenay's, Purdy thought long and hard about it but put his name into the hat for the position.
Purdy is aware of his own limitations. He knows he has a team of highly qualified clinicians around him and across the EHN Canada family. He also knows he can't promise families who send their loved ones to Recovery Ranch that they will stay in recovery. But he can promise he and his staff will give it their all to make that a reality.
"I know there is not always one way to get the job done. When it comes to having that curiosity and being open to things, I know what works for me. I know what works for me really well. But the person sitting across from me, they are not me. I can't preach to them. I can explain to them what my experience has been but again, I need to listen to what their experience has been and what they are going through. We need to tailor things to the individual. There are so many different methods that are available to be used, you just have to be willing to think outside the box.
"When you join an organization like EHN, with the resources that we have, with the intellectual people working for this organization? Man, I want to work with not only smart people, but people who are just good human beings and are good at what they do. I think that is the best way for me to learn."
Two weeks into his new role, Russell Purdy is at home on the ranch.