From the holidays to New Years, party season is in full swing – treacherous terrain for those in recovery. But for one EHN Canada alum, sober buddies and recovery parties allow her to have some fun while staying on the right path.
Out on Canada's West Coast, Christina's face lights up mischievously when asked about parties. Clearly, she is a party aficionado.
At 42, this mother of a four-year-old, wife, and parole officer has been in recovery since she was in her mid-20s. She compares her definition of partying from a before-and-after lens.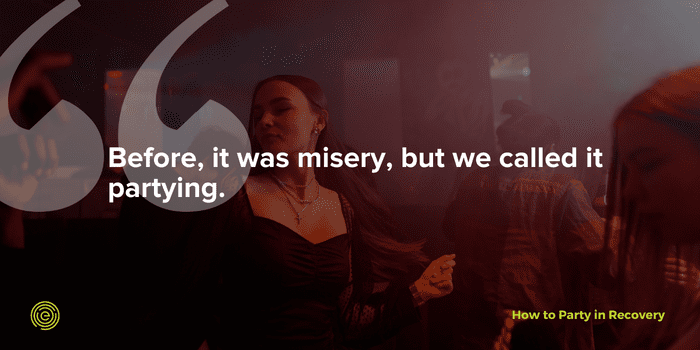 "Before, it was misery, but we called it partying," she says with a pause, "because that is an easier description than drug addiction. Early on in my using, I would go to parties, but I was pretty much alone in the end. Doing drugs alone or with other drug users. You know, at 8 a.m. in a shitty apartment somewhere."
When she came out of residential treatment at Nanaimo's Edgewood Treatment Centre in 2006, (one of EHN Canada's largest treatment facilities), Christina worked and went to school. In the early years of her recovery, she was not big on going to parties at all.
"If there was anyone drinking, if there was a school function or something like that, I excused myself for a long time."
But she also had made many close friends with women in her recovery community. They became a close-knit group of support for each other. As their circle fortified, the friends began to make sure they didn't miss out on the fun side of life. That included parties.
Sober Buddies
"I didn't go anywhere where my sober friends weren't. We went together. Everybody was welcome. Whoever you were, whatever your quirks were, whatever your whatever was, you were invited. We wanted everybody to be sober. We stuck close to our sober friends."
Those relationships remain the anchors of her life post-treatment. Her moments of doubt are few and far between, and she is a walking example of what contented recovery can look like.
"Oh, 1,000%, we are staying sober by being together," Christina says of her posse of sober buddies. "I wouldn't change it for the world. I mean, our kids were born together, a week apart sometimes for some of us. So, we have children that are best friends, a lot of us. All of that. My life is just too much this way now to go the other way."
After a few years, her supportive circle of friends began to socialize even more. Campouts, dances, softball, volleyball, paintball, you name it. Fun was there to be had. And that meant parties, too.
There was a learning curve involved in attending functions where alcohol was likely to be present. But she learned well from her months in treatment about the importance of strategies when attending events outside the wire of recovery.
Together in Recovery
"I was always trepidatious about outside things. I was always anxious about even going to a wedding with my family. Those things scared me," she recalls.
But she learned fast how some of the principles of recovery work well in those decision-making moments.
"Group conscience works for everything. If you are talking to your support, and if you are feeling trepidatious, nobody is going to say, 'Yeah, that is a really great idea. You should go to that alcohol party.' Like nobody. And if they do, you need some different friends."
When it comes to strategizing, she has some clear ideas.
"Well, the #1 thing is you don't have to do anything alone. You take sober friends with you. And not just one – take three! You could probably convince one to drink. But you can't convince everyone to drink. So, go in a group."
"Taking responsibility for your own recovery is just a good idea. Checking in. How do I actually feel about this? Maybe I should do some box breathing and see if this really me trying to get drunk here. Check my motives."
But when it comes to attending functions where there is no alcohol involved, these are perfect step-up-to-the-plate opportunities.
"Sure, we all had our own drama with each other, but we would come together for peoples' birthdays and celebrations," she says. "I mean there is the awkwardness and the angst and the heart-pounding anxiety to walk in the door and all those things, but with my sober friends, I don't recall ever feeling scared to use or was triggered to use from a sober party. Is it awkward? Sure. But everybody is feeling a little awkward."
They say humankind is a naturally social creature, and fun is not foreign to people in recovery.
"I think we are always looking for a reason to get together, we are looking for something to do. If you have something, sober people will come – they want to do stuff, too. They don't want to sit at home and watch movies all the time."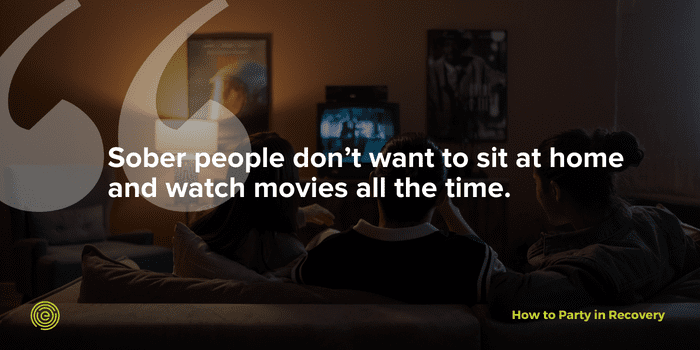 As it turns out, Christina and her friends are pretty good at throwing parties. They are hardly quickly tossed together gatherings. Halloween is not done half measured with this bunch.
"Usually, we figure out who is going to do it, and then we all help organize it. It is a thing. It is a big thing," she says convincingly.
"Once we held one out at someone's house who lived on an acreage. It was big. We planned and planned and planned and decorated. There was like $5,000 in fireworks involved. A bonfire. It makes it a good party and good memories when people are really into it."
Throwing a Good Sober Party
So, what are the ingredients of a good sober party? Well, a theme like the holidays speaks for itself. Good music, good games, good fun. Oh, and great grub, too.
"I have always found food at a sober party is super important. If people know there is going to be good food there, and they are sober, that is a top priority."
"How times have changed," says a reflective Christina.
"I mean, I didn't care about what I ate when I was drinking. But I want to have something tasty now. I remember once I had a party and I made ribs and people just stayed and ate ribs all night long."
In the end, with Halloween fast approaching, and with the pandemic finally lifting its grip on the social lives of those in and out of recovery, Christina and her friends are ready to roll.
"There is one happening this year. Somebody just sent me an invite! What makes it good is 100 people were invited, all walks, old, young, kids, whatever. You just never know who is going to show up. I looked through the list and didn't see a single person who wasn't sober!"
Jeff Vircoe is a journalist in long-term recovery. He lives in Parksville, B.C.