"Get some fresh air. You'll feel better," we often hear. Is there some truth to the healing powers of the outdoors?
"There's been a few times where I was driving home from work and I've pulled over on the side of the road and just stared at the sun setting behind the mountains," says Russell Purdy, Executive Director of EHN Canada's Recovery Ranch. "I couldn't have dreamed of how picturesque this place is." 
"Even at night," agrees Clinical Supervisor Dana Kistemaker. "The clear sky, the lack of light pollution, the stars, the moon – just incredible views that you wouldn't see anywhere else."
At Recovery Ranch, our addiction treatment centre in B.C.'s awe-inspiring Kootenay Rockies, what happens outside the facility is as important as what happens inside.
Here, patients will have access to a team of compassionate caregivers and the latest treatment options. But they will also get something more: access to some of the country's most resplendent landscapes. Eco-therapy is helping our patients find the focus they need to recover – and a new lease on life after they lea the facility.
And for Purdy, it's personal: "I speak of it more from a person being in recovery and being in a treatment centre that was in a very peaceful, quiet area surrounded by nature where you could be unplugged from all of the noise and all of the busyness of your everyday life."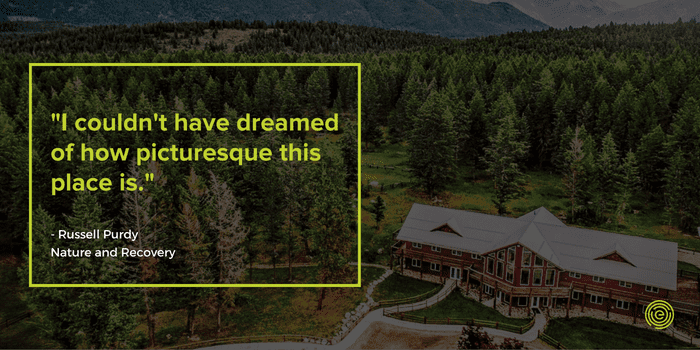 What is eco-therapy and how can it help in the recovery process?
Ecotherapy is built on the idea that, intrinsically, humans are connected to nature and that connecting with the earth can improve mental health and physical well-being.
To start a new chapter of recovery is to embrace the restoring atmosphere of nature. The simplicity of ecotherapy has far-reaching effects, where a walk outside to glimpse the mountains, lakes and forests of beautiful British Columbia reminds patients of their place in the world. Despite the vastness of nature, they are not alone. Nature's imperfections remind us it is okay to shed our leaves in order to recognize that with help and time, better is on its way.
Kistemaker explains, "Since about 2010, research has been returned to 'how do we reinvolve wilderness into therapeutic processes.' The colour green that we obviously affiliate with nature is actually one of the only colours that our brain doesn't have to work to notice. And so being around green does actually calm the nervous system and help with the healing process."
What kind of eco-therapy is there at Recovery Ranch?
"We have a couple of different types of eco therapy on site here at The Ranch," Kistemaker says. "The first is our equine therapy. We have five horses on-site. We have two counselors who run equine therapy once a week. Equine therapy is great for talking about boundaries, different body language, and those sorts of skills. So, the horses are used in assistant therapy."
She continues, "In the summers, we have kayaks, we have canoes, we have fishing equipment. So, we try to encourage the patients as much as possible – outside of structured time – to get out and learn how to enjoy life without anything else. We have a lot of indigenous folks that come to our facility, and so that reconnection with the land has been really healing for them as well.
And how does this stunning landscape pair with therapy? "Right now, we have evening programming once a week for all patients," Kistemaker says. "We have over 600 acres here of wilderness. So, patients do hikes, and excursions with the counselor, use nature as a therapeutic tool, and start using some of the aspects of their hikes to discuss spirituality, to discuss pushing themselves to their limits.
"There's lots of natural hot springs, lots of hikes, there's lots of indigenous traditional territories that patients will go to. And again, using nature as a therapeutic tool to have those more intensive recovery coaching conversations around what's specifically coming up for that patient."
What about during the snowy winter months? Purdy says, "Hopefully next winter, we'll have the protocols in place where patients will be able to go out snowshoeing, and they have done activities where they've been out ice fishing. We've got a space actually not too far from us where patients can go skating."
What happens after patients leave inpatient treatment?
Ecotherapy teaches patients to navigate potential relapse by busying theirs minds and bodies with fishing, rafting, kayaking, mountain and trail hiking, indoor fitness, yoga. We also encourage patients to continue seeking the revitalizing healing of their natural surroundings.
Every day of recovery requires a conscious and unconscious habit of maintaining healthy coping measures.
Kistemaker says, "We've got lots of really good feedback about patients being able to find those small pieces of nature in the city, like enjoying going to a park, sitting on grass again, or simply having more gratitude for those quiet moments and those times where you can find that escape in city life. We've gotten lots of really good feedback around just learning to slow down, to take things in and to not take for granted those mini escapes that we have in the city. It's funny because it's normally the folks from Toronto who end up moving out to B.C. after treatment."
Purdy adds, "One of the nice pieces is having Cranbook so close to us and having the availability to take patients into meetings in town, where they can go in town, they can go back to – maybe not the busyness of being in downtown Toronto but – being in a city where there's vehicles passing by, the sights, the sounds, interacting with people. That piece of here's some of those triggers that could come back in from everyday life and then having that safe place to essentially retreat to and debrief how you're feeling and what's going on.
"Our clinicians are very good at talking early on in treatment about what your life will look like outside of here, what supports you are going to have. They go through Aftercare planning in terms of being able to find meetings, and of course, the EHN Online app and giving them all the other resources that they have there."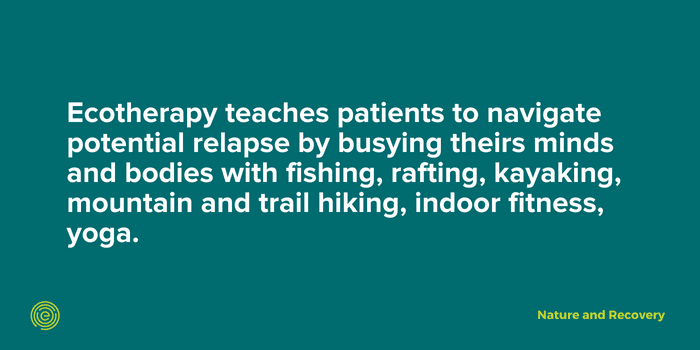 More about Recovery Ranch
Recovery Ranch is a medically supervised holistic addiction treatment centre specializing in concurrent mental health disorders. Our compassionate team provides hope and recovery to those who are often in the darkest periods of their life when they arrive.
When patients gain an understanding of their addiction and their experiences, they discover more about themselves. And on this path of discovery, they connect with a unique community of peers and expert support counsellors, many of whom have had similar journeys. Together, patients at our addiction treatment facility carve a new path forward – one of wholeness, health, and hope.
From medically supervised detox to our post-treatment plans and facilitated Aftercare Program, Recovery Ranch delivers ongoing support from an expert team of staff including physicians, psychiatrists and a 24/7 nursing team, all dedicated to compassionately and effectively supporting patients along their unique recovery journey.
Think Recovery Ranch might be right for you?