Recovery month is coming to an end but the conversation must continue in order to see more change. Awareness about mental health is increasing and positively helping make a difference for many who struggle on a daily basis. The prevalence of mental illness and addiction is increasing as research continues to reveal that many who struggle with mental illness also have a substance use disorder. According to the Centre for Addiction and Mental Health (CAMH), 20% of Canadians with mental illness have substance abuse problems.
Although more awareness is made through events such as Recovery Month and Bell Let's Talk, as a society, we still face many challenges when it comes to addiction. The following lists some important facts about what we've learned so far in 2016 regarding addiction and recovery:
According to the American Society of Addiction Medicine, only 1 out of 10 people with substance use disorder receive treatment because of stigma. Unfortunately, stigma remains one of the toughest obstacles in getting people help to recover. Misinformed perceptions of what addiction is and what a person looks like with an addiction continues to influence how people look at themselves or others who might be struggling with drugs, alcohol or gambling.
Fentanyl is becoming an epidemic. No longer is there such thing as a 'pure' drug. In 2016, North America has seen a drastic increase in overdoses related to Fentanyl. In British Columbia alone, there have been so far 488 overdoses. Recently, BC's Chief Coroner revealed that there was a 61.6% increase in overdoses compared to the same period last year. A very small percentage of those deaths are due to someone taking pure Fentanyl, which means, most of the time people don't even know they are ingesting this lethal drug. Last month, many Health Canada de-listed the Naloxone kit so that it could be purchased prescription free as a means of helping cut down the number of overdoses.
Addiction can affect anyone. In 2016, a couple of well-known celebrities such as 20/20 anchor Elizabeth Vargas and actor/ former NFL player Terry Crews came forth about their recoveries. Nevertheless, we need to begin acknowledging that addiction comes in many forms and severities. At the end of the day, professional help is needed to overcome addiction.
Recovery Day provides the opportunity to show communities that recovery works, it's possible and families move forward. There is still much work to do though. Here is a glimpse about the reality of addiction in our world today: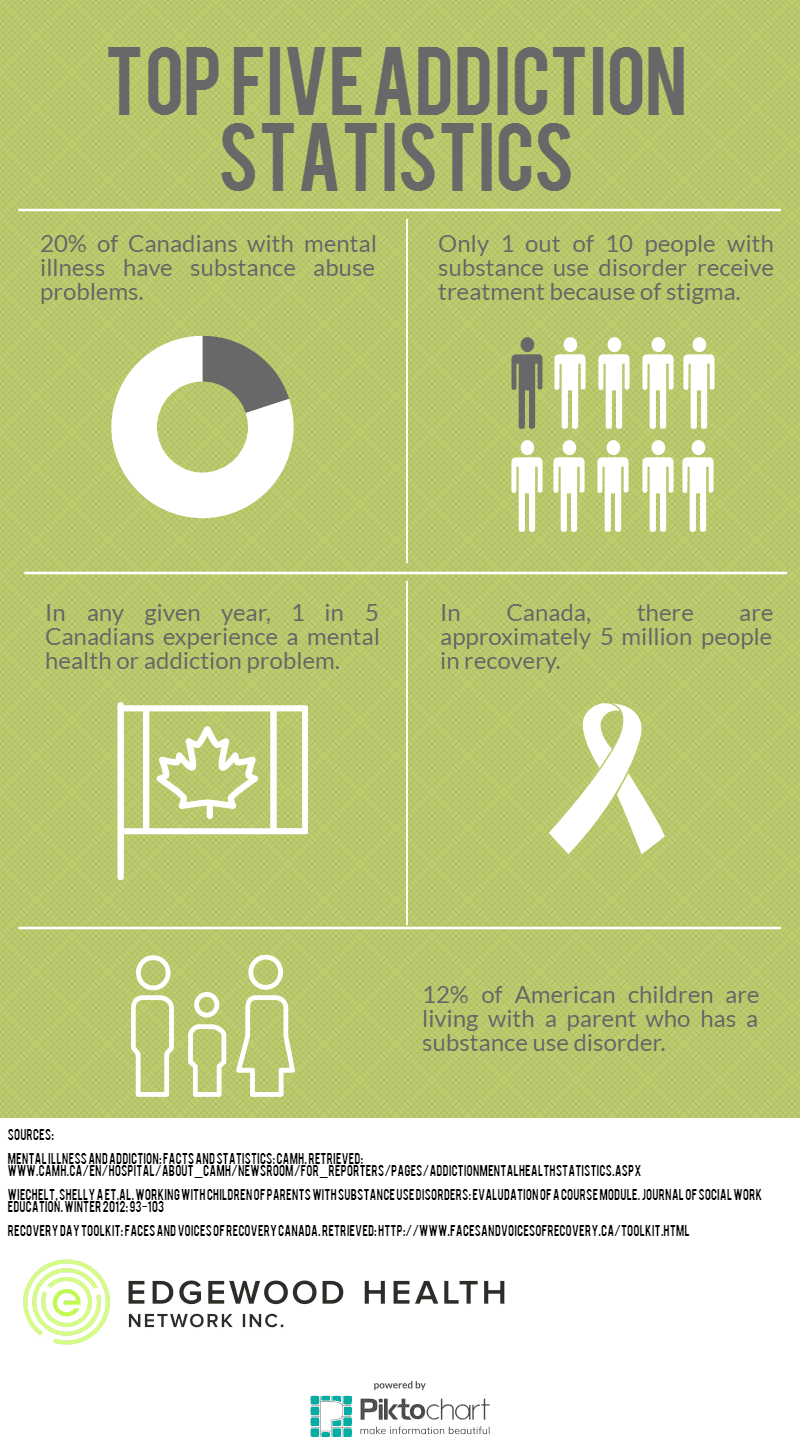 If you or someone you know is struggling with addiction or substance use disorder, please give us a call to learn how we can help: 1-800-683-0111. Recovery is possible.
---
1 https://www.cbc.ca/news/canada/british-columbia/bc-coroner-latest-overdose-statistics-fentanyl-1.3772661