When we think of mental health challenges and addiction issues, we probably think of extremes. Sober or alcoholic. Healthy or not. Panic attacks where you're bed-bound for days. Liver problems from excessive drinking.
You might start asking yourself questions like 'Do I need help, or will this go away eventually?' This article is designed to help you find the answer. Now, when it comes to struggling with addiction, depression or anxiety, there's no substitute for being diagnosed and treated by a qualified medical professional. However, this article will give you some insight into where you or a loved one's symptoms might fall within the range of mental health and addiction conditions, when you should start thinking about getting help, and what your options are.
Canada's growing mental health and addiction crisis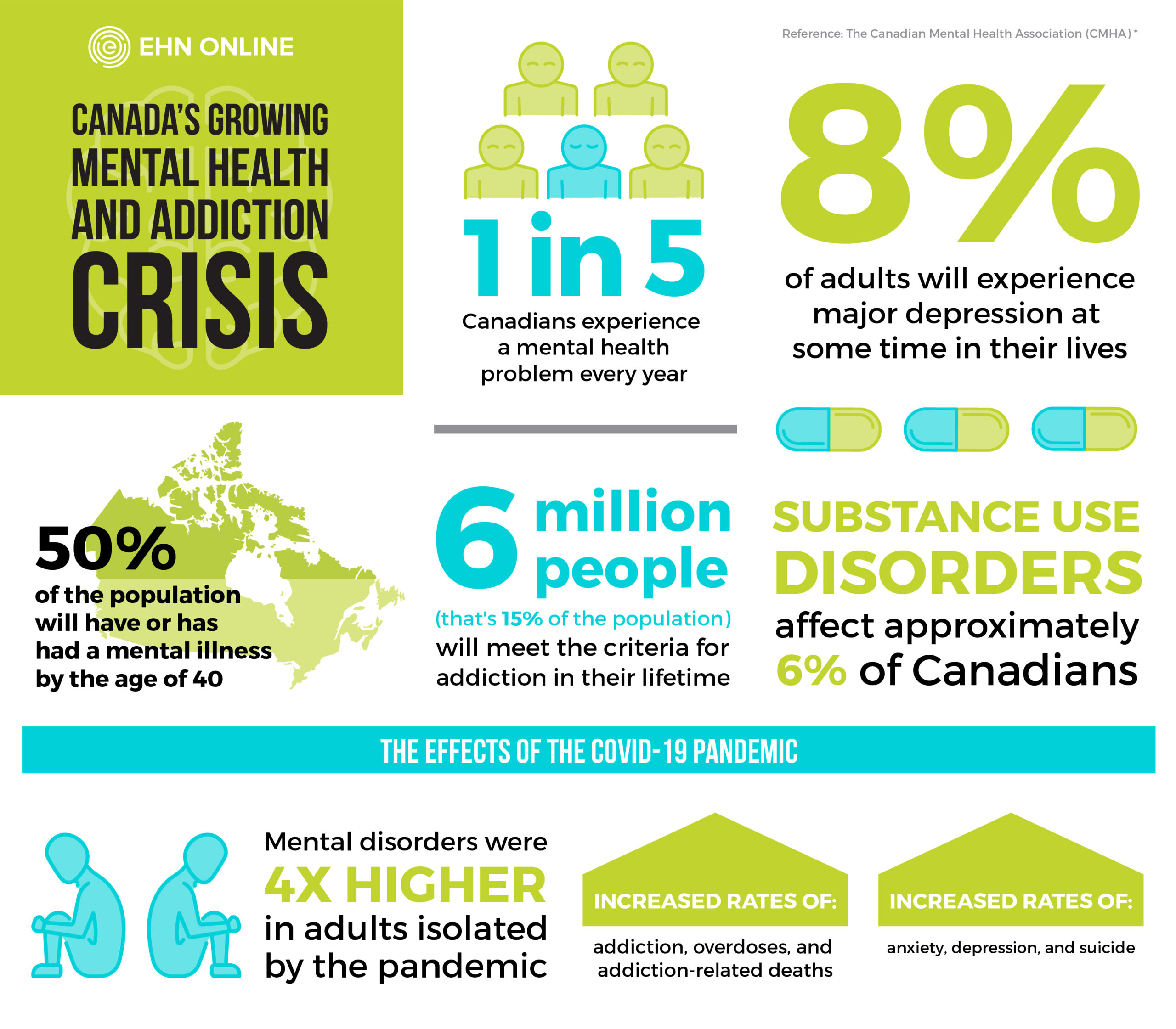 Let's begin with a little background. "Mental illness" and "addiction" can apply to a wide range of disorders that may affect how you think, your mood, and the way you behave. When we talk about these disorders, we are generally referring to depression, anxiety, and substance abuse. While many people will struggle with varying degrees of these disorders, they become more and more worrying as they begin to get more frequent and/or harder to resist.
These disorders are incredibly common and affect people of all ages and lifestyles. In fact, every year, at least one in five Canadians experiences a mental health condition. The Canadian Mental Health Association (CMHA) points out:
About 8% of adults will experience major depression at some time in their lives
will have or have had a mental illness
Anxiety disorders affect 5% of the household population, causing mild to severe impairment
Substance use disorders affect approximately 6% of Canadians.
CMHA also states that 21% of the population (six million people or so) will meet the criteria for addiction in their lifetime. Alcohol and cannabis are the substances that most commonly meet the criteria for addiction, but opioid use has also become a crisis.
Mental health, depression, and COVID-19
If Canada had a mental illness and addiction problem before, it was kicked into overdrive by the COVID-19 pandemic.
In its "Survey on COVID-19 and Mental Health," the federal government revealed that 21% of adults aged 18 and older screened positive for at least one of three mental disorders: major depressive disorder, generalized anxiety disorder and post traumatic stress disorder (PTSD). The survey also said that mental disorders were four times higher among adults who were isolated by the pandemic, and 40% of Canadians who had financial troubles because of COVID-19 screened positive for one of three mental disorders.
"Since the beginning of COVID-19, we have been seeing some very troubling trends in mental health and addiction," said Lanie Schachter-Snipper, the National Director of Outpatient Services at EHN Canada, in an interview with Georgia Straight.
"There are increased rates of addiction, overdoses, and addiction-related deaths, as well as an increase in rates of anxiety, depression, and suicide. Those who never or rarely experienced mental health issues pre-pandemic are reporting new issues emerging and those who had preexisting conditions are reporting the worsening of symptoms."
How depression and anxiety affect your mental wellbeing
For some people, mood and anxiety disorders can hinder their ability to successfully manage life's ups and downs. For others, mood and anxiety disorders prevent them from living life at all, creating such severe anxiety they can't leave their house, work their jobs, or enjoy time with family. These disorders can make life incredibly difficult, leaving people feeling lost, isolated, and hopeless.
Depression can cause an unshakeable feeling of sadness, leaving people unable to engage in everyday activities — even enjoyable ones. People affected by depression, especially major clinical depression, can't "just snap out of it," and may require treatment, including psychotherapy, medication, or both.
Other mood disorders include bipolar disorder, dysthymia, and disorders related to health conditions and substance use.
Anxiety disorders often come with excessive and persistent feelings of stress, anxiety, and fear. Of course, occasional anxiety is a part of life, but anxiety disorders leave people with intense and excessive worries and fears about everyday situations. People may suffer from debilitating panic or anxiety attacks, forcing them to retreat and start avoiding places or situations that might trigger an attack.
When you couple these existing mood and anxiety disorders with the pressures of the COVID-19 pandemic (such as isolation, fear about an uncertain future, and concerns about economic hardships), it's no wonder that many people found their symptoms becoming even more pervasive.
When is it time for depression and/or anxiety therapy?
Many people wonder if their symptoms are normal, or if they might require some kind of treatment. The truth is that symptoms can range from minimal, to mild, to moderate, to severe. Where you fall on this range will determine whether you need to seek treatment, and also impacts what kind of treatment will be right for you.
At to identify where symptoms fall in the minimal to severe range. We encourage you to use these questions to help determine whether you or a loved one might be ready to seek help.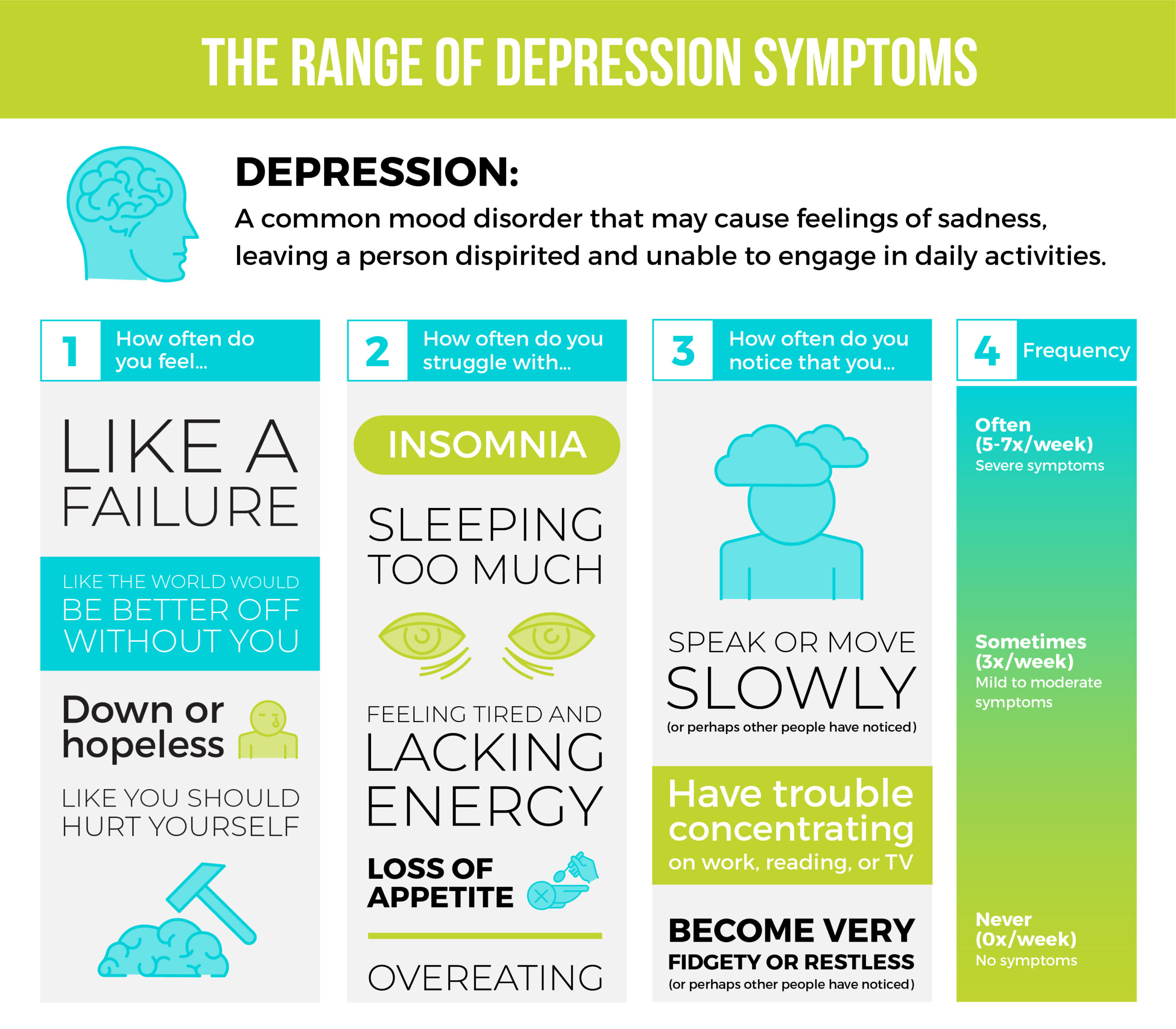 How you feel inside: Do you find little interest or pleasure in doing things? Do you feel down, depressed or hopeless? Do you feel bad about yourself — that you are a failure or that you have let your family down? Have you thought that you would be better off dead, or about hurting yourself in some way?
Physical effects: Have you felt tired or had little energy? Have you had trouble with insomnia or sleeping too much? Has your appetite been poor, or have you been overeating?
Behaviours or interactions with others changing: Have you had trouble concentrating on things like reading, work or watching TV? Have people noticed that you moved or spoke slowly? Or the opposite — that you've been fidgety or restless?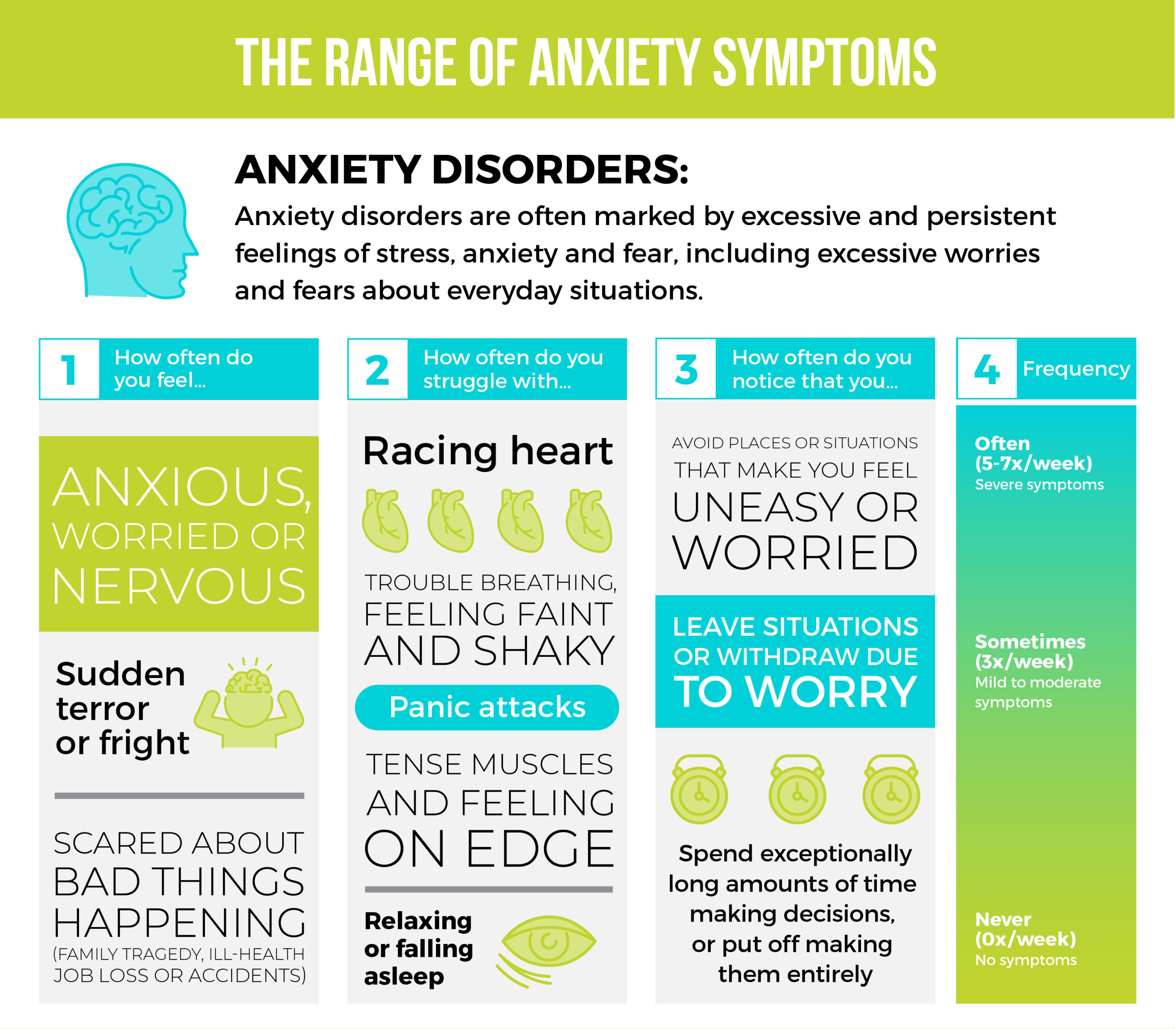 To identify where you fall within the range of anxiety symptoms, the EHN Online team looks for:
How you feel inside: Do you feel anxious, worried or nervous? Do you have moments of sudden terror, fear or fright? Have you had thoughts of bad things happening, such as family tragedy, ill-health, job loss or accidents?
Physical effects: Have you felt your heart racing, sweaty, trouble breathing, faint or shaky? Have you felt tense muscles, jaw clenching or teeth grinding, on edge or restless, or had trouble relaxing or sleeping?
Behaviours or interactions with others changing: Have you avoided situations that you're worried about? Have you left situations or participated only minimally due to worries? Have you spent lots of time making decisions, putting off making decisions or preparing for situations?
Alcohol and drugs: how much is too much?
Substance use disorder affects a person's brain and behaviour and can lead to uncontrolled use of a drug or medication, even when the person knows these substances are causing them harm. It's important to remember that the legality or illegality of a substance doesn't play a role in diagnosing substance use disorder, which is why alcohol, cannabis and nicotine can all become problematic.
Substance use disorder can sometimes begin by experimenting with alcohol or drugs recreationally, 'just for fun,' but getting drawn deeper and deeper into a complete dependency. In other cases, addiction can start with prescribed medications like opioids. In both cases, users will quickly notice they need more and more to achieve the desired effect, despite the physical, emotional, or financial toll it takes on them and the people they love.
While there are many possible different symptoms of substance use disorder, some signs to look for include:
Overwhelming urges to consume the substance
Experiencing withdrawal symptoms if you stop consuming
Needing more of the substance to get the same effect
Spending money on the substance, even if you can't afford it
Deep down, people often know their substance use is getting out of hand, but that's a terrifying thing to admit to yourself and others. It takes honesty and immense bravery to admit you need help and to reach out for it, and people who do so require support from trained professionals and caring peers, friends, or family to reclaim their lives and start truly living again.
From self-rehabilitation to intensive outpatient and inpatient programs: which is right for you?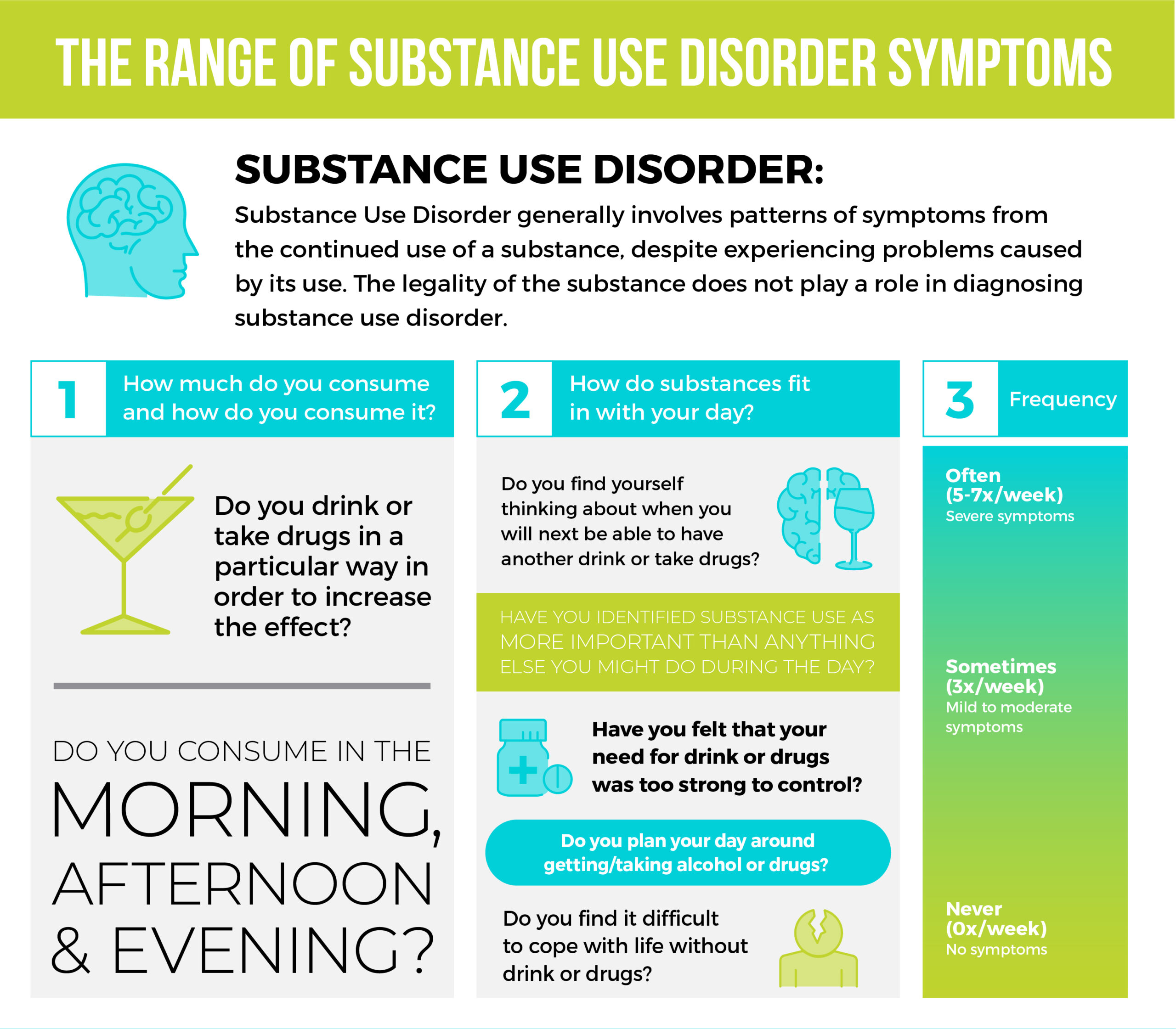 When determining substance abuse and addiction issues, the EHN Team looks for the following. We encourage you to use these questions to help determine whether you or a loved one might be struggling.
How much do you consume and how do you consume it? Do you drink or take drugs in a particular way to increase the effect? Do you consume in the morning, afternoon and evening?
How do substances fit in with the rest of your day? Have you found yourself thinking about when you will next be able to have another drink or take drugs? Have you identified substance use as more important than anything else you might do during the day? Have you felt that your need for drink or drugs was too strong to control? Have you planned your day around getting/taking alcohol or drugs? Have you found it difficult to cope with life without drink or drugs?
A closer look at the range of addiction and mental health conditions
We've used the answers to our screening questions to create the infographic below. Use your answers to find where exactly you fall in the range of addiction and mental health conditions.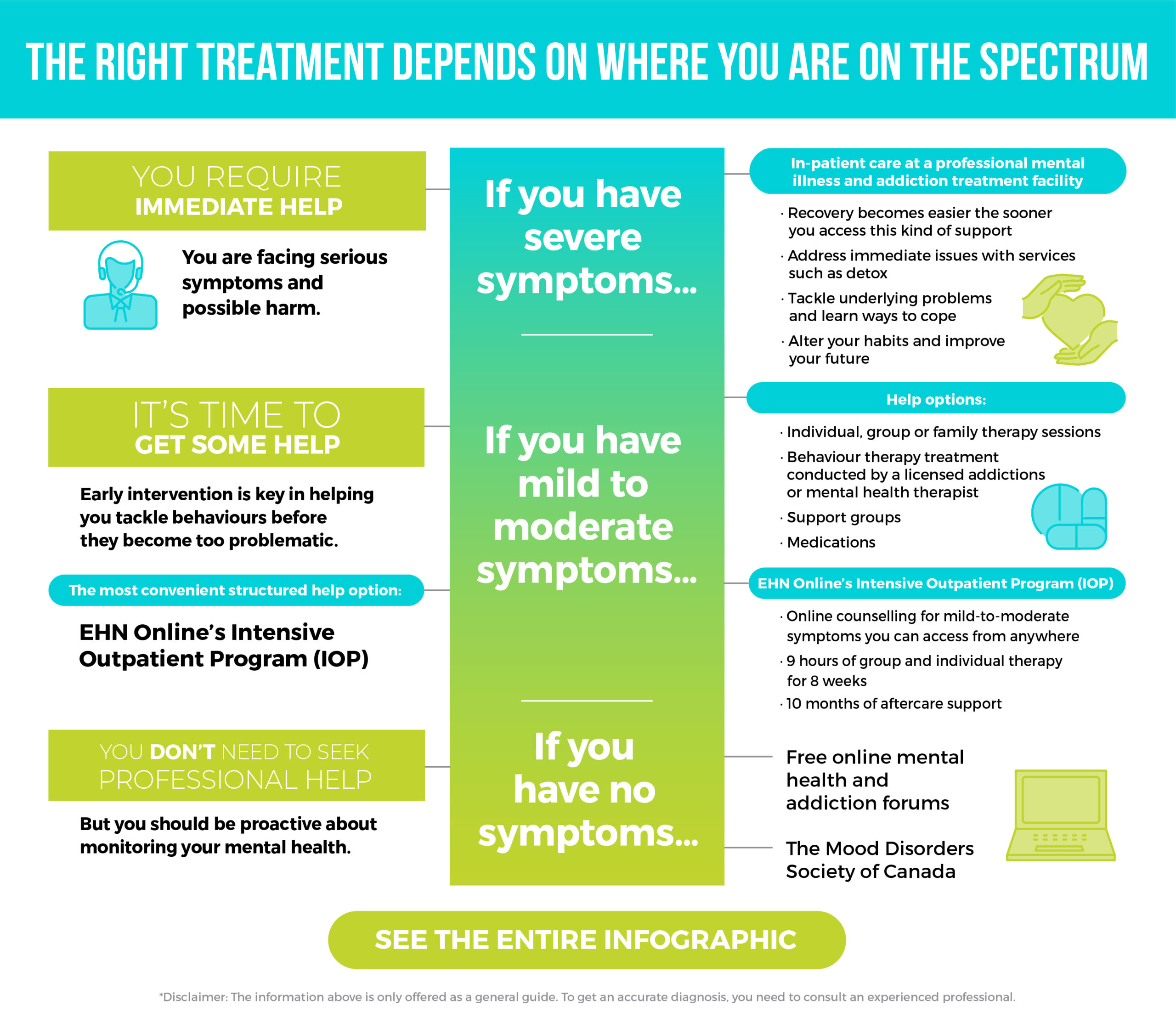 Download the full infographic here

Minimal: Everyone should take care of their physical and mental wellbeing
If you look at the infographic and determine that you identify as "not using" on the addiction spectrum, and "healthy" on the mental health spectrum, that's great news. You don't need to seek professional help for these.
But mental health is like physical health — the more you maintain it, the better you'll feel. Consider using online apps designed to support good mental health habits and check out free online mental health and addiction communities like the forums from the Mood Disorders Society of Canada.
Mild to moderate: try early intervention
If you found yourself in the mild-to-moderate section of the infographic, there are a few ways you can find help.
For mild-to-moderate use of drugs and alcohol, you may still be at the experimental stage. Perhaps you're feeling peer pressure or find yourself turning to them a little too often. You might be able to stop using the drugs on your own initiative at this stage. Perhaps reach out to a close friend or trusted family member with whom you can be honest. Ask for their support and to hold you accountable as you begin cutting these substances out.
But what if your use becomes more habitual, if you're consuming substances regularly and increasing doses to get the same effect, and you find yourself having trouble controlling your urge to use them?
If early intervention is not enough, try an intensive outpatient program
Structured help can come in the form of an intensive outpatient program, an industry term for a program made up of individual, group, or family therapy sessions, support groups, medications, and behavioural therapy conducted by a licensed addictions or mental health therapist.
The challenge is sometimes these types of intensive outpatient programs can be hard to come by. The treatment facilities only have limited spaces available or can be too far for people to get to.
This is where EHN Online's Intensive Outpatient Program (IOP) services come in. With EHN Online, geography doesn't matter. You get the support you need for your mild-to-moderate symptoms at home, helping you change your path with the guidance of credentialled, caring staff. You get virtual mental health and addiction solutions, delivered by the professionals at EHN Canada, who have more than 75 years of experience successfully treating mental health and addiction issues.
The different online therapy programs include nine hours of group and individual therapy sessions for eight weeks, followed by 10 months of aftercare support. The programs also come with access to EHN's online platform and app, Wagon, which gives you a personalized recovery plan, as well as different tools, exercises, and ways to record your progress as you achieve your wellness goals.
Not sure if online therapy is for you?
It might be the right fit if…
You are having increasing trouble functioning at work
You have symptoms triggered by specific events or situations
Your levels of depression, anxiety or stress are increasing
You are relying more on substances to cope with daily life challenges
You would like to reevaluate your coping skills to maintain your recovery
Your current coping strategies aren't working
Still not sure? Take our quiz to find out!
Severe symptoms: consider inpatient care
If the infographic places you on the far end of the range, you are grappling with the most serious symptoms and possible harms. You may be at risk for a full-blown mental health crisis, with outbursts of anger, excessive panic attacks, thoughts of suicide, constant fatigue, and falling prey to different addictions.
With symptoms as severe as these, you will require inpatient care with a stay at a professional mental illness and addiction treatment facility for your safety.
This may be unwelcome news, or perhaps you've known you needed help for a long time. Either way, you will soon be getting the help you need to take back control of the life that has been stolen from you by addiction or mental health issues. Inpatient care doesn't just treat immediate issues — such as detoxing — but it will also help you identify and address underlying problems that cause your symptoms, teaching you better ways to cope. With the right help, you can avoid rock bottom, and begin your climb toward a healthy future.
EHN Canada offers comprehensive treatments to help you recover from any and all mental health challenges you're facing, including addiction, trauma, depression, anxiety, and more. We have seven facilities nationwide, offering accessible care where you need it. It can be scary to take this step in your recovery, but if your symptoms are severe, an inpatient program will be the best option for you. Every step of your recovery is clinically informed and administered by licensed medical professionals.
A general guide, not a diagnosis
The information about where you may lie on the range of mental health or addiction issues is only offered as a general guide. To get an accurate diagnosis, you need to consult an experienced professional.
EHN Canada and EHN Online make the process of getting the qualified help you need easy. Give us a call to learn more about our services and how we can support you on your journey to recovery. With facilities online and across Canada, we can find a program that's right for you.
After finding the right program, you can get started on your recovery, supported by EHN Canada, a recognized leader in addiction and mental health services. Wherever your symptoms fall, we can help you find a new and better place to thrive.