End the Impact of Addiction: How You Can Help Your Children Start Their Own Healing
Written By: Nicole Sartore-Babuin, BSW, CDP, Family Programs
Many of us can probably relate to watching the fame of baseball, either live or on television. These days as a busy mom, I find myself racing to the ball fields after work to watch my kids play the all American game. As they come up to bat, I get butterflies in my stomach. Will they hit the ball? Will the ball hit them? What if they strike out? As the parents in the stands cheer, I find myself growing more and more anxious. What if they strike out?
This is a question I would like to focus on. What if they DO strike out?
I look at parenting similar to the game of baseball. Sometimes we get a hit. We run the bases and sometimes we have fans cheering for us. Some days we don't come near to making contact with the ball. We can feel that there are hundred pound weights around our ankles, and the bleachers are empty. Ultimately all any of us can do, is our best.
I am a parent, and I am also a practicing counselor working with families who have been impacted by substance use disorder. I have been working with kids and families for the past twenty two years to help break the cycle and stigma of substance use disorder. Addiction affects all family members, and I often tell families who have a member struggling with addiction, that when they get involved in their own healing process it greatly increases the chance of successful recovery for their loved one. With education and information they can become the "cheering section" that supports and encourages their loved one's recovery, and within those families, it is the youngest, most vulnerable members who can benefit most from this type of intervention.
Children often don't have ways to talk and express conflicting feelings, may internalize their feelings resulting in guilt, anxiety, confusion, anger and depression. By offering a safe and supportive environment where children can learn ways to express uncomfortable feelings, learn a definition of substance use disorder, understand they can't 'catch' it, (like a cold or flu) and most of all that they are not alone we are beginning to break the cycle of addiction.
In Bounce Back our definition of addiction is 'Hooked, Stuck and Trapped'. The goal of the program is to help children develop the skills and resources they will need to meet the emotional challenges they face, and for them to know that there is a safe place they can come or talk, and that it is not their fault.
As parents, it is our job and responsibility to provide children tools they'll need to deal with life's challenges and stressors. When children are living in homes where substance use is an issue, parents can be the stressors. If these children never receive support and the opportunity to learn about the nature of substance use disorder and learn coping strategies, the repercussions can be severs: problems in school, the law, elevated rates of Attention Deficit Hyperactivity Disorder (ADHD) and Oppositional Disorder (DOD), truancy, runaways, as well as increased chance of developing a substance use disorder in their adulthood.
As a parent, if you knew you could greatly decrease the odds of your child having to attend an inpatient treatment for addiction, wouldn't you seek it out? Wouldn't you want him or her to know where to go for help and support if they ever developed a substance use disorder?
Often parents need support too. Early intervention programs like Bounce Back provide the support to help you learn how to help your kids so that as parents- you can be the one cheering them on or better yet, hitting a home run. Through our extensive family addiction programs at Edgewood Health Network we can help families and children recover. Over the next few months I will be writing about the Bounce Back and Family Programs we offer and how they are helping make a difference.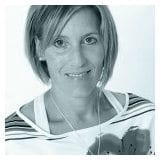 Nicole Sartore-Babuin, BSW, CDP, Family Programs
Nicole Sartore-Babuin completed her Bachelor of Social Work at the University of Victoria and worked as both inpatient and family counselor at the Edgewood Treatment Center in Nanaimo, BC Canada. In 2004 Nicole relocated to the Seattle, where she pioneered Edgewood's children's program Bounce Back. She specializes in working with family members who have been affected by the devastation of addiction and truly believes that everyone deserves a chance to recover.
How To Talk To Kids About Addiction in your Family
When you have a loved on suffering from addiction, it's tempting to try and hide it, especially from your kids.  You think that they're too young or that they don't understand what's happening. We often hear patients say, "I never drank in front of my kids, so they aren't affected at all."  But the reality is that kids growing up near someone with the disease of addiction are affected.  And it doesn't even have to be their parent – kids with aunts, uncles, cousins, siblings or grandparents struggle to cope.
The key to helping kids is to talk to them – don't sweep it under the rug, and don't pretend they don't understand.  And you need to do this – because kids of addicts are four times more likely to become addicts themselves.  And those who don't are likely to struggle with anxiety, depression, self-doubt, difficulty in personal relationships and unhealthy coping skills.  So here are four tips to help you get started, or you can check out a video from our kids program, Bounce Back:
1. Be honest
Honesty is key here. When a parent or loved one has addiction, kids often learn not to talk about it. The parents are ashamed, and they don't want anyone to know. And they often don't want to face up to the reality of the disease. Kids pick up on this – it becomes the elephant in the room and this culture of silence and shame becomes entrenched. It often even follows them into adulthood.  So be honest, and be open.  They already know something is wrong; tell them exactly what it is and answer their questions honestly and directly.
2.  Use the Three C's
The Three C's are – "You didn't cause it, you can't control it and you can't cure it."  Children often take on the responsibility for the things happening in their family.  They think that their behavior caused their loved one to use, or that if they're just good enough or lovable enough, they can make them stop drinking.  You have to take that responsibility off of their shoulders.  If they can understand addiction as an illness like diabetes or the flu, they can start to understand that it has nothing to do with them.
3. Designate Safe People
Encourage your children to talk openly, and ask any questions they might have about addiction.  A good strategy is to designate who are the safe people they can talk to about it – it can be grandma and grandpa, or a a trusted family friend.  Especially if you're the person with the addiction, they may not feel comfortable talking to you about it. But they do need to know that they have someone who they can go to.
4. Keep Talking About It
This isn't the kind of conversation you can have once, and expect it to make a huge difference.  This is something that you have to keep reinforcing, and discussing to really reverse the culture of silence and shame that surrounds addiction.  Besides, your kids will have questions and feelings that bubble up as the situation progresses.
If you can make a habit of regularly talking to your kids about what's happening in their family, they will better off for it.  You remove the weight of responsibility and model some very healthy behaviors. Most importantly, you are acknowledging their feelings, and letting them begin to process it.  We have some great tools to help you do that – the first is our children's book, Gracie's Secret.  It's a great way to start the conversation.  And the other is our three day program, Bounce Back, where kids learn all about the disease, share their feelings and learn they are not alone.