NAATP Presents EHN with 2015 Quality Improvement Award
We are very proud to announce that the National Association of Addiction Treatment Providers have presented us with James W. West, M.D. Quality Improvement Award. We join other prestigious and respected facilities such as the Betty Ford Center, The Hazelden Foundation and Foundations Recovery Network in receiving this award. This award recognizes addiction treatment centres that work to improve the quality and effectiveness of their services.
The Edgewood Health Network was founded for that very reason. We want to set a national standard of care for the treatment of addictions and mental health across the country. The addiction treatment industry in Canada has been confusing. It's been an amalgamation of private, government owned and government contracted services. And within each of those segments there is a wide range of values and methodologies. Each province has different requirements. By going national and setting up our network, we're about to bring clarity and consistency to Canadians. Our EASI tool allows us to make proper recommendations for treatment and we use these to create personalized treatment plans for every patient. We can place our patients in a variety of programs, based on the severity of the case and their geographic needs.
We are very proud to have received this award from NAATP. We will continue to move towards our goals, improving the quality of effectiveness of addiction treatment at the Edgewood Health Network.
The First Issue of Phoenix has Landed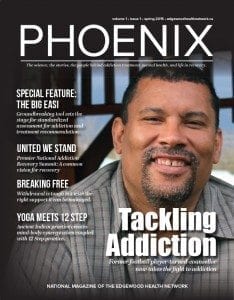 We are so excited to share the first issue of the Edgewood Health Network's new national magazine with you! We are passionate about addiction treatment and recovery and we want to share our knowledge with our community.
With Phoenix, it is our aim to bring you a publication that delves into all aspects of addiction and recovery. The magazine will feature regular contributions from leading clinicians, physicians, researchers and people in recovery. Our goal with this magazine is to provide the Canadian recovery community with a rich source of addiction news and recovery tools. As a digital magazine, our articles will feature a variety of multi-media content that supplements our written articles. You will be able to view and share content in a flip-page format on any device. Phoenix is available to anyone interested in addiction and treatment, and anyone can subscribe at: https://www.edgewood.ca/phoenix-magazine
We'll be publishing new issues quarterly, so check back in here regularly to get the latest issue.
This issue includes features on detox, gaming addiction, yoga for recovery, and a special section on our new EHN assessment tool – EASI. We also have profiles of retired NFL-er and recovery counsellor Moe Elewonibi and long-time Bellwood employee, Penny Lawson.
Phoenix will bring you the science, the stories, and the people behind addiction treatment, mental health, and life in recovery. We truly hope you enjoy our inaugural issue.