A Simple Guide to Healthy Holiday Eating
T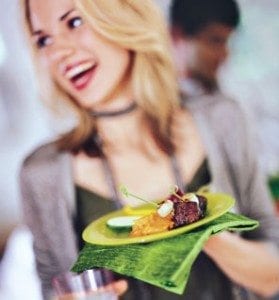 he holiday season is here, filled with friends, family and festivities.   At the center of all great gatherings, food is sure to be one of the main attractions.  With multiple dinners and parties to attend, we partake in an assortment of sweet and savory foods.   Enjoying these foods is a great way to celebrate the season, but overindulgence is often an outcome.  Here are a few tips to help practice healthy holiday eating, while still enjoying all of your favourites!
 Don't skip meals or snacks the day of the party.  The 'buffet' atmosphere of most parties usually includes a variety of foods, and lots of it.  Most people think that skipping meals before a big party will help to cut calories and save it for dinner.  This generally does not go as planned, as we often compensate later on by 'binge eating', because we're ravenous!  We often make less healthy choices when we haven't eaten for a long period of time.  So, stick to your regular meals.  Have a full breakfast, lunch and a small snack in between.  When you arrive at your party, you should feel satisfied and less likely to splurge.
Take a peek of all the goodies.  With so much food available, it's normal to want to try a little of everything.  Before you start filling your plate, have a look at what's available.  Start by choosing foods you enjoy the most or seasonal foods, and skip the more common foods you can live without.  When selecting what to add to your plate, don't forget the vegetables and salads which are high in fiber, and make us feel satiated.  Grains and starches are always in abundance, so rather than having all of your favourites like bread, mashed potatoes and stuffing, try to stick to one or two sides.  Using a small side plate or limiting it to a quarter of your plate is a great guide on how much to serve yourself.  Don't forget there's still dessert to look forward to!
Slow down.  We often eat mindlessly, meaning we don't pay attention to the taste, flavour or appreciate the food we are fortunate to receive.  So take your time, and savor the food you're eating.  Make conversation with friends and family; enjoy the meal and the reason for the season.  Studies show there are numerous benefits of mindful eating.  It helps us attune to our bodily cues and helps to regulate appetite by registering when we're full.  It can also play a role in better management of our emotions, and promotes positive thinking.
Stay active.  The holidays aren't an excuse to divert from your routine.  Stay active to help offset all the delicious meals you're enjoying.  If you're not usually active, this is a great time of year to grab a buddy and go for a brisk walk, skating, or even engaging in some light household physical activity is beneficial.   Have fun while staying active.
The food choices we make have both a physical and mental effect on our health.  It can be comforting for some to enjoy holiday meals with friends and family, but for others it can be a source of stress or anxiety, steering through limitless food choices.  Remorse and shame are experienced by many after a few days of 'holiday eating', sometimes spurring a new year's resolutions of weight loss.  However it is important to remember that a few days of overindulgence is not something to set back your otherwise healthy lifestyle.  Make a plan to practice a few healthy substitutions during your celebrations, but most importantly – enjoy the reason for the season.