How Our Occupational Therapists Help Trauma Patients
Most of us take for granted our ability to complete the most basic steps associated with self care and social engagement. We never really consider that brushing one's teeth, taking a shower, or having even the briefest social interaction with a stranger may be an emotionally strenuous task for some individuals. Naturally, when a person suffering from post traumatic stress disorder (PTSD) tries to explain the difficulty they experience executing daily tasks, it is not uncommon for them to be met with objections or to have their issues dismissed and be told to simply "get over it." This advice is in no way helpful to the firefighter who is triggered by the sound of their own children crying, after witnessing children dying in a fire while on the job. And this certainly does nothing to assist the war veteran who relives moments on the battlefield everytime they hear the sound of aircraft overhead. From the decades of research on PTSD, one thing is abundantly clear—avoidance is not a viable option. Enter occupational therapy.
What Is Occupational Therapy?
Occupational therapy is a form of treatment for individual suffering from addiction or mental health disorders that interfere with their ability to perform daily tasks associated with living a normal, healthy. Occupational therapy focuses on three main areas:
Self Care: includes personal hygiene, grooming, and healthy eating

Productivity: includes maintaining employment or attending school

Leisure: includes playing sports, team activities, and personal hobbies
Occupational therapists will often try to restore a patient's self-confidence by breaking down big tasks into smaller, more manageable subtasks for the patient. This approach prevents the patient from feeling overwhelmed and gives them a sense of achievement by proving a series of small wins that bring them incrementally closer to achieving a big goal.
Symptoms of Post-Traumatic Stress Disorder
The biggest commonality among first responders, veterans, and survivors of abuse with post-traumatic stress disorder (PTSD) is that it impairs their abilities to move forward after the traumatic event. PTSD symptoms create severe psychological limitations that promote self-destructive behaviors. Through repetition, these behaviors become habits that an individual will feel unable to control, much less stop. PTSD symptoms are usually grouped into four categories:
Intrusive memories

Avoidance of triggering situations and emotions

Negative changes in thinking and mood

Changes in physical and emotional reactions
In his book, The Evil Hours: A Biography of Post-Traumatic Stress Disorder, David J. Morris describes the aftermath of trauma as follows:
Trauma destroys the fabric of time. In normal time you move from one moment to the next, sunrise to sunset, birth to death. After trauma, you may move in circles, find yourself being sucked backwards into an eddy or bouncing like a rubber ball from now to then to back again. … In the traumatic universe the basic laws of matter are suspended: ceiling fans can be helicopters, car exhaust can be mustard gas. 

Understanding Your Emotions Helps Manage Symptoms
Our emotions are an important part of our individual growth and development. They can help us with everything from situational awareness to establishing healthy relationships. Distinguishing between an appropriate emotional response and a dysfunctional one can be a challenge for individuals with post-traumatic stress disorder (PTSD). Our occupational therapists teach patients principles and skills to help them better understand their emotions:
Your emotions can provide you with useful information or important signals.

Emotional signals can often be useful, but they should not be treated as facts.

Your emotions are important, but keep them out of the driver's seat when it comes to making certain types of decisions.

Staying connected to your emotions is essential for developing useful coping techniques. However, you must also maintain the capacity for rational analysis of your reactions to situations and be able to evaluate whether or not your reaction is appropriate.

In some situations, the appropriate action for you to take may be the opposite of what your emotions are telling you to do—this is called "opposite to emotion action."
The process of working with occupational therapists is both collaborative and goal oriented, making it easy for patients to track their progress.
The Wise Mind: Balancing Emotion and Reason
When we are in our emotional mind, our actions are predominately based on our emotions and how we are feeling. Our response to stress or triggering situations is extremely reactive as we abandon logic, fact, and reason when our emotional mind has taken over. An example of your emotional mind taking over is when you overreact to a situation because it triggers a negative memory of a similar situation; your fear that something similar to your memory may happen again drives your overreaction, even if it is actually extremely unlikely.
We would all like to believe that we operate from our reasonable mind, however this is not always the case. The reasonable mind is the part of us that is based solely on logic and rational information. It gathers and interprets empirical information from our observations and forms beliefs and opinions based on that information. If drives actions that are are cool, controlled, and strategic. The reasonable mind is very useful in crisis situations. Many military personnel and first responders can tell you, being able to access the reasonable mind when you need it can be the difference between life and death. The reasonable mind is excellent for planning and evaluating big life decisions, however, it is possible to overdo it and fail to recognize and consider the significance of our emotional signals. Overuse can create habits such as minimizing our feelings, and compartmentalizing events that could be pivotal to our development by diminishing our emotional connections to them. Such habits could lead to depression, burn out, or feeling numb.
The wise mind is the integration of the reasonable mind and the emotional mind. It is a functional blend of strategic thinking guided by healthy emotional awareness. It is the capacity to consider past experiences, current perceptions, and theoretical knowledge, to arrive at a constructive understanding of one's present situation. Our occupational therapists teach our patients techniques to make the wise mind more easily accessible and available to help them manage their trauma symptoms.
Problem Solving: Barriers and Strategies
Problem solving can be difficult for the average person on any given day. It requires us to use all aspects of our mental capacity to analyze a particular set of circumstances and available choices, and then produce a solution. An ideal solution would not only satisfy our immediate need, but would also be consistent with our long-term goals. This process can be extremely difficult for individuals suffering from mental health or substance use disorders as they may not trust their own judgement and or accuracy in assessing a situation.
Barriers to Effective Problem Solving
The first step that our occupational therapists take with patients is to help them identify common barriers to solving problems quickly and effectively, including the following:
Looking for a perfect solution

Feeling hopeless or helpless; believing that a satisfactory solution does not exist

Feeling depressed, distressed, or anxious to the point that one cannot focus on problem solving

Excessive fatigue to the point that impairs cognitive ability

Underdeveloped problem-solving skill set
Strategies for Effective Problem Solving
Occupational therapist also teach patients a range of effective problem-solving strategies that can be used in different situations, including the following:
Algorithms: An algorithm is a iterative, step-by-step procedure that produces a better solution with each iteration. While it has a high change of producing a good solution, it can be very time consuming.
Heuristics: A heuristic is a mental rule of thumb, such as an educated guess, stereotype, or generalization. Many people tend to employ this particular strategy when faced with a series of complex problems to reduce the possibilities to a more manageable number.
Trial and error: This approach can be effective when the number of potential solutions is small and the cost of failure is low. The idea is to try solutions, learn from the results, and keep trying until a satisfactory solution is discovered.
Insight: With this strategy, the solution to a problem may appear "all of a sudden." Many researchers believe that insight occurs when a person recognizes features of a current problem that are similar to a problem that the person has successfully solved in the past.
Subjective Unit of Distress Scale and Coping Strategies
It can be very difficult for those suffering from substance use and mental health disorders to clearly recognized and understand how they are feeling at any given time. Occupational therapists provide patients with tangible metrics to help them the recognize, isolate, and react appropriately to negative stimuli. The Subjective Unit of Distress Scale (SUDS) works as an emotional gauge, and is a crucial part of therapy. The SUDS protects patients from their more destructive emotions by teaching them practical ways to distract themselves from what they are feeling. The objective is to turn this distraction, which may be unusual to the patient in the beginning, into their habitual response to extreme stressors.  
Occupational Therapists Help Patients Get Back to Their Lives Faster and Better
Recovery from post-traumatic stress disorder is a difficult process that requires hard work and commitment from the patient. Occupational therapists help facilitate this process and allow patients to return to their normal lives more quickly, with effective coping skills, useful habits, practical knowledge, and effective problem-solving strategies.
Call Us for More Information
If you would like to learn more about the treatment programs provided by EHN Canada, enrol yourself in one of our programs, or refer someone else, please call us at one of the numbers below. Our phone lines are open 24/7—so you can call us anytime.
Integrated Treatment of Substance Use Disorders and Concurrent Post-Traumatic Stress Disorder (PTSD) Is The Most Effective Approach
Post-traumatic stress disorder (PTSD) can develop after an individual has been exposed to a traumatic event such as death, serious injury, or a threat of harm to themselves or to others. When exposed to such events, it is normal to feel intense fear, helplessness, and horror, but in most cases, these feelings are eventually resolved—but, unfortunately, not always. Some people experience long-lasting and intrusive symptoms such as disturbing flashbacks, heightened states of arousal, mood disturbances, and avoidance of memories about the event. These are the symptoms associated with PTSD.
Post-traumatic stress disorder (PTSD) is more common than you might think. An estimated 1-in-10 Canadians will experience PTSD at some point in their lives. Certain populations are at higher risk of developing PTSD because they are more likely to experience traumatic events. Members of the military are often seriously injured, witness the death or injury of others, and have their lives seriously threatened. Many veterans returning from Iraq and Afghanistan report being targets of enemy gunfire, knowing someone who was injured or killed, or even having to handle dead bodies. Such experiences can have a lasting effect on an individual's mental and emotional well-being.
There appears to be a bi-directional causal relationship between developing post-traumatic stress disorder (PTSD) and developing a substance use disorder. People with PTSD experience persistent and disturbing psychological symptoms, which make them more likely to use alcohol or drugs as coping mechanisms. Conversely, people with substance use disorders are both more likely to experience traumatic events and less likely to be able to process them effectively.
Compared to either disorder alone, concurrent post-traumatic stress disorder (PTSD) and substance use disorders are associated with worse mental and physical functioning, and higher levels of psychological distress. When these two disorders are concurrent, the negative effects can be quite severe: they can impair a person's ability to work, to maintain healthy relationships, and to maintain a positive outlook on life. As a result, people with concurrent PTSD and substance use disorders will often experience rapidly deteriorating physical and mental health, and should therefore get treatment as soon as possible.
There are several treatment options available for individuals with concurrent post-traumatic stress disorder (PTSD) and substance use disorders, including both medical therapy and psychotherapy. Historically, treatment focused on resolving the substance use disorder first, before proceeding to address the PTSD. However, the historical approach risks exacerbating a patient's PTSD symptoms: when a patient with PTSD narrowly focuses on trying to resolve their substance use disorders, they are likely to be confronted with challenges and discomfort for which they are not yet adequately prepared. Today, however, most clinicians recognize that patients' substance use is closely related to their PTSD symptoms. Hence, at EHN Canada, we believe that the most effective treatment approach is through integrated treatment programs that address both disorders together.
EHN Canada's integrated treatment model acknowledges the fundamental interdependence between post-traumatic stress disorder (PTSD) and substance use disorders. Therefore, we address the two disorders at the same time, usually within the the same treatment program. Substance use disorders are conceptualized as tools—albeit highly dysfunctional ones—that people use to try to manage their PTSD symptoms. We educate patients and provide them with a new, healthier, and more effective set of tools, early on in their treatment programs. This reduces the likelihood that a patient's PTSD will compromise their recovery from their substance use disorders. Our conviction that the integrated treatment model produces superior outcomes is also supported by patients' attitudes: research has found that patients with concurrent PTSD and substance use disorders report an overwhelming preference for the integrated approach.
Post-traumatic stress disorder (PTSD) and substance use disorders have a complex interrelationship. EHN Canada treatment programs teach patients how to recognize and manage their symptoms and triggers. We also help patients create solid recovery plans that serve to guide their long-term behaviour changes. EHN Canada's individualized treatment programs also push each patient to discover their own unique strengths and skills. We encourage and support our patients to further develop these abilities to support their successful recoveries and recovery maintenance. Patients complete EHN Canada treatment programs having developed functional and adaptive coping strategies, as well as assertiveness and effective communication skills. They walk out our doors ready to face the world, full of optimism, and eager to get back to their relationships, families, friends, and careers.
Call Us For More Information About Our Programs
If you would like to learn more about the treatment programs provided by EHN Canada, enrol yourself in one of our programs, or refer someone else, please call us at one of the numbers below. Our phone lines are open 24/7—so you can call us anytime.
Bell Let's Talk Day – Mental Illness Coupled with Addiction Are More Common Than You Think!
Are Canadians doing a better job at helping people with mental illness and addiction than they did 10 years ago? The truth is that the number of people developing problems with substance abuse or compulsive behaviours is increasing. You can go on any news outlet right now and see that there's an epidemic taking place in our country. There's an opioid crisis with Fentanyl, W-18 and Carfentanil hitting Canadian cities at an alarming rate. Hundreds of Canadians are overdosing on these drugs, especially in BC.
Is the increase in these drugs the real problem? Or is this just part of larger problem? The Canadian government is beginning to realize that these overdoses are part of a much bigger problem- addiction.
On Bell Let's Talk Day, most of the focus is usually placed on mental illness but there isn't a lot of conversation about addiction. Perhaps we all need to talk about it more, given the fact that people with a mental illness are twice as likely to have substance abuse problems.[1]
Addiction continues to be a subject that we avoid because it's misunderstood and carries a ton of stigma. Many individuals believe addiction is a choice and it only happens to a certain group of people. At the Edgewood Health Network we know that this not the case.
Addiction isn't a hobby that someone decides to pick up one day. Many people who have developed an addiction may have started using pain medication because they were prescribed by a doctor to help them with a medical condition or they were struggling in silent with mental illness. In other cases, it was a way of avoiding unpleasant feelings as a result of past memories or trauma. Addiction was a way to numb the physical or emotional pain that they lived through. Unfortunately, not everyone survives this chronic disease.
What's the upside of this story? The people who are in recovery decided that enough was enough! Even though their brain told them to keep using, their hearts understood that recovery was the only way that would prevent them from total self-destruction. Recovery is our answer to helping people who are living with addiction and mental illness. Recovery is the reason why families who were falling apart became whole again. It gives people the tools to live again and give back to others who are in need.
On Bell Let's Talk Day, let's talk about addiction and recovery because it doesn't matter what age you are, whether you are 30 or 50. People do recover.
If you are struggling with addiction and mental illness, we hope these quotes from our alumni in recovery will inspire you to talk to someone today and ask for help.
Recovery is the greatest gift you can give to yourself.
Julie:
"I have been in recovery for most of my 30's and it's been miraculous! Had you told me at 33 (when I got sober) who I would be and what my life would look like at 39, I would have told you it wasn't possible. Maybe even that you were crazy. Gratitude is too simple a word to describe the awe and joy I have in my life now that I am living recovery. And I'm so excited I get the chance to live the rest of my life this way."
Tristan:
"Being in recovery in my 30's is like living a new life daily. Waking up every morning in freedom is much better than trying to get out of the hell I was living in. Recovery at first is challenging but as time goes on it gets better and better!"
Andrew:
"Recovery began for me when I was finally able, not only to accept help, but to ask for it. Since then everything has changed. Things haven't always gone my way but there has always been a way out and a lesson to learn. Honestly, coming into treatment was such a blur for me. But if there was one thing I took away from it,that I still use to support my recovery, it was this: A community of people exists who have experienced, and overcome, every single problem I have in my life. What is required is my effort to connect to them as best I can. When I heard the words that 'addiction is suicide on an installment plan' I realized that I had to face the fact that, despite all I had ever told myself, I was becoming just like my father. Treatment is a process that allowed me to reclaim my life as my own, not anyone else's."
Jennifer:
"Sobriety is a choice for a new life. Recovery to me is being FREE. It sounds weird but it's not.  I'm not thinking or obsessing of when my next drink is going to be and when I'm going to get high on drugs. Now it's not even on my mind when things go wrong.  If that's not freedom what is?"
[1] Mental Illness and Addictions: Facts and Statistics-CAMH. Retrieved on January 24, 2017 https://www.camh.ca/en/hospital/about_camh/newsroom/for_reporters/Pages/addictionmentalhealthstatistics.aspx
Let's Talk About Addiction AND Mental Illness Together
The word addiction still paints a stereotype of what a person with substance abuse problems looks like. Several people still believe it's a moral failing. Many biases stem from the way we were brought up, cultural taboos, negative experiences or a lack of understanding. Stigma is one of the biggest challenges people face when they talk about addiction and mental health.
During the Bell Let's Talk day on January 27th, 2016, as part of the Edgewood Health Network, we will work with Healthy Minds Canada to shed a light on addiction and mental illnesses that many of our clients often have in conjunction with addiction. Canadians are certainly making a progress in terms of talking about mental illnesses, such as depression, anxiety, schizophrenia, and bi-polar disorder. What many don't know is that people with mental illness are twice as likely to have substance abuse problems. Some research reveals that 20% of Canadians with mental illness have substance abuse problems. The rate jumps to almost 50% for people with schizophrenia and substance use disorders.
Fear, stigma and lack of support are still factors that are affecting Canadians who need help with addiction and mental illness.  How can you help?
Talk about it. We talk about several diseases and illnesses, but we aren't as open to talk about addiction and mental illnesses. The more conversations you have about addiction and recovery, the more likely everyone will begin to realize how we are all affected by it. Addiction is a treatable disease where long-term recovery is possible. Conversations about recovery can help end the stigma and encourage people to reach out for help.
Be Mindful of Your Words. According to the Canadian Medical Association, 2 out of 3 people with mental illness suffer in silence for fear of being judged or rejected. Often, we are ashamed or scared to disclose the fact that we know someone or it's ourselves that need help. Sometimes, it's the words you use that can make someone with an addiction and mental illness feel hurt, ashamed and avoid talking about what's really going on with them. Words, such as "junkie or nut job" are examples of words that cultivate stereotypes and stigma.
Educate yourself. 1 in 5 people will experience a mental illness or addiction at some point in their lives. Being able to recognize the signs of an addiction and mental illness can be a matter of saving a life. Knowing where to get help or who to reach out for support can make a huge difference too. With addiction, people can spend years in denial or thinking about getting help before they make a move. Being prepared with resources and options for treatment can give a person hope knowing you really care and support their recovery.
Be compassionate. Whether it's at home with your kids, in your workplace or at school, try to foster a place that makes people feel safe and supported so that they can talk, ask for help and request accommodations when they need it. There are several organizations you can contact to get information and guidelines on how to properly implement policies and provide support for your kids, employees or students that need help with an addiction and have mental illnesses.
As we move into 2016, let's make better choices with our words, our workplace policies, and in our schools about how we view, treat and support people who have an addiction, are in recovery or have mental illnesses. People with addiction and mental illnesses don't choose to have these diseases and illnesses, but you can choose to be kind and understanding.
[Infographic about Addiction and Mental Illness in Canada]
Sources:
https://www.camh.ca/en/hospital/about_camh/newsroom/for_reporters/Pages/addictionmentalhealthstatistics.aspx
https://letstalk.bell.ca/en/end-the-stigma/
https://www.edgewoodhealthnetwork.com/national-addictions-awareness-week-addiction-matters/
Substance Use and Addiction: What Does Work Have to Do With It?
Could your job be encouraging a substance use disorder?
Addiction can affect anyone, regardless of their job.  But there are certain fields where substance abuse and addiction are more common, and they tend to have a few things in common. Research shows that high stress, low job satisfaction, long hours or irregular shifts, fatigue, repetitious duties, boredom, isolation, irregular supervision and easy access to substances can all contribute to the problem. But what groups are most affected?.  We know that employees in the arts and entertainment, mining and food services are more likely to report heavy drinking in the past month compared to other employment groups. On the other hand, employees working in healthcare and education are the least likely to report heavy alcohol use. 
Risk Factors Explained:
There are several factors associated with different types of jobs that may lead to an increased likelihood of problematic substance use. Low employee visibility and isolation can be high risk for substance use and misuse. Jobs that involve a substantial amount of travel, and therefore less direct supervision such as some sales jobs, construction or contracting jobs, can lead to increased substance use.  In addition, social and workplace norms around drinking and drug use can also contribute to the problem. Some work environments are more permissive that others and it has been found that perceived acceptability of drinking by coworkers is one of the strongest predictors of drinking behaviour. In some industries such as the food and beverage service industry, alcohol is easy to acquire right on the job, making it easier to consume. Therefore the normative belief that it's okay to have a drink while at work, coupled with the easy access to alcohol can make it extremely likely that an employee in a bar or restaurant will consume alcohol while on the job. If the employee works every day, it can become a daily habit that can ultimately lead to it's misuse and possibly abuse.
Another important contributing factor is the issue of employee stress. Stress can come from various sources including physical hazards or heavy workloads, tight deadlines, low job security and workplace conflict. These factors can lead to an employee feeling little or no control over what happens at work. Jobs that offer very little control, combined with increasing demands, can place the employee at risk for substance use as the alcohol or drugs may be the employee's form of coping with the demands and stress of the work environment. Therefore employers should be aware of possible stressful situations and should emphasize work/life balance with employees.
What to do?
It is important to note that not all employees working in high risk occupations will go on to develop an addiction. Instead, it is likely that a combination of several causes, including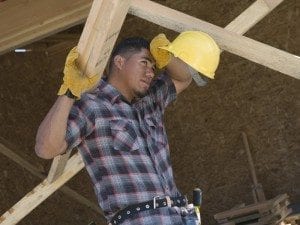 individual factors such as genetics, social, cultural, and mental health issues, places an employee at greater risk for developing a substance use problem. In order to minimize this risk, it helps if employers are aware of the common signs of substance abuse and receive adequate training in how to approach an employee that might need help.
It is also important to establish clear organizational policies about substance use in the workplace. Employees need to have clear expectations about workplace rules and repercussions that would follow should an employee choose to break those rules. Employers should also be aware of how the work environment or job features may lead to maladaptive coping or other unwanted behaviours such as drinking alcohol or using drugs. This knowledge could shape the workplace culture such that employees feel empowered to approach a supervisor when concerned or taking some time to rest and recover when feeling stressed or overwhelmed.
So pay attention to the signs.  Try to minimize stress, isolation and fatigue. Work on creating a culture where health and self-care are more important than drinking and using.
Intensive Outpatient Programs: A Flexible Option for Addiction Treatment Could be the Solution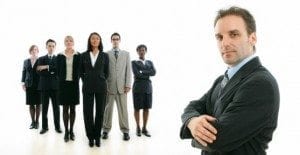 Substance use disorders are pervasive and can affect everyone. Research has demonstrated that about one in ten Canadians reports having a substance use issue, and these individuals include professionals, those who are employed or self-employed and those who have other daily responsibilities and commitments such as homemakers and caregivers. At times, substance use disorders are problematic to the point that the individual needs to seek help from addiction counsellors and mental health professionals. Traditionally, when substance use is problematic, residential programming has been the conventional option for addiction treatment. However, taking an extended amount of time off could be a barrier in getting the help that is needed, especially for those who are employed or have daily commitments. It is for this reason that treatment providers also offer Intensive Outpatient Programs (IOPs). For those in need of addiction treatment, IOPs allow people to work and honour their daily commitments while also attending regular, outpatient treatment sessions in order to address their problems and to learn the tools that can help them maintain sobriety.
Outpatient programming is not for everyone but when appropriate, it can be a meaningful and effective treatment option to address a serious health issue such as a substance use disorder. As with any other treatment programs, recommending an IOP must be part of the individual's treatment plan. This means taking into consideration any physical, emotional or behavioral problems relevant to the person's care. The treatment plan must consider the needs of the client and begins with a comprehensive assessment of the individual. Once the assessment is complete, a professional can decide on the best level of care that will meet the client's needs.
There are multiple factors that must be considered when determining whether or not someone is a good match for an IOP. For example, one of the primary considerations is the level of medical need such as a history of withdrawal symptoms, as well as existence of medical conditions that require monitoring. Professionals will also consider whether or not the individual has other emotional/cognitive/behavioral problems that may require closer attention by a mental health professional. In order to meaningfully participate and keep up with the program, the person must also have a sufficient level of motivation to be able to maintain sobriety while attending scheduled meetings. This often means that the client must have a stable and supportive home environment that will be able to foster a successful recovery.

IOPs typically take a group approach, providing clients with opportunities to learn from and support one another while developing communication skills and socialization experiences that do not involve the use of drugs or alcohol. Such programs that cultivate a supportive environment, also establish a safe and trusting relationship between group members, as well as the counsellor. Those that are further along their path of recovery can provide guidance and support for newer members, helping them refine the new skills and tools they are learning.
Clients typically participate in a variety of groups that make up an IOP program. Such groups can include psychoeducational sessions or lectures, where individuals can begin to understand the nature of addiction and how it has been impacting their mind, body and social life. These sessions are often also accompanied by relapse prevention and skills training, as well as a selection of videos that may help clients with their understanding of the material. Other groups may consist of teaching some very concrete skills such as assertiveness training, refusal techniques and stress management strategies.
As with any other treatment program, intensity and client retention are vitally important for outpatient programs. Research shows that successful outcomes are closely related with the length of program and how often clients are able to attend. It is also important that once the client completes the intensive component, they attend regular aftercare meetings and create a close network of supports that will help them maintain a successful recovery going forward. Such meetings can also serve as a safety net in case the person begins to struggle and may require more intensive support in order to prevent a full on relapse.
Successful outcomes also depend on client's individual characteristics. For example, research has found associations between severity of substance use and treatment success. There is also something to be said about how long someone has been struggling with an addiction, the severity if their cravings and how many previous attempts at treatment may have had. Finally, symptoms of co-occurring mental health problems such as depression or anxiety can also impact an individual's recovery. Overall, it is best to leave the decision of selecting an appropriate treatment modality to a professional who is able to consider a variety of factors that may be contributing to the maintenance of the addiction. However, when appropriate, participation in an IOP can be a realistic, meaningful and effective means of addressing alcohol and substance use disorders.
Play It Forward for Mental Health Awareness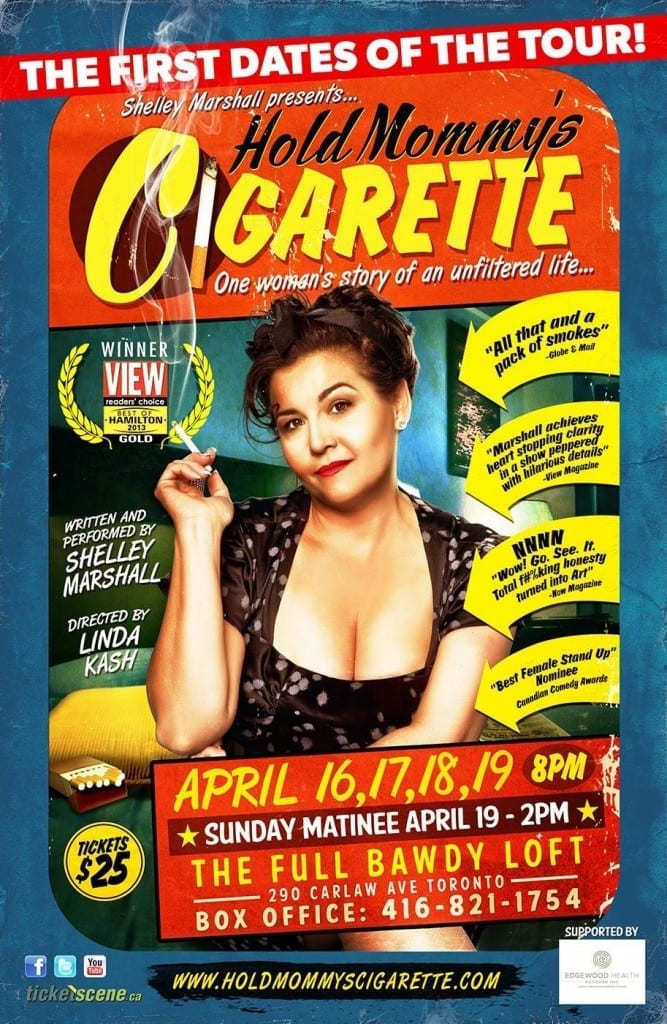 Henri Matisse said that creativity takes courage.  That's exactly how you would describe Shelley Marshall – courageous and creative.  Hilarious is another word you might use.  She's a comedienne, a mother and a mental health warrior.  And she's partnered with the Edgewood Health Network to bring her award winning autobiographical play Hold Mommy's Cigarette across Canada.
This one woman show is the story of Shelley's life and the impact a history of mental illness has on a family and a young girl.  It's a story that touches audiences deeply and makes them laugh just as hard. As Shelley says, "I take them on an adventure, both emotionally and visually. There is no denying that my story is tragic, but it's my story and time and writing without shame has been my comedic relief. Hold Mommy's Cigarette is not an exploitation of what has happened in my life, but rather, an acceptance of where it may lead. It is a dark comedy, a vulnerable piece about life, mental illness and survival."
The play chronicles her early life, leading up to her lowest point – a suicide attempt.  Yet fate and her husband intervened, and Shelley survived.  She now uses Hold Mommy's Cigarette as a vehicle to talk about depression and to showcase how she was able to turn her deep sadness into tremendous success.  It's an inspiring experience that opens up a much needed conversation around suicide and mental illness.
As a part of the Edgewood Health Network, we're very proud to be helping Shelley spread her message of hope. Especially since addiction is a disease that often leaves it's sufferers feeling completely hopeless.
The Edgewood Health Network wants to "play it forward" by giving away  free tickets to Hold Mommy's Cigarette. We think everyone should have a chance to see this show! Tickets will be available for April 16, 17, 18 and 19 in Toronto.  Go to https://www.ticketscene.ca/series/285to register and use the promo code EHN.
As Shelley often says, "best life ever!"
Mental Illness – Let's Reduce the Stigma! Let's Talk.
1 in 5 people are dealing with a mental illness. As you may know, today is "Bell Let's Talk" day, and this is an initiative carried out by Bell Canada, in order to work towards reducing the stigma of mental illness. These anti-stigma campaigns are trying to target the deeply ingrained biases that many of us have when it comes to talking about addiction, and mental illness. The root of stigma comes from our upbringing, our family of origin, a lack of understanding, and perhaps a lack of personal experience. The stigma around mental illness is a significant issue in our society today, as many people still feel shame and embarrassment for visiting a therapist, taking medication, or requiring accommodations.
The stigma concerning mental illness has a deep effect on the individuals who are struggling with these issues. The effects of stigma can be compared to carrying an extra weight, as these individuals may react to the stigma by choosing not to speak about their illness. Coping with the stigma associated with mental health adds an extra burden to these individuals, and maintaining stigma in our society can lead to individuals not choosing to get help for fear that they will be ostracized , or viewed differently.
The workplace is one environment in which it is especially difficult for individuals to speak about mental illness. As a treatment centre that focuses on treating individuals and families with addiction and mental health issues, we encourage all employers to be progressive and informed about their workforce. To assist with fostering an environment that is free of stigma here are some guidelines:
–  Be supportive, non-judgmental, and accommodating of all employees, regardless of their health issues, or the position that they hold within the company
–  Provide diversity education, and educate all staff about the basics of mental illness, and how to practice work-life balance
–  Foster an environment that is safe, supportive and encourages employees to feel comfortable coming forward to ask for any accommodations they may require
–  Provide a range of effective Employee Assistance Programs as an added support for employees
With each person on the planet that starts breaking down the barriers related to mental illness, the closer we will find ourselves to a world where people do not feel shame for seeking the help that they need.