Bellwood is Accredited With Exemplary Standing by Accreditation Canada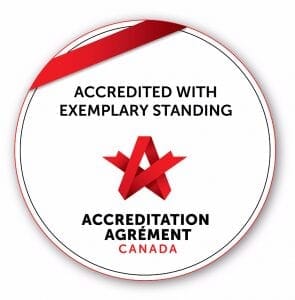 Bellwood is pleased to share with you the exciting news that we recently completed our accreditation process and have received the highest level of certification from Accreditation Canada: Accreditation with Exemplary Standing. This award level is a repeat of our 2012 achievement and reflects our continuing commitment to quality and services to our clients.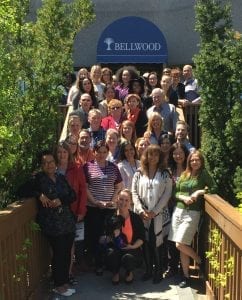 As part of the accreditation process, Bellwood was evaluated on 417 safety and quality standards, and met each one of these standards.  Quality dimensions included:
Population focus
Accessibility
Safety
Worklife
Client-centred services
Continuity of services
Appropriateness
Efficiency
Bellwood is committed to providing excellent care and service to our clients, their families, and our community partners.  Our commitment to quality is long-standing, and is reflected through our membership in the Edgewood Health Network, Canada's first truly national organization for addiction treatment services.
We will strive to continue to deliver high quality care and services to individuals and families dealing with addictions, substance abuse, eating disorders, concurrent trauma issues, and other related problems, and are excited to announcement that we will be re-locating to a newly renovated, state of the art facility in the Fall of this year.
For more information about Bellwood's accreditation or re-location, please contact us at 416-495-0926/800-387-6198, or [email protected].
Fentanyl Facts: What you need to know about the drug showing up in Canadian cities
Fentanyl is all over the news right now. It seems that there is a new report every day about an overdose, an arrest or a large amount seized on its way to Canadian cities. Fentanyl is a synthetic opiate typically used to treat severe and chronic pain. It is often prescribed to cancer patients. With so much buzz and so many news stories, it can be confusing to wade through the information, so here are some quick facts about Fentanyl and it's use in Canada.
1. It's strong and fast:
Fentanyl is 50-100 times more toxic than morphine and 100 times more potent than heroin. Its so strong that as little as two milligrams can cause an overdose. After ingestion it can reach your brain within minutes and cause respiratory failure. Many of the reported deaths have happened this way; someone takes half a pill, falls asleep and they never wake up.
2. It's often cut into other drugs:
Fentanyl has been found in many other drugs like heroin, cocaine and oxycodone. In fact, buyers often think they're buying Oxy when they're really getting Fentanyl. The drug has no smell or taste, and you can't see it so there is no way to tell if other drugs have been laced with it.
3. It's addictive:
Just like any other opiod, Fentanyl is extremely addictive. Many users report craving it after just one use. And like many drugs, users often build up a tolerance. They have to use more and more to get the same high, which is very dangerous with such a toxic drug.
4. People are dying:
When an amount about the size of two grains of salt can cause an overdose, it's not surprising that people are dying. Especially when users don't always know that their drugs contain Fentanyl. Even when you do know, you might be getting street Fentanyl. This is non-regulated and non-pharmaceutical, meaning that it was probably created by a dealer somewhere. The toxicity levels are rarely accurate and the drug is often combined with caffeine, meth or heroin so you really don`t know what you're getting. Thus far in 2015, there have been 145 deaths connected to Fentanyl in Alberta and 66 in British Columbia. And it is both recreational and long-term users that are dying.
Of course, we don`t encourage recreational drug use in any way, but we want everyone to be especially careful with Fentanyl. The risk of overdose it too large. If you are using Fentanyl or know someone who is, please seek help. While we can`t speak for everyone, we find that opiod use is rarely recreational, and is often a sign of a deeper problem. Drugs and alcohol can take over your life so quickly and once they do, each time you use is a risk. When you seek help, make sure you find a place that you can safely and medically detox under the supervision of a doctor. Our phone lines are always open if you need to talk about opiod abuse or just want more information. 1-800-683-0111
Look for a more in-depth article about Fentanyl in our upcoming fall issue of Phoenix Magazine. Subscribe here: https://www.edgewood.ca/e-subscriptions
Binge Eating Disorder is Now Recognized as an Eating Disorder in the DSM V
As clinicians and researchers learn more, categorization of various mental health issues and disorders changes to reflect more precise diagnostic criteria, thus helping those who are seeking treatment and understanding. For example, the tool that mental healthcare professionals use to help guide their diagnoses and treatment plans – the Diagnostic and Statistical Manual of Mental Disorders (DSM) is revised from time-to-time to ensure that updates are made as more information about various disorders becomes clearer. In its latest edition, the DSM-5 has included an important revision in the chapter involving Feeding and Eating Disorders.
Definition of Binge Eating Disorder According to the DSM-5
In the latest edition of the DSM, Binge Eating Disorder has now been recognized as separate and distinct from the "catch-all" category of eating disorders labeled "Eating Disorder Not Otherwise Specified (NOS)." In the past, this category was used for individuals who had disordered eating and behavioural patterns that did not fit into the DSM-IV criteria of anorexia nervosa and bulimia nervosa. However, it is now recognized that a large number of individuals diagnosed with Eating Disorder NOS category may actually have Binge Eating Disorder. This is an important distinction because diagnostic criteria for this disorder can be more clearly articulated. According to the DSM-5, Binge Eating Disorder causes distress and significant physical and psychological problems. It is defined as:
Recurring episodes of eating significantly more food in a short period of time than most people would eat under similar circumstances
Eating episodes marked with feelings of lack of control
Eating too quickly, even when not hungry
Feelings of guilt, embarrassment, or disgust
Eating alone to hide the behaviour
The Implications of this New Diagnosis
This new distinction of Binge Eating Disorder in the DSM has important implications for individuals seeking help. The DSM criteria associated with the disorder will hopefully be associated with a more meaningful and accurate diagnosis. In addition, healthcare professionals can improve communication among service providers and improve treatment planning given their shared understanding of what the disorder represents, as compared to the previous diagnosis of an eating disorder, "not otherwise specified."
In addition, the formal categorization of binge eating disorder may also reassure individuals who are attempting to seek help for this cluster of behaviours that causes them a significant amount of pain and distress. Family members or others may have told individuals with binge eating disorder that they simply are "overeating," making the individual with the problem feel like the problem should be within his/ her control to fix. The diagnosis of binge eating disorder, when indicated, may help the individual to realize that seeking help for the problem is necessary and appropriate. It may also provide the individual with insight into the fact that binge eating disorder is more than simply "overeating" – that it is far more severe and requires treatment by professionals who can help. When an accurate diagnosis is made, an appropriate treatment plan can then be developed. With the appropriate treatment plan and guidance and support from professionals, an individual can begin to recover from their binge eating disorder.
Think you might have an eating disorder? Do you have a family member or friend who may require help with a binge eating disorder? Bellwood Health Services can provide you with you information, resources and support needed to recover from an eating disorder.
Contact Bellwood to learn how we can help.
The Great Equalizer: The Death of Eve Rausing
However she died, they were in it together. The drugs and the insanity. The fact he fled from the scene in a car full of drugs suggests he is in the grip of an active addiction. And if that is proven to be the case, he chose not to report her death probably because he knew deep down getting others involved would mean he'd ultimately have to stop using.
That is the terrible logic of addiction.
I read a story in the Globe and Mail this morning about the unexplained death of Eva Rausing, one of Britain's richest women, after her body was discovered at her Belgravia home and her husband was arrested.
The back story is that Eva Rausing was married to Hans Kristian Rausing, 49, an heir to Tetra Pak fortune worth many billions of dollars. She had a long history of drug use and in fact was once arrested for bringing a purse full of crack cocaine and heroin to a function at the US embassy (which shows where her head was at). That she got off with a warning says a lot about equal access to justice and the super-rich.
Yesterday her husband was found "driving erratically" with 50 grams of coke in the car and arrested. When police went on to search the couple's luxurious, five-storey mansion in the posh Chelsea district of London, they discovered the body of Ms. Rausing. It was not clear how long she had been dead.
Here husband has been detained as is now in hospital. Whether he will be charged in her death is an open question.
However she died, they were in it together. The drugs and the insanity. The fact he fled from the scene in a car full of drugs suggests he is in the grip of an active addiction. And if that is proven to be the case, he chose not to report her death probably because he knew deep down getting others involved would mean he'd ultimately have to stop using.
That is the terrible logic of addiction.
Beyond у the sensational details of this human drama stand some awful truths that we might think about over the next few days as we watch our media revel in this story of the rich and the damned.
Eva Rausing was a mother with four children. She had struggled with her addiction to drugs for years. She had been to treatment centers over and over again. That she was a billionaire with all the resources in the world to get the treatment she needed was entirely irrelevant to her disease.
Addiction is a tough and scary diagnosis. It has no mercy. Addicts, like people with cancer, diabetes, heart disease and HIV have to learn to "live with their disease". We fight it everyday. Many of us have a genetic predisposition that can trap us into a spiral of abuse and slavery. No one chooses to be an addict.
Too often we see addiction portrayed as a disease of the poor, the dispossessed, the hopeless, the homeless – and the weak minded. Language like "Crack head" and "junkie" reveal our attitude of judgment, misguided, unhelpful and factually incorrect as it is.
A report by the Canadian Center on Substance Abuse in 2006 reveal 76% of people with addictions in are employed. They're not poor. Or homeless. 1 in 10 people in our population are in active addiction right now. Drugs, alcohol, sex, porn, gambling, food, working out… the list is almost endless.
Look around you. Count 10 people then pick one. Maybe it's you?
Until we see addiction as a health issue – and not a moral issue we will continue to reap the rewards of ignorance – and death. Eva Rausing was a wife, a mother and a pillar of the community. She gave millions to charity. She had more than her fair share of wealth.
Yet in the end, she had equal access to death. Rich, poor, employed, homeless, beautiful or otherwise, addiction is the great equalizer.
E. Brian Johnson
Special to Bellwood Social
Bellwood Health Services
HIGH: Tired Old Stereotypes Still In Play
I love a good night at the theatre. The  anticipation of the evening's entertainment as we filter in to take our seats. The secret pleasure of people watching (just who are these people and what are they wearing!?)
There is nothing so exhilarating as an evening in the presence of great artists bringing great characters to life in a great play. THAT is the promise of a night at the theatre.And it all sounded so good on the phone…"Brian, you'll love it" my media pal said "It's a play about low life drug addicts. It's right up your alley!". Well, thanks… I think.  So off I went to see HIGH, the new Broadway play opening for a limited run at the Royal Alexander Theatre in Toronto.Turns out there were exactly two things to like about this play. The star, Kathleen Turner, who came to fame during the 1980s after blockbusters like Romancing the Stone and The War of the Roses. She was great! The second thing to like? The tickets were free. We might be living in a post-Intervention, post-Dr. Phil, post-Lindsey Lohan world. We might think that Rehab is the new "Hollywood Squares' (a place where old movie stars go to revive their careers) but after an bewildering evening spent watching HIGH, turns out some of us, including playwright Mathew Lombardo, are still living in the 1950's.
HIGH tells the story of  a hard boiled Addiction Counsellor Sister Jamison Connolly as she tries to reach out to a wayward young "meth" addict Cody. Kathleen Turner is perfectly cast as Sister Jamison. She swears frequently in a throaty, bourbon soaked voice that has become her calling card. Her performance as a Nun with an addiction history of her own has an emotional core that rings true – and is darkly humourous.  Cody, the young addict, is portrayed by new comer Evan Jonigkeit. Think of a Saturday Night Live Parody of Ashton Kutcher playing a slacker street kid and you've pretty much got the flavour of his unconvincing performance.
If you work in recovery, or even if you've watched a couple of episodes of Celebrity Rehab, you know that the real life journey of an addict from rock bottom to a full recovered human being is about as dramatic and compelling as life gets. Unfortunately for us, playwright Lombardo, himself in recovery, isn't willing to do the hard work of telling the true story, the story with a hard won emotional truth at it's core. Rather, he treats us to an over blown melodrama that plays right out of a 1950's Home Economics howler on the dangers of dope and hoodlums.
Drug addict? Better make him a Rent Boy. Rent Boy? Better make his mother a prostitute! Prostitute? Hmm… better make him a killer of under aged gay club kids! It goes on and on. Even Sister Jamison doesn't escape the twaddle, she's saddled with a back-story straight out of a teenage Slasher movie involving more underage sex and murder.
If this play had been written as a comedy – or s satire – I might have loved it. But it wasn't a satire, it was written and played straight – and that does audiences today a huge disservice.
I don't believe that we require our addicts to be pimps, prostitutes and murderers any more. Today, thanks to Bellwood, Dr Phil and Celebrity Rehab, we all know that addiction is a non-discriminatory disease. It strikes doctors, lawyers, soccer Moms and yes, even street hustlers. To see a play about addiction and recovery in 2012, dressed up in tired old clichés and damaging stereotypes was insulting – and worse, a bore.
Give me play about real s addicts who hold down real jobs, like lawyers and soccer Moms, I'll turn up. I'll even pay for my tickets!
E. Brian JohnsonSpecial to Bellwood Social
Bellwood Health Services