Digesting the religiosity of some of the language of recovery
By Jeff Vircoe
"There are only two things you need to know about the spiritual side of the program. There is a God and you're not it."
To anyone who has been sober in A.A. a long time, as in 20 or more years, they will likely have heard this admonishment in smoke-filled rooms.
It's a slogan that brings smiles to the faces of many old-school members. It is also about as polarizing a statement as you can find in the program. It is the line in the sand for those who struggle with "the God thing"; it's saying on the surface that, in this outfit, we believe in a supreme deity. And, since it is supreme, it does not need your assistance. You need it. That scares the bejesus out of some who have God issues.
But really, should it?
First off, there is no record in any literature of A.A. or any other 12 Step program where "There is a God and you're not it" is conference-approved. It just isn't. So, when someone makes such a statement, they are not speaking for A.A., N.A. or any A at all. They are merely voicing an opinion. No different than if someone were to say, "There is no God, nor am I it," or "There is a God, and I'm pretty sure Morgan Freeman is it." It's an opinion. Though some folks in recovery believe there are too many opinions, the truth is people are allowed, and even encouraged, to express theirs – especially in a meeting setting.
"There is a God, and you're not it" may be just an opinion, but it is one with sentimental and historically contextual background.
It is important to remember that Bill Wilson and Dr. Bob Smith did not sober up in A.A., they found abstinence in an organization called The Oxford Group, an evangelical Christian fellowship founded by an American Lutheran minister named Dr. Frank Buchman. Originally called A First Century Christian Fellowship, at its peak in the late 1930s The Oxford Group had roughly 50,000 followers in the United States.
Buchman, who believed that the root of all humanity's problems was fear and selfishness, was not shy about the solution to these problems.
"The world is anxiously waiting to see what Jesus Christ can do in, by, for, and through one man wholly given to him – God led," he told prospects. "You can be that man."
Amongst other things, Buchman and his followers believed that sin was the block between God and a person, and selfishness and self-centeredness were primary problems to be dealt with. The theory was if you surrendered your ego to God, sin would leave.
Through a process of conversion, which included confession, conviction, confidence, and continuance, members aimed towards practicing absolute honesty, unselfishness, love and purity – considered to be the moral principles espoused by Jesus Christ.
There is no doubt that the Oxford Group, which accepted Bill Wilson into its midst in New York City and Dr. Bob Smith in Akron, Ohio, believed there was a God and His name was Jesus.
A.A. co-founder, Bill Wilson, always gave credit to The Oxford Group for being the foundation from which A.A. would stem.
"The early A.A. got its ideas of self-examination, acknowledgement of character defects, restitution for harm done, and working with others straight from the Oxford Group," Wilson wrote in the book Alcoholics Anonymous Comes of Age, first published in 1957.
Dr. Bob's expressed attitude about Bible study, prayers, and use of devotional Christian literature, as well as his unrelenting advice for new A.A. members to join a church, are legendary. In his mind, there was no doubt about God. To have someone say, "There is a God and you're not it" wouldn't have rankled him, or many in Akron Oxford Group circles, one bit. Things were different in New York, where Bill was struggling with the religiosity of the program.
Up until the moment of his so-called "hot flash" (what he called his vital spiritual experience) in the detox ward at Towns Hospital in December 1934, "I still gagged badly on the notion of a Power greater than myself," Wilson wrote in on page 63 of Alcoholics Anonymous Comes of Age. But after his experience in which he says "the room lit up with a great white light. I was caught up into an ecstasy which there are no words to describe," things changed. He believed he had experienced God and knew he would never drink again. He set out from there to apply the Oxford Group principles as best he could.
Of course, long serving members of the Oxford Group, like Henrietta Seiberling, who introduced Bill to Bob, weren't necessarily sold on Bill's brand of recovery. She agreed Wilson was a catalyst for the movement, especially being the promoter that he was, but she believed more along the lines of faith first and foremost.
Henrietta's son, John F. Seiberling (1918-2008), was an eight-term Akron member of the U.S. Congress who released, in 1973, transcripts of a talk he and his mother had shortly after Wilson's death in January 1971 about the early days of A.A. and the Oxford Group. It contained an interaction she once had with the two co-founders, in which she said to them, "We are not out to please the alcoholics. They have been pleasing themselves all these years. We are out to please God. And if you don't talk about what God does, and your faith, and your guidance, then you might as well be the Rotary Club or something like that. Because God is your only source of power," she wrote.
Again, in her mind, there certainly was a God and the alcoholics were not it.
"Not-God – A History of Alcoholics Anonymous", published in 1979, is the title of what may be the most comprehensive, non-AA conference approved book ever written about the fellowship, by the late historian Ernest Kurtz. The Harvard educated Ph.D had this to say about the importance of the concept.
"The fundamental and first message of Alcoholics Anonymous to its members is that they are not infinite, not absolute, not God," he wrote. "Every alcoholic had first been, according to this insight, claiming God-like powers, especially that of control. But the alcoholic at least, the message insists, is not in control, even of himself; and the first step towards recovery from alcoholism must be admission and acceptance of this fact that is so blatantly  obvious to others but so tenaciously denied by the obsessive-compulsive drinker."
The forefathers of the fellowship certainly understood who was in charge. Remember the early members of A.A. were surrounded by strong, religious Christians. The alcoholics who arrived at the Oxford Group meetings looking for help were getting a strong dose of the Judeo-Christian God talk, like it or not.
"The last A.A. dinner that I went to, over 3,000 people were there," Henrietta Seiberling wrote. "And it was the first meeting that I went to which I was disappointed in. There were two witnesses there, a man and a woman, and you would have thought they were giving you a description of a psychiatrist's work on them. Their progress was always on the level of psychology. And I spoke to Bill (Wilson) afterwards and I said that there was no spirituality there or talk of what God had done in their lives. They were giving views, not news of what God had done. And Bill said, 'I know, but (the speakers) think there were so many people that need this and they don't want to send them away. So there again has come up this same old bugaboo – without the realization that they have lost their source of power."
Seiberling said, "It is my great hope that they will never be afraid to acknowledge God and what he has done for them."
If you do not believe in God, this slogan may make you cringe. Perhaps that is why it is one of the slogans rarely heard in the rooms anymore. The idea of a God, and certainly a Christian, heaven-and-hell, keeping-score kind of God, is passé.
But it wasn't passé at all for the first wave of sober alcoholics who came to develop the fellowship.
Clarence Snyder, who, when he died in 1984, had the longest A.A. sobriety in the world at the time, sobered up under the guidance of Dr. Bob in Akron in 1938. Snyder would go on to found the first group, not under the auspices of the Oxford Group, but instead using a portion of the title of the newly published Big Book of Alcoholics Anonymous as the group's name in Cleveland in May 1939. He was completely sold on the principles of the Big Book as expressed in the first 164 pages, according to longtime A.A. historian, Dick B.
"At the very outset of his recovery efforts, Clarence accepted: (1) A.A.'s original insistence on a belief in Almighty God, the Creator, (2) the necessity for coming to Him through His Son Jesus Christ, and (3) the Bible as the main source of all for religious truth. He also understood and espoused Akron's emphasis on the Book of James (the healing book, as he called it), the Sermon on the Mount (which, as stated by Dr. Bob and Bill W., contained the underlying philosophy of A.A.), and 1 Corinthians 13, – which epitomized A.A.'s emphasis on love). Nonetheless, Clarence was quick to recognize and absorb the life-changing ideas of the Oxford Group and its four absolute standards – honesty, purity, unselfishness, and love."
However, not everyone was into the God thing, even in the early days.
When writing the Big Book, Bill Wilson asked the first 100 or so members of A.A. in Akron, New York and Cleveland to review the manuscript, which would become the final nail in the coffin of the relationship between the Oxford Group and its "alcoholic squadron." One member in particular was prominent in convincing the author to make changes to tone down the old-time religious talk. Jim Burwell (1898-1974), whose story appears in the Big Book as "The Vicious Cycle", is credited as being the one who convinced Wilson and Smith and the others who were sober in the winter of 1938 to change some of the wording in the Big Book, especially as it pertained to God. Burwell's self-proclaimed "militant agnosticism" facilitated the use of the phrases "Higher Power" and "God as we understand him" in the Big Book instead of anything specifically pertaining to one religion or another.
Clarence Snyder, whose own story appears in the Big Book as The Home Brewmeister, told his biographer this about Burwell:
"Jimmy remained steadfast throughout his life and 'preached' his particular [non-God] brand of A.A. wherever he went."
The God question is not one that will leave A.A. anytime soon. Some members have no problem with the obvious Christian bias of the literature. Others are frustrated with it, especially given the A.A. Preamble, which supposedly assures members that, "A.A. is not allied with any sect, denomination, politics, organization or institution", including Christianity.
History shows us that those divisions between the God-centered crowd and the Easy Does It bunch are anything but new. One old-timer used to say this at a Calgary A.A. meeting: "Some people call it luck. And God doesn't mind."
One thing is for sure. "There is a God, and you're not it" is one slogan that doesn't work for everyone. Thankfully, it doesn't have to.
Alumni Perspective: EZ Does It
By Jeff Vircoe
The Easy Does It slogan has always resonated with Edgewood alumni.
In fact when it comes to the motto on the bottom of page 135 of the Big Book, most who got their recovery start at 2121 Boxwood in Nanaimo wax affectionately about it.
"It's funny," recalled Todd G., who went spent five months at Edgewood in the inpatient and extended care programs in 2008-2009. "When I first saw Easy Does It, [I] was at my morning [A.A.] meeting when I was in extended here at Edgewood. First of all I thought … oh I just get to sit back and relax then, right? Of course there I was, always pretty tough on myself. So this was a reasoning for me to sit back and let it happen."
It didn't take long for the truth to set in, however.
"That wasn't the case at all. I found out it was, 'You need to do some more work.'"
Eight years later, as a support staffer at the treatment centre in which he got his own start, Todd passes on what he learned about the slogan to others who are trying to make sense of this recovery thing.
"Now, Easy Does It to me is like an acceptance. I look at it like I don't have to go to extremes any more. I don't have to have that obsession of the mind going as much. It's more of I have to step back and say, 'Hey, wait a sec. Take a deep breath. Accept where you are at the moment. Accept what's happening. And kind of move forward.' I think that's the easiest way to look at it."
Another Edgewood alumnus says she was told her whole life to slow down, but it was only after coming to recovery that she understood the value of gearing down.
"I needed to learn to go slow. For me, I was all in with everything. For me, Easy Does It was like –  patience," says Ann S., an alumnus who is coming up on 12 years clean since going through Edgewood's inpatient program.
"This idea of chill out. You don't have to take all of this on. The freedom in that!" she recalls.
"I remember my parents coming to visit me here and me saying, 'I don't know what I'm going to do.' Ahhhh. They were, like, 'Whatever … just stay sober.' All of a sudden I found this freedom to just be! I never slept as well as I slept at Edgewood in my life. Because it was just, like, one day."
Still another alumni, Larry T., who arrived at the treatment centre on Christmas Eve of 2014, agrees. There is plenty of freedom to be gained in getting off the fast lane.
"At first, Easy Does It meant simply don't rush into things. It still means that but, also, now, the body and the mind will do more if we relax and take deep breaths."
Another man with long term recovery, Jon W. from Calgary, says Easy Does It helps with his perfectionism.
"When I came [into recovery] in 1996, to me it suggested that I didn't have to understand everything right away, which, as a defensive neurotic perfectionist, is my natural tendency. But, 20 years later, it says to me that if I have spirituality as the focus of my life, then the logistics and details of life are not as important and not as worrisome to me. That is exactly what I believe, totally. I don't really get too worried about things anymore."
As for Ann, she has gone deep into the roots of her previous life and its propensity for not taking things easy at all. As an addictions counselor now, she understands the therapeutic value of the message in the slogan.
"Easy Does It? For me, it was this thing that I could never do. It was a very cognitive thing, an idea, a concept that made sense to me but I didn't know how to do it because my body and my thoughts went so fast. It wasn't until I started to study this modality of trauma therapy called Somatic Experiencing, which is Peter Levine's work, that I started to really grasp Easy Does It on a holistic level. It was learning how to regulate my nervous system," she says.
Dr. Levine is a master somatic therapist, an author and an expert in the physiological origins of trauma. Ann says, as a clinician and a woman in recovery, it was pivotal in her development to learn about how she processed inner and outer stimulation in her life.
"For me, Easy Does It at first was, sure, slow down and don't do too much. I would take on too much and I would have to scale it back. It took me a lot of years of figuring out how to do less as far as external stuff. So, less work. Then I found I'd got addictive with meetings. So, MORE was my addiction. So, for me, Easy Does It, at first, was LESS."
"Then I learned that I was very reactive. My nervous system would get very activated and aroused, and I would be moving really fast despite my desire to slow down. So, it took really learning about my development and my nervous system and how to regulate my emotions, and how to regulate my body and that fight or flight idea. So I learned to be more in a regulated nervous system. That's an everyday practice for me, even today, as far as paying attention to what's happening in my body and being able to slow down my nervous system," she says.
As for sponsoring other women in recovery, leaving her counselor hat off, and just being straight up in a good old 12 Stepping way, Ann says it all comes down to self care.
"That's it. Slow down! Easy Does It for me is about self care. So I teach them about self care because I know that if they are balancing their lives, their external responsibilities, with some self care, which none of them really know how to do, then they're naturally going to have more space."
"And that's what we teach them at Edgewood right?  Where's your mug? Sign in, sign out. Make your bed. That's all about slowing them down. So, we don't necessarily present it to them in a clinical way in words, but in actions.
"When I think about it, I didn't understand Easy Does It when I was in treatment," says Ann. "Easy Does It? Yeah, okay. Everyone's been telling me to settle down and slow down my whole life. But I'm an addict. Not only can I not help moving fast, I WANT to move fast. I get high on it. Yeah. So things like making my bed, Daily Reflection, praying, meditating, all of those things are what tell me to do it easier. To slow down.  For me, it's about putting in some tools. All I have to say is [that] this is about being healthier. Having balance. They get that. It's about slowing the hell down and keeping a structure."
Challenging Those Addiction Symptoms That Can Linger After You Stop Drinking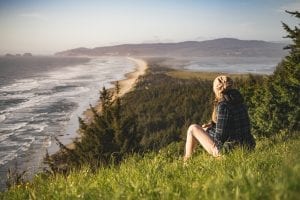 "This is WHO I AM! Why are you trying to change me? I stopped drinking!" Sound familiar? Statements like these are examples of what people might say who've stopped drinking but continue to behave as if they were still drinking or using. You see, becoming sober is just one part of addiction recovery. This behaviour is commonly referred to as untreated sobriety.
It's important to recognize this behaviour because it usually presents itself as anger and resentment. These emotions are triggering for your recovery. The anger and resentment are usually a result of not being able to accept that you can no longer use substances to feel better. In essence, what you may be experiencing is grief over the loss of your drug of choice.
We spoke to Kim Holmgren, Addiction Counsellor at Bellwood Health Services to discuss what "dry drunk syndrome" looks like. Kim Holmgren teaches a session on untreated sobriety every few weeks at Bellwood to clients and has been with Bellwood's clinical team for over three years. Kim Holmgren states, "Although a person may not have used or acted out in years they may still have never had a sober day. So not using or acting out is definitely a part of addiction recovery, but in itself, it is not recovery." Moving from a stage of loss to acceptance can make all the difference of how you feel. If you're having a difficult time accepting the loss of drugs or alcohol, this can keep you stuck in a nasty state of bitterness.
Kim Holmgren shared with us a list of symptoms or some things you might say when you have untreated sobriety:
Low self-esteem
Can't live in the moment.
"I don't like myself."
"What do they think of me?"
"Am I good enough?"
"Nobody understands me."
"You don't get it."
Tomorrow I'll smarten up.
I don't fit in.
Maybe I can control it?
One isn't going to hurt…or is it?
But it is different now.
I feel so much better
I don't feel any better.
I still feel crappy.
"I'll stay off the hard stuff!"
Why does everything always happen to me?
I never get a break.
If they don't trust me, why am I doing this?
It's not going to help if I call someone.
I'm different.
I don't care.
It's MY LIFE!
Kim Holmgren states that all these symptoms or sayings are often said by individuals by people who aren't in recovery too, but the difference is that this type of thinking and behaviour is dangerous for a person who is in recovery. "Those who quit using or acting out and are still angry about it usually wind up living miserable lives and usually make everyone around them feel miserable too. Family members or members from a support group are often the first to notice this behaviour. Some people might argue that their loved one or friend is trying to change who they are despite the obvious. Why pay attention to this? Resentment and anger are one of the worst enemies for a person in recovery! Remember, these individuals are not addicted to the substances. The substances are just a solution. If this behaviour isn't handled properly, it can come back after long periods of sobriety and is usually the first sign of a relapse waiting to happen."
Recovery Vs. Abstinence/ Not Acting Out
What does recovery look like versus untreated sobriety? Kim Holmgren explains, "Recovery involves working on all of the problems and issues that led you to use in the first place. It requires major lifestyle changes and developing a support group system. You need to work on yourself and fix what was broken. Plain abstinence does not do any of the things previously mentioned."
Kim Holmgren does mention in a previous blog post that its not always the person's fault they weren't able to accept and move forward in their recovery. "Sometimes people have underlying mental health illnesses that haven't been addressed yet. Other times, it can be environmental stressors and triggers that are overwhelming for someone who is in early recovery."
Next Steps
According to Kim Holmgren, one of first things you can do to stop this behaviour and move towards acceptance is to get a sponsor, "Get a sponsor and to talk to them. Ask yourself, where are the anger and the resentment coming from? Acceptance is the first step." Kim Holmgren also suggested to look at Dr. Steven Melemis, PhD, MD' five rules of recovery published in his book, I Want To Change My Life: How to Overcome Anxiety, Depression and Addiction:
Change your life. You recover by creating a new life where it is easier to NOT use.
Be completely honest. Addiction requires lying. From this day forward, you have to be completely honest, especially with yourself and your recovery circle. As you get more comfortable, the circle can widen. Honesty is always preferable, except where it may harm others.
Ask for help. That includes doctors, therapists, addiction counsellors and people in recovery. Anywhere that will help your recovery.
Practice self-care. Mind-body relaxation is not an optional part of recovery, it is essential. The practice of self-care during mind-body relaxation translates into self-care in the rest of life.
Don't bend the rules. Don't look for loopholes in your recovery (quick fix). No change is no change.
If you need to speak to someone about the challenges you are facing in your recovery, please call us at 1-800-387-6198. It's important that you start to be honest with yourself and ask for help.