Play It Forward for Mental Health Awareness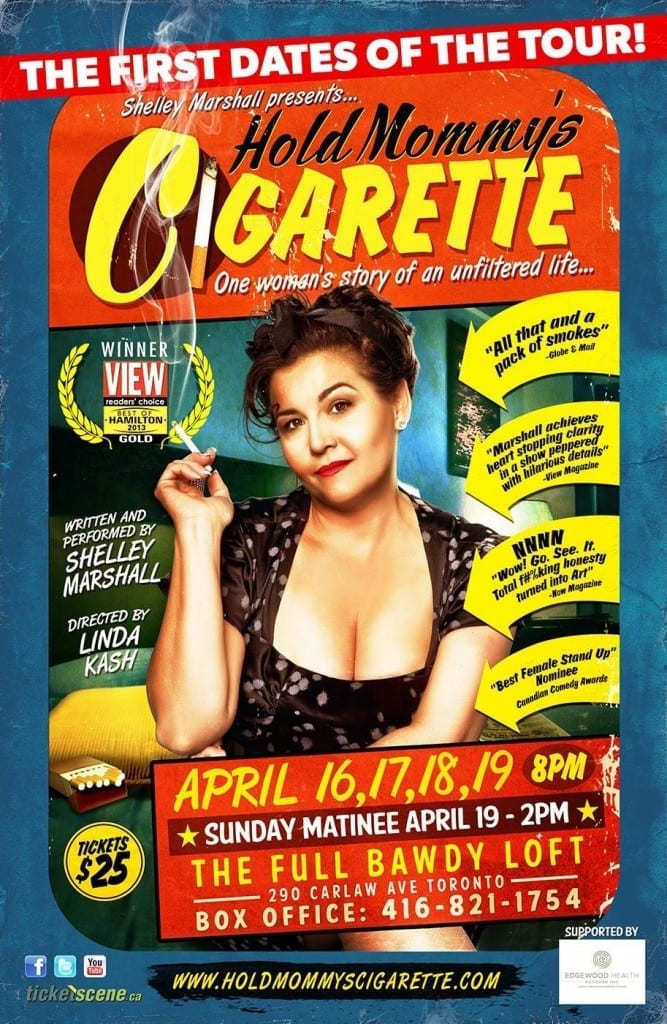 Henri Matisse said that creativity takes courage.  That's exactly how you would describe Shelley Marshall – courageous and creative.  Hilarious is another word you might use.  She's a comedienne, a mother and a mental health warrior.  And she's partnered with the Edgewood Health Network to bring her award winning autobiographical play Hold Mommy's Cigarette across Canada.
This one woman show is the story of Shelley's life and the impact a history of mental illness has on a family and a young girl.  It's a story that touches audiences deeply and makes them laugh just as hard. As Shelley says, "I take them on an adventure, both emotionally and visually. There is no denying that my story is tragic, but it's my story and time and writing without shame has been my comedic relief. Hold Mommy's Cigarette is not an exploitation of what has happened in my life, but rather, an acceptance of where it may lead. It is a dark comedy, a vulnerable piece about life, mental illness and survival."
The play chronicles her early life, leading up to her lowest point – a suicide attempt.  Yet fate and her husband intervened, and Shelley survived.  She now uses Hold Mommy's Cigarette as a vehicle to talk about depression and to showcase how she was able to turn her deep sadness into tremendous success.  It's an inspiring experience that opens up a much needed conversation around suicide and mental illness.
As a part of the Edgewood Health Network, we're very proud to be helping Shelley spread her message of hope. Especially since addiction is a disease that often leaves it's sufferers feeling completely hopeless.
The Edgewood Health Network wants to "play it forward" by giving away  free tickets to Hold Mommy's Cigarette. We think everyone should have a chance to see this show! Tickets will be available for April 16, 17, 18 and 19 in Toronto.  Go to https://www.ticketscene.ca/series/285to register and use the promo code EHN.
As Shelley often says, "best life ever!"