How Our Occupational Therapists Help Trauma Patients
Most of us take for granted our ability to complete the most basic steps associated with self care and social engagement. We never really consider that brushing one's teeth, taking a shower, or having even the briefest social interaction with a stranger may be an emotionally strenuous task for some individuals. Naturally, when a person suffering from post traumatic stress disorder (PTSD) tries to explain the difficulty they experience executing daily tasks, it is not uncommon for them to be met with objections or to have their issues dismissed and be told to simply "get over it." This advice is in no way helpful to the firefighter who is triggered by the sound of their own children crying, after witnessing children dying in a fire while on the job. And this certainly does nothing to assist the war veteran who relives moments on the battlefield everytime they hear the sound of aircraft overhead. From the decades of research on PTSD, one thing is abundantly clear—avoidance is not a viable option. Enter occupational therapy.
What Is Occupational Therapy?
Occupational therapy is a form of treatment for individual suffering from addiction or mental health disorders that interfere with their ability to perform daily tasks associated with living a normal, healthy. Occupational therapy focuses on three main areas:
Self Care: includes personal hygiene, grooming, and healthy eating

Productivity: includes maintaining employment or attending school

Leisure: includes playing sports, team activities, and personal hobbies
Occupational therapists will often try to restore a patient's self-confidence by breaking down big tasks into smaller, more manageable subtasks for the patient. This approach prevents the patient from feeling overwhelmed and gives them a sense of achievement by proving a series of small wins that bring them incrementally closer to achieving a big goal.
Symptoms of Post-Traumatic Stress Disorder
The biggest commonality among first responders, veterans, and survivors of abuse with post-traumatic stress disorder (PTSD) is that it impairs their abilities to move forward after the traumatic event. PTSD symptoms create severe psychological limitations that promote self-destructive behaviors. Through repetition, these behaviors become habits that an individual will feel unable to control, much less stop. PTSD symptoms are usually grouped into four categories:
Intrusive memories

Avoidance of triggering situations and emotions

Negative changes in thinking and mood

Changes in physical and emotional reactions
In his book, The Evil Hours: A Biography of Post-Traumatic Stress Disorder, David J. Morris describes the aftermath of trauma as follows:
Trauma destroys the fabric of time. In normal time you move from one moment to the next, sunrise to sunset, birth to death. After trauma, you may move in circles, find yourself being sucked backwards into an eddy or bouncing like a rubber ball from now to then to back again. … In the traumatic universe the basic laws of matter are suspended: ceiling fans can be helicopters, car exhaust can be mustard gas. 

Understanding Your Emotions Helps Manage Symptoms
Our emotions are an important part of our individual growth and development. They can help us with everything from situational awareness to establishing healthy relationships. Distinguishing between an appropriate emotional response and a dysfunctional one can be a challenge for individuals with post-traumatic stress disorder (PTSD). Our occupational therapists teach patients principles and skills to help them better understand their emotions:
Your emotions can provide you with useful information or important signals.

Emotional signals can often be useful, but they should not be treated as facts.

Your emotions are important, but keep them out of the driver's seat when it comes to making certain types of decisions.

Staying connected to your emotions is essential for developing useful coping techniques. However, you must also maintain the capacity for rational analysis of your reactions to situations and be able to evaluate whether or not your reaction is appropriate.

In some situations, the appropriate action for you to take may be the opposite of what your emotions are telling you to do—this is called "opposite to emotion action."
The process of working with occupational therapists is both collaborative and goal oriented, making it easy for patients to track their progress.
The Wise Mind: Balancing Emotion and Reason
When we are in our emotional mind, our actions are predominately based on our emotions and how we are feeling. Our response to stress or triggering situations is extremely reactive as we abandon logic, fact, and reason when our emotional mind has taken over. An example of your emotional mind taking over is when you overreact to a situation because it triggers a negative memory of a similar situation; your fear that something similar to your memory may happen again drives your overreaction, even if it is actually extremely unlikely.
We would all like to believe that we operate from our reasonable mind, however this is not always the case. The reasonable mind is the part of us that is based solely on logic and rational information. It gathers and interprets empirical information from our observations and forms beliefs and opinions based on that information. If drives actions that are are cool, controlled, and strategic. The reasonable mind is very useful in crisis situations. Many military personnel and first responders can tell you, being able to access the reasonable mind when you need it can be the difference between life and death. The reasonable mind is excellent for planning and evaluating big life decisions, however, it is possible to overdo it and fail to recognize and consider the significance of our emotional signals. Overuse can create habits such as minimizing our feelings, and compartmentalizing events that could be pivotal to our development by diminishing our emotional connections to them. Such habits could lead to depression, burn out, or feeling numb.
The wise mind is the integration of the reasonable mind and the emotional mind. It is a functional blend of strategic thinking guided by healthy emotional awareness. It is the capacity to consider past experiences, current perceptions, and theoretical knowledge, to arrive at a constructive understanding of one's present situation. Our occupational therapists teach our patients techniques to make the wise mind more easily accessible and available to help them manage their trauma symptoms.
Problem Solving: Barriers and Strategies
Problem solving can be difficult for the average person on any given day. It requires us to use all aspects of our mental capacity to analyze a particular set of circumstances and available choices, and then produce a solution. An ideal solution would not only satisfy our immediate need, but would also be consistent with our long-term goals. This process can be extremely difficult for individuals suffering from mental health or substance use disorders as they may not trust their own judgement and or accuracy in assessing a situation.
Barriers to Effective Problem Solving
The first step that our occupational therapists take with patients is to help them identify common barriers to solving problems quickly and effectively, including the following:
Looking for a perfect solution

Feeling hopeless or helpless; believing that a satisfactory solution does not exist

Feeling depressed, distressed, or anxious to the point that one cannot focus on problem solving

Excessive fatigue to the point that impairs cognitive ability

Underdeveloped problem-solving skill set
Strategies for Effective Problem Solving
Occupational therapist also teach patients a range of effective problem-solving strategies that can be used in different situations, including the following:
Algorithms: An algorithm is a iterative, step-by-step procedure that produces a better solution with each iteration. While it has a high change of producing a good solution, it can be very time consuming.
Heuristics: A heuristic is a mental rule of thumb, such as an educated guess, stereotype, or generalization. Many people tend to employ this particular strategy when faced with a series of complex problems to reduce the possibilities to a more manageable number.
Trial and error: This approach can be effective when the number of potential solutions is small and the cost of failure is low. The idea is to try solutions, learn from the results, and keep trying until a satisfactory solution is discovered.
Insight: With this strategy, the solution to a problem may appear "all of a sudden." Many researchers believe that insight occurs when a person recognizes features of a current problem that are similar to a problem that the person has successfully solved in the past.
Subjective Unit of Distress Scale and Coping Strategies
It can be very difficult for those suffering from substance use and mental health disorders to clearly recognized and understand how they are feeling at any given time. Occupational therapists provide patients with tangible metrics to help them the recognize, isolate, and react appropriately to negative stimuli. The Subjective Unit of Distress Scale (SUDS) works as an emotional gauge, and is a crucial part of therapy. The SUDS protects patients from their more destructive emotions by teaching them practical ways to distract themselves from what they are feeling. The objective is to turn this distraction, which may be unusual to the patient in the beginning, into their habitual response to extreme stressors.  
Occupational Therapists Help Patients Get Back to Their Lives Faster and Better
Recovery from post-traumatic stress disorder is a difficult process that requires hard work and commitment from the patient. Occupational therapists help facilitate this process and allow patients to return to their normal lives more quickly, with effective coping skills, useful habits, practical knowledge, and effective problem-solving strategies.
Call Us for More Information
If you would like to learn more about the treatment programs provided by EHN Canada, enrol yourself in one of our programs, or refer someone else, please call us at one of the numbers below. Our phone lines are open 24/7—so you can call us anytime.
Integrated Treatment of Substance Use Disorders and Concurrent Post-Traumatic Stress Disorder (PTSD) Is The Most Effective Approach
Post-traumatic stress disorder (PTSD) can develop after an individual has been exposed to a traumatic event such as death, serious injury, or a threat of harm to themselves or to others. When exposed to such events, it is normal to feel intense fear, helplessness, and horror, but in most cases, these feelings are eventually resolved—but, unfortunately, not always. Some people experience long-lasting and intrusive symptoms such as disturbing flashbacks, heightened states of arousal, mood disturbances, and avoidance of memories about the event. These are the symptoms associated with PTSD.
Post-traumatic stress disorder (PTSD) is more common than you might think. An estimated 1-in-10 Canadians will experience PTSD at some point in their lives. Certain populations are at higher risk of developing PTSD because they are more likely to experience traumatic events. Members of the military are often seriously injured, witness the death or injury of others, and have their lives seriously threatened. Many veterans returning from Iraq and Afghanistan report being targets of enemy gunfire, knowing someone who was injured or killed, or even having to handle dead bodies. Such experiences can have a lasting effect on an individual's mental and emotional well-being.
There appears to be a bi-directional causal relationship between developing post-traumatic stress disorder (PTSD) and developing a substance use disorder. People with PTSD experience persistent and disturbing psychological symptoms, which make them more likely to use alcohol or drugs as coping mechanisms. Conversely, people with substance use disorders are both more likely to experience traumatic events and less likely to be able to process them effectively.
Compared to either disorder alone, concurrent post-traumatic stress disorder (PTSD) and substance use disorders are associated with worse mental and physical functioning, and higher levels of psychological distress. When these two disorders are concurrent, the negative effects can be quite severe: they can impair a person's ability to work, to maintain healthy relationships, and to maintain a positive outlook on life. As a result, people with concurrent PTSD and substance use disorders will often experience rapidly deteriorating physical and mental health, and should therefore get treatment as soon as possible.
There are several treatment options available for individuals with concurrent post-traumatic stress disorder (PTSD) and substance use disorders, including both medical therapy and psychotherapy. Historically, treatment focused on resolving the substance use disorder first, before proceeding to address the PTSD. However, the historical approach risks exacerbating a patient's PTSD symptoms: when a patient with PTSD narrowly focuses on trying to resolve their substance use disorders, they are likely to be confronted with challenges and discomfort for which they are not yet adequately prepared. Today, however, most clinicians recognize that patients' substance use is closely related to their PTSD symptoms. Hence, at EHN Canada, we believe that the most effective treatment approach is through integrated treatment programs that address both disorders together.
EHN Canada's integrated treatment model acknowledges the fundamental interdependence between post-traumatic stress disorder (PTSD) and substance use disorders. Therefore, we address the two disorders at the same time, usually within the the same treatment program. Substance use disorders are conceptualized as tools—albeit highly dysfunctional ones—that people use to try to manage their PTSD symptoms. We educate patients and provide them with a new, healthier, and more effective set of tools, early on in their treatment programs. This reduces the likelihood that a patient's PTSD will compromise their recovery from their substance use disorders. Our conviction that the integrated treatment model produces superior outcomes is also supported by patients' attitudes: research has found that patients with concurrent PTSD and substance use disorders report an overwhelming preference for the integrated approach.
Post-traumatic stress disorder (PTSD) and substance use disorders have a complex interrelationship. EHN Canada treatment programs teach patients how to recognize and manage their symptoms and triggers. We also help patients create solid recovery plans that serve to guide their long-term behaviour changes. EHN Canada's individualized treatment programs also push each patient to discover their own unique strengths and skills. We encourage and support our patients to further develop these abilities to support their successful recoveries and recovery maintenance. Patients complete EHN Canada treatment programs having developed functional and adaptive coping strategies, as well as assertiveness and effective communication skills. They walk out our doors ready to face the world, full of optimism, and eager to get back to their relationships, families, friends, and careers.
Call Us For More Information About Our Programs
If you would like to learn more about the treatment programs provided by EHN Canada, enrol yourself in one of our programs, or refer someone else, please call us at one of the numbers below. Our phone lines are open 24/7—so you can call us anytime.
Moving Forward: When Your Addicted Family Member Doesn't Want To Change
Written By: Lana Robson CCAC,  Addiction & Family Counsellor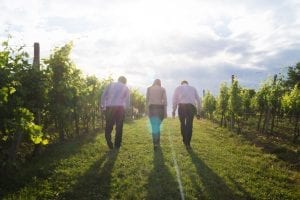 I always refer to the question, "Who or What do you have control over?"  The answer is you.  At the end of the day you can only control yourself.  It can be very difficult for loved ones and family members to watch their addicted loved one destroy their lives and ultimately themselves.  Love and fear motivate family members to try to improve the situation, take control and assume responsibilities.  As many of you may have discovered the hard way – this doesn't work.
Loved ones are drawn into the chaos that comes with addiction.  They feel powerless.  Although there is a feeling of powerlessness, it's quite the opposite – family members have more power than they realize.
CRAFT for Family Members
The Community Reinforcement Approach (CRA) was developed in the 70's.  It was based on the premise that spouses could play a critical role in getting their loved ones into treatment.  Community Reinforcement and Family Training (CRAFT) is an extension of CRA.  CRAFT, created and developed by Robert J. Meyers, Ph.D., is a system for loved ones (referred to as CSOs – concerned significant others) to change the way they interact with their addicted loved one (referred to as IPs – identified patient).
In many cases, CSOs know everything about addiction, but don't know how to interact with the IP.  When this interaction changes, the IP usually takes notice.  CRAFT helps CSOs learn about enabling behaviours, new ways to communicate and solve problems, and to identify that timing is crucial when approaching the IP.  CRAFT therapy avoids confrontation by using positive reinforcements and a loving, supportive approach.
There are three goals for CRAFT:
The first is to reduce the IP's harmful substance use.  This is accomplished through positive reinforcements and rewarding positive behaviour.
The second goal is to engage the IP in treatment.  This means allowing the natural consequences to occur.  These are usually negative consequences.  When one prevents the consequences, there are no negative consequences.  And it's the negative consequences that usually motivate change.
The third goal is to improve CSO functioning.  This involves all areas of the CSO's life, that is, emotional, physical and social.  Just as the IP isolates, often times so does the CSO.  It is done out of embarrassment, fear, shame, guilt and depression, to name a few.  CRAFT helps CSOs create or re-create a social circle, ask for help, re-kindle old relationships, for instance, all with the goal of empowering themselves.
CRAFT teaches CSOs to change the script with the IP.  CSOs model behaviour to the IP and in essence it's changing the language to positive statements.  An example of a problematic statement is "I hate it when you get drunk and make a fool of yourself when we're out with friends."  The new script might be "It's nice socializing with you when you're sober because your great sense of humour comes through."  It is reminding the IP of their positive attributes / behaviours and using reinforcing statements.
CRAFT steers clear of confrontation.  It changes the automatic responses of the CSO to ones that help support clean and sober IP behaviour.  CRAFT helps CSOs concentrate on the appropriate behaviours of the IP and identify suitable consequences that can be enforced.  Robert Meyers says this not a "one-size" fits all therapy.
CRAFT therapy is an active process for CSOs.  It involves role-playing scenarios, skills-training exercises and homework assignments.  All of this prepares the CSO to properly anticipate and handle as many possible scenarios that may be encountered with the IP.  One of the objectives of CRAFT is the positive reinforcement of non-drinking/using behaviour, with the goal of increasing these behaviours.
The American Psychology Association (APA) conducted a study of the success outcomes for engaging substance abusers into treatment.  The result was 13% for Al-Anon; 23% for Johnson Institute (interventions); 64% for CRAFT.
There is the three things rule:
1) Things in your life can stay the same;
2) Things in your life can get worse;
3) Things in your life can get better.
Ultimately, the choice is yours.  If what you've been doing has not been working, why not try something different, such as the CRAFT approach?
If you'd like to speak to one of our counsellors at Bellwood Health Services or you want more information about our family services, please call us at 1-800-387-6198.
Source:  CRAFT Workshop, Robert J. Meyers Ph.D.
A Healing Path for All: The Importance of a Family Aftercare Program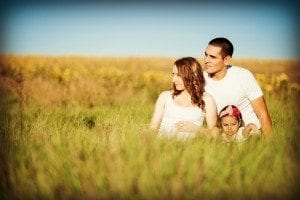 Addiction is a family disease. It doesn't affect just one person in the family; it affects everyone in the family. You've probably heard this statement many times or perhaps you've never thought of addiction in this way. Well, it's very true and although the other family members are not addicted they still experience pain, loss, and turmoil.
Addiction has a way of creating tension and conflict that leads to problems for family members about how to cope with the person's addiction and the effects on the family unit.[1] An American study was conducted on over 25,000 family members of someone with substance use disorder (SUD), matched to family members of someone with diabetes, asthma or a control group of family members where there was no SUD  nor chronic physical illness. The results were that in the year prior to diagnosis of the main patient, family members of those with SUD were more likely to themselves be diagnosed with mental illnesses including depression or trauma than those in the diabetes or asthma groups.[2]
Most people have trauma as a result of living with someone that has an addiction. Dealing with violence, emergencies, police and ambulance situations, verbal or physical abuse, mental abuse, worrying about someone else's life or death all the time without the power to change it, being lied to or being blamed are all experiences that can create distress and leave people emotionally overwhelmed.
What starts off as trying to help your family member who's struggling with drugs or alcohol (because it feels like it's the right thing to do) often ends up becoming a life's mission. Susan Barnes, Addiction Counsellor and Supervisor of Volunteers at Bellwood Health Services agrees, "Family members may not realize it because they are so focused on the addict."  Loved ones dedicate every last breath and strength towards managing the unmanageable. They feel the need to fix everything. Resentments grow, isolation becomes the norm and boundaries become a thing of the past.
Support is Necessary for Family Members Too
Trying to change the behaviour of a person who's been struggling with addiction takes time, support and professional treatment. So why wouldn't it be the same for a family member? Family members take on roles and responsibilities as a way to cope with the chaos that comes with addiction. At Bellwood Health Services, family members are encouraged to attend the Family Program. The Family Program is designed to help family members understand what addiction means and how change is possible; there is a light at the end of the tunnel.
The Family Program is the first step towards recovery for family members. Think of the Family Program as the renovation of a building that holds new skills, education and goals. The Family Aftercare Program is maintenance for that newly renovated building.
Susan Barnes believes it's important for family members to continue to receive support once their loved one has completed an addiction treatment program, "Family members need to heal from the trauma and the after effects of living with the addiction. It's a long term process and it requires all parties to heal first before they are ready to heal the relationship."
Research by the University of Birmingham states that "Good quality social support, in the form of emotional support, good information, and material help, is an invaluable resource for affected family members, supporting their coping efforts and contributing positively to their health."[3] Bellwood's aftercare program is just that according to Susan Barnes, "Family Aftercare has always been an integral part of the Bellwood Treatment Program. Addiction is the disease of the addict which can only be healed by the addict. However, the family can play a significant role by supporting the recovery behaviours and not enabling the addictive patterns. This requires education, a lot of practice and support for the family members before they are able to provide the healing environment."
Providing a Healing Environment
Susan Barnes states that the healing environment has many layers. During family aftercare, loved ones learn facts about addict behaviours and addictions. Family members begin to comprehend how their own participation in the dynamic develops. Essentially, loved ones will learn about what is helpful and not so helpful in recovery.
There is something very powerful and healing that can come from a group of people that share the same experience. The following are some of the reasons why Susan Barnes believes group aftercare for family members works:
Being with people who understand you.
Being able to talk about things they normally hide.
Non-judgemental environment.
Hearing about experiences of others so they can learn from them.
Finding hope and support.
Finding self-esteem and confidence again.
Developing your own voice.
Learning to take care of their emotional needs.
Bellwood Family Aftercare Program
It doesn't matter if you have a loved one in any of Bellwood's substance abuse treatment programs or not, anyone is welcome to attend the Family Aftercare Program. Bellwood's Family Aftercare Program can run up to two years facilitated by an addiction counsellor. Years 3, 4 and 5 are self-facilitated groups as they have much more insight and experience with addiction recovery. Group fees decrease with each year.
Whether it's through a Bellwood family aftercare program or Al-Anon, participating in a continuing support program is important to move forward in your own recovery and to support your loved one.
If you'd like to learn more about this program or are interested in registering for this program, please call us at 1-800-387-6198 or email us.
[1] Copello, A., Templeton, L., Orford, J., Velleman, R., Patel, A., Moore, L.. . Godfrey, C. (2009). The relative efficacy of two levels of a primary care intervention for family members affected by the addiction problem of a close relative: A randomized trial. Addiction, 104(1), 49-58. doi:10.1111/j.1360-0443.2008.02417.x
[2] Copello, A., Templeton, L., & Powell, J. (2010). The impact of addiction on the family: Estimates of prevalence and costs. Drugs: Education, Prevention and Policy, 17(s1), 63-74. doi:10.3109/09687637.2010.514798
[3] Copello, A., Templeton, L., Orford, J., Velleman, R., Patel, A., Moore, L.. . Godfrey, C. (2009). The relative efficacy of two levels of a primary care intervention for family members affected by the addiction problem of a close relative: A randomized trial. Addiction, 104(1), 49-58. doi:10.1111/j.1360-0443.2008.02417.x
After Continuing Care: A New Option to Help You Evolve in Your Long Term Recovery
By: Nelson Sacristan, MA, CSAT, Clinical Manager- EHN Vancouver
Over the years, we have watched our clients successfully complete Continuing Care (formerly aftercare) and set off on the next stage of their journey in recovery. For some, this means stronger commitments in 12 step recovery, while for others it means therapy or a support group. Some folks leave the Continuing Care program and are fine with maintaining their recovery lifestyle using a variety of sources. Others ask us, "What comes next?"
This question was posed to me about a year ago by some of our most committed and motivated clients who were coming to the end of their year in the Continuing Care program at EHN Vancouver. Coincidentally, we were already looking at expanding our services and starting a 'post-Continuing Care' group seemed like the right step, at the right time.
This group, which really has no name but is sometimes referred to as 'second stage' around the office, is quite different from our regular groups:
1. Membership is open to anyone who completed an aftercare program, no matter which treatment program they came from. This includes inpatient, IOP or our family programs.
2. We accept folks who are not affiliated with Edgewood but are in recovery.
3. Our members are steadfast in their commitment to recovery. All clients have abstinence under their belts and are active in working a meaningful recovery.
4. This group is united by its commitment to 'going deeper', their curiousity to learn, and willingness to take risks towards greater intimacy with each other and with the people in their lives.
5. In early recovery, a fear of relapse and being 'sick and tired of feeling sick and tired" is often what motivates compliance and successful abstinence. "What comes next?" is about understanding and growth: How am I perceived by others? What do I need to change to be more real, more authentic? Where does my stuff originate? What am I willing to do to really change, to grow, and to be more fully who I am?
'Second-stage is a process group, which means that it can be as much about the members of the group as it is about what goes on outside the meeting, in the members' lives. We have a structure that includes checking in with each other, being available for issues that arise within the meeting, and applying what is learned to other parts of life. Emphasis is placed on applying the knowledge gained from experiencing intimacy in the group to other meaningful relationships.
EHN Vancouver uses processes and activities which reflect the interests of the group. Some of the topics covered include the similarities between the "The Hero's Journey" and Recovery and Triangulation in Relationships. The philosophy of the group focuses on manifestation. Often what happens in group therapy is a reflection of what a person experiences in their real life. Therefore, what is learned in group can be applied to resolve issues on the outside.
What happens during group therapy is a "microcosm"-  a snapshot of other issues. An analogy using the idea of 'holograms' can help explain the process. Holograms, from the Greek "whole message" are images of an object burned onto photographic plates. A hologram uses lasers set in an array that can capture the 3 dimensions of the object. When you look at  a hologram, you can see how similar the view the dimensionality of the original object is in 3 dimensions. When a hologram breaks, each piece reflects the whole image of the hologram! Similarly, the group interaction is a piece, a 'reflection' of what the member brings to the group from the outside.
Along with recovery and curiosity, members of the group share a willingness to introspect, to be willing to sit with feedback and the desire to be accountable, knowing that accountability is the check on behavior and a mirror to how we make choices in life.
Are you looking for a new way to support your long-term recovery? This post continuing care group may be right for you. It takes place on Thursday mornings from 10AM to noon at our Vancouver office. Contact me – Nelson Sacristan, Clinical Manager – at 604-734-1100 for more details about registration.
Nelson Sacristan, MA, CSAT, Clinical Manager of EHN Vancouver holds a Master's Degree in Counselling Psychology as well as certification in substance abuse counseling. He has been working in the addictions field for 20 years. Nelson sees his role as helping our clients and their families to understand the nature of addictions, and to facilitate discovery of their inner strengths and integrity. As a Certified Sex Addiction Therapist, he is also available to help men and women struggling with compulsive sexual behaviours
Can Therapy Dogs Play a Role in Addiction Recovery?
Do therapy dogs have a place in addiction treatment? According to a 2015 research initiative by three Canadian universities (University of Regina, University of Saskatchewan, McMaster University) therapy dogs can help people with addiction and mental illness. The study had therapy dogs visit patients at various addictions and mental health treatment centres for six months.
The study found that therapy dogs can help people with mental health, addiction, and trauma concerns. According to this study, "in 2014, the Substance Abuse and Mental Health Services Administration (SAMHSA)  identified six evidence- based principles for service providers to address the consequences of trauma in the individual and to facilitate healing." These principles focus on supporting recovery, resilience, emotional regulation and relational connection.
It was discovered at the end of the study that the dog's instincts and "effortless interactions" with participants were in accord with those principles. These principles are:
Safety
Trustworthiness and transparency
Peer Support and mutual self-help
Collaboration and mutuality
Empowerment, voice and choice
Cultural, historical and gender issues
One of the researchers from the University of Regina states that dogs can help patients focus and feel more comfortable to open up during counselling sessions. The interaction with man's best friend "initiates the release of the hormone oxytocin in humans, which makes us feel good." Edgewood Health Network last year introduced a therapy dog at each of our addiction treatment centres.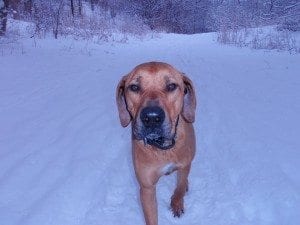 Findlay, a beautiful Rhodesian Ridgeback trained therapy dog, owned by Cara Heitmann- therapist at Bellwood Health Services introduced him to Bellwood's inpatient community last December and so far the feedback has been positive. Cara says that clients and staff love having Findlay at Bellwood. "Clients comment on how much they love him, how it brightens their day to see him, and how it helps clients who are missing their pets while they are here."
Cara believes having a therapy dog like Findlay provides many benefits for clients and clinical staff during therapy sessions and for overall mental health. "Findlay attends group therapy and individual therapy sessions with me because with his mere presence he can calm the room. As for staff, we have a job that can be highly stressful and I have heard many staff members share that seeing Findlay's face brightens their day and their interaction with him is very soothing."
Cara remembers a time where Findlay helped a new client entering treatment feel welcomed, "Introducing Findlay certainly has made a difference. An example that immediately springs to mind is a first day client who came to group late due to an orientation of sorts, knocked on the door before entering and was immediately greeted by a smiling face with a wagging tail. I can't imagine that didn't ease some discomfort! I have had many, many clients share how Fin has helped them while in treatment and they are shocked that anyone would not just automatically know that. It's a no brainer."
According to the Executive Director of National Service Dogs (NSD) in Canada, they've received a ton of praise from their clients about the benefits of using service dogs in the treatment of PTSD. Last year, Wounded Warriors Canada donated $50,000 to help fund more certification of service dogs for Canadian Forces members, Veterans and First Responders with Post Traumatic Stress Disorder (PTSD) in BC and Alberta.
In addition, NSD believes animals can lower anxiety, reduce the cost of medication, provide comfort and security for a client and their loved ones. Cara believes therapy dogs work because the connection is different than that with other humans, "It's less threatening and highly comforting. A dog's instinct to sense when a person is struggling or having a difficult moment and seeing how they are comforted has no words."
Colleen Dell one of the researchers that was part of the study last year was amazed to see how consistent the outcomes were from all the centres they had considered. It didn't matter if they were youth, seniors or groups of people. In their study, therapy dogs had a positive impact on each person's "healing journey in a multitude of ways, from providing comfort through to increasing therapeutic alliances with service providers."
Chalmers, research from the University of Regina believes there are still other animals that need to be studied, such as horses to better understand the benefits of service animals. The three universities released their study's findings during Addictions Awareness Week last year on purpose, "The theme of Addictions Awareness Week this year is 'Addiction Matters.' And it is precisely for this reason that our team has stepped outside the box, so to speak, to research an intervention that can potentially support long-term recovery."
As more research is conducted and more testimonies are accrued, it seems therapy dogs can play a role in helping clients who are in rehab by providing comfort, security and non- judgmental love.  Cara shares, "I am honoured to have Findley work for a number of years. Every time I see that interaction it warms my heart, puts a smile on my face, and makes me proud to be his mom." At Bellwood it seems Findlay's natural instincts and interactions continues to have a positive effect on our clients and team.
In our next issue of the Phoenix magazine we discuss in further detail EHN's valuable experience introducing therapy dogs at our treatment centres. To subscribe to our magazine, please click here.
Want to learn more about our addiction treatment programs and what they include email us or give us a call at 1-800-387-6198.
Sources:
Colleen Anne Dell, Nancy Poole, (2015). Taking a PAWS to Reflect on How the Work of a Therapy Dog Supports a Trauma-Informed Approach to Prisoner Health. Journal of Forensic Nursing, Volume 11, Issue 3.
Creating Healthy Boundaries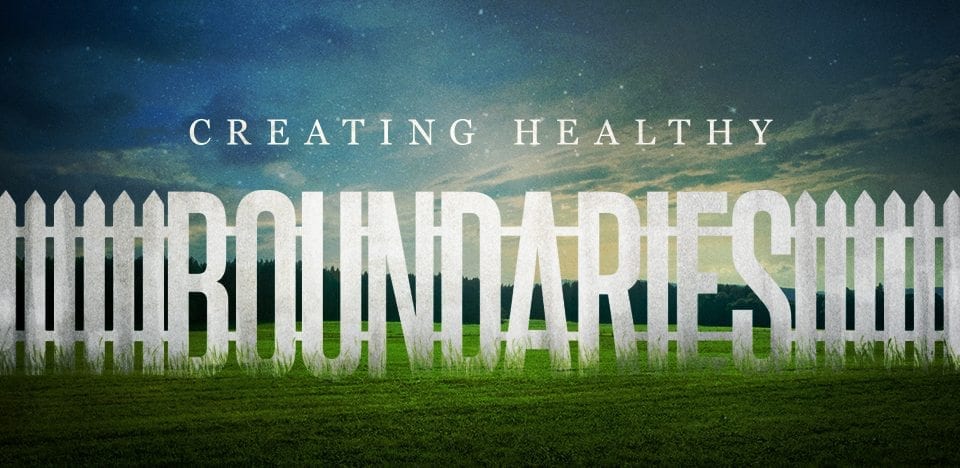 Recovery from addiction involves the entire family.  An important component to this involves defining and setting boundaries.  Setting a boundary is a life skill, not a quick fix to a problem in a relationship.  This life skill has been made popular by self-help and support groups.  If you've ever experienced therapy, you'll more than likely be familiar with the term "boundary."  It's a concept widely used in the field of counselling.
A boundary can be described as what you believe you do or don't deserve.  It's communicating personal values while protecting those values from being compromised or violated.  Identifying your boundaries puts you in touch with who you really are.  Essentially, it's defining yourself in a healthy way.
Boundaries communicate self-worth – "I am worth it!"  We teach people how to treat us.  We all deserve to be treated with respect and dignity.   But, if you don't believe this, you'll probably find yourself in unhealthy relationships with individuals who take advantage of you, and may even emotionally abuse you, versus relationships with people who respect you, your convictions and treat you in a loving manner.  Boundaries are an effective skill to apply when you're in a controlling relationship or in a relationship where the other person isn't taking responsibility for their own life and it's negatively impacting you and your life.
When setting a boundary, you define or establish your convictions, beliefs and/or values.  In other words, clearly identify what your limit is with the other person.  Only then can you assertively communicate what it is.  Do this in a calm, clear, concise, firm, and respectful manner, without anger.  Choose your words – do it in as few words as possible.  Finally, have a plan of action that supports your boundary, in the event that the other person doesn't respect your boundary and ends up violating it.  Ask yourself, "What will I do if this person crosses my boundary?"   It's not about what you will do to that person, but rather what will you do for yourself.  What will the consequence be?  Keep in mind, the only thing we can control is ourselves – our actions and reactions.
Setting a boundary involves taking responsibility for your thoughts, feelings and behaviours.  Only set a boundary that you are comfortable with.  If you're going to set a boundary, you have to be willing to follow through with the consequence (your plan of action).  Otherwise, it no longer makes it a boundary, but instead, simply a threat.  Recognize that you're not trying to take care of the other person's feelings because the reality may be that the person on the receiving end may not like what you are putting in place.  But that being said, you need to protect yourself and your boundaries because no one else will!
There are different boundaries – emotional, intellectual, spiritual and physical.  An emotional boundary involves feelings.  Feelings need to be respected and validated.  An intellectual boundary includes thoughts and perceptions.  Everyone is entitled to their own perceptions; just because someone's perception is different to yours doesn't mean it's wrong.  Thoughts and perceptions need to be heard, but not necessarily agreed with.  Spiritual boundary is the right to one's own belief system.  This may or may not be religious.  Physical boundaries refer to our own personal space and touch.
Our relationships are most healthy when emotional, intellectual, spiritual and physical boundaries are defined and respected.  Strong, healthy boundaries come from having a good sense of your own sense of self-worth.  It's a major step in taking control of how you will allow others to treat you.  The benefit is self-empowerment!
The Importance Of Aftercare In Recovery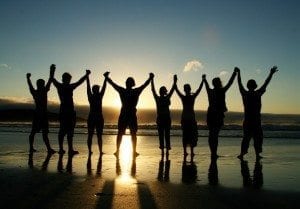 For those suffering from addiction, the consequences can be devastating. People lose their jobs, damage their relationships with friends and family, and face financial hardship. It becomes cyclical; substance abuse creates these personal difficulties and in turn, they can cause stress and trigger the individual to use more frequently. In other words, abusing substances becomes the individuals primary means of coping with life's difficulties. When this happens, the environment becomes so toxic that admission into a residential addiction treatment center may be necessary to give the individual a chance at recovery.   
Residential treatment offers a safe environment to begin to repair the damage caused by addiction.  At this stage, people are very vulnerable and treatment provides a safe place away from triggering situations in which they might relapse. They can focus on healing and recovery. Clients are taught more constructive coping strategies, relapse prevention and grounding techniques. They can then begin to practice and refine these skills without the outside pressure of their environmental stressors. 
While residential treatment is a necessary first step, recovery really consists of using coping, grounding and communication tools in "real life" situations.  Without prior experience practicing these newly acquired tools, the recovering addict is susceptible to return to past behaviours and may relapse.  Therefore, early recovery is a time of transition and one where aftercare support becomes vital to long term behaviour change.   Continuing care is an active way the individual can build on the foundation of recovery that he/she has established in residential treatment. 
There are many support systems available to individuals in early recovery. Aftercare supports can consist of self-help groups such as Alcoholics Anonymous, individual counselling, or outpatient groups run by addiction treatment organizations.  Furthermore, these meetings take place throughout the day and into the evening, making them easier to attend.  Also, with the latest technology trends there a variety of aftercare meetings available online.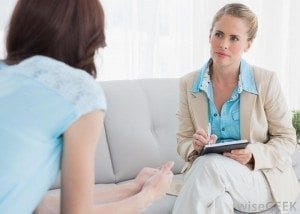 Attending aftercare benefits the participants by giving them the ability to share their experiences using active coping skills in real life situations.  Individuals may receive feedback on how they can improve these skills going forward or receive reinforcement that they are progressing well.  Another benefit is the opportunity for the individual to belong to a community that they can relate to – one that is supportive, but will also hold each other accountable when needed.  For example, aftercare can help individuals come to a realization that they may be on a risky path of returning to their previous behaviours.  These groups also provide members with the opportunity to pass knowledge onto others who are beginning their journey of recovery.  Imparting knowledge and experiences onto newcomers can help reinforce an individual's commitment to abstinence and a life of wellness.
Research has also demonstrated the importance of aftercare.  Studies have found that regular aftercare participation is one of the best predictors of success following treatment.  For example, a long-term follow-up study spanning 40-years, found that those who were able to maintain longer periods of abstinence were attending 20 times as many meetings as those who were not able to maintain abstinence.   Bellwood's own outcome research has demonstrated that 83% of those who engaged in two or more regular aftercare supports were high recovery (continuously abstinent or achieved at least 95% reduction in substance use) at six-months follow-up from residential treatment.
There are many different forms of aftercare, but it is important to remember that attending any form of aftercare is an improvement over leaving the treatment center overconfident. Recovery requires continuous work on the skills learned in treatment and is a lifelong process. As the Chinese philosopher Laozi once said 'a journey of a thousand miles begins with a single step' and each week of successful engagement in support, is a successful step on the road of recovery and lifelong wellness.
Seeking Treatment for PTSD: The Recovery Process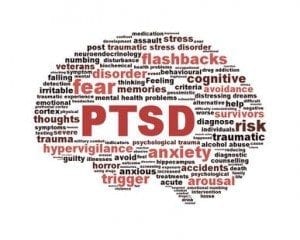 Post-traumatic stress disorder (PTSD) is by definition a set of symptoms resulting from a traumatic experience of "death, threatened death, actual or threatened serious injury or actual or threatened sexual violence. " More broadly, PTSD can also be defined as having experienced an overwhelming situation where your normal coping strategies are not adequate. Symptoms of PTSD can vary, but most people with the disorder experience sleep disturbances, hyper-arousal, flashbacks and mood disturbances.
 At Bellwood, we see clients who have experienced such traumas and are struggling with the symptoms of PTSD. Our program for hazardous employment groups includes members of the Canadian Forces, the RCMP, the police, EMS and fire services and would potentially be open to other work related traumas. We added the term of operational stress injury (OSI) to our program description since it is something first responders would often experience.
 As a therapist in the Addiction & PTSD/ OSI program at Bellwood, I've found that the traumatic experiences at work change how a person functions and relates at home. Clients often experience alienation. For example, they report "not knowing where to put their keys in their own homes" and don't know how to relate to normal life or perform day-to-day tasks, including shopping or driving in traffic. Everything feels too mundane to be of interest compared to active duty.  In their deployments, they experienced high arousal and adrenaline-inducing activities.
 As a result of their alienation, people with PTSD might resort to drugs or alcohol to find relief from the emotional pain, loneliness and the feeling of "going crazy."  They might find themselves covering up anger and pretending that things are alright.  Using also becomes a way of dealing with the irritability, intrusive memories, and nightmares. Sometimes, the only time an individual with PTSD feels "normal" is when intoxicated or when involved with work. When at work or deployed, job tasks are pre–determined and the soldier or officer focuses only on work tasks – something at which they believe they excel.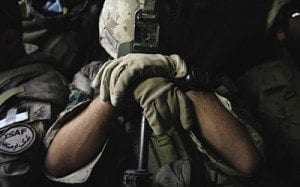 Clients that I see often express the feeling that no one outside of work could possibly understand what they are going through and that no one is as "messed up" as they are.  Many express the wish to either have been killed (because then, "at least my kids would think of me as a hero") or physically injured because then they would receive support from the whole community upon their return home. With something physical, the nature of the injury is apparent and no one would think they are making it up. The problem with PTSD is that it is invisible and remains that way until the person realizes that they are not alone and accepts that their experiences have changed their feelings.
One of our goals in treatment is to reduce or eliminate the emotional disturbances related to the traumatic work experiences by learning grounding techniques and self- regulation tools. Our treatment approach is the establishment of safety and stabilization. Through this process, trust is built. This work is enhanced by successfully identifying and continuously managing environmental and emotional triggers. By employing the emotional regulation and grounding techniques, clients can ultimately master their triggers, lessening their impact on their mental health. Other key features of our program include: stress management techniques, anger management, sleep hygiene, resilience identification and recovery planning.
As a result, major PTSD /OSI symptoms are reduced and clients can begin to realize that when triggered the traumatic experience is not happening anymore and that they are able to deal with their feelings in more constructive ways.  However PTSD/ OSI symptoms need long-term care and management. Treatment does not "cure" the individual but with ongoing support, the client can more successfully deal with life's problems without the use of drugs and alcohol and can learn to put their traumatic experiences into a better perspective. At times people may learn to refer to their symptoms as post traumatic growth or post traumatic success and can appreciate their experiences as important.
https://www.bellwood.ca/post-traumatic-stress/
Play It Forward for Mental Health Awareness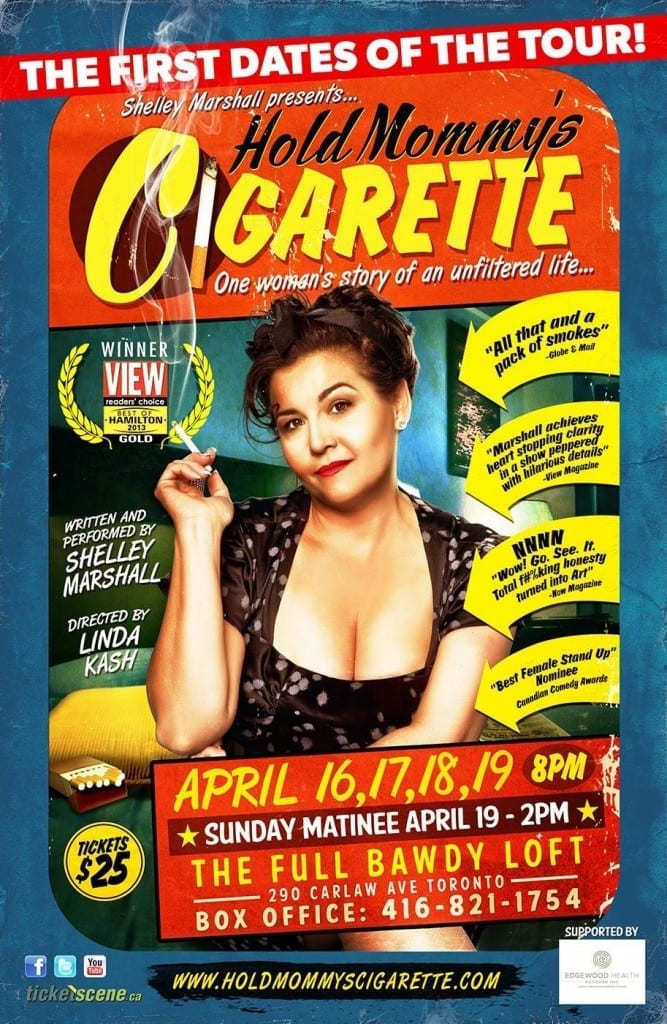 Henri Matisse said that creativity takes courage.  That's exactly how you would describe Shelley Marshall – courageous and creative.  Hilarious is another word you might use.  She's a comedienne, a mother and a mental health warrior.  And she's partnered with the Edgewood Health Network to bring her award winning autobiographical play Hold Mommy's Cigarette across Canada.
This one woman show is the story of Shelley's life and the impact a history of mental illness has on a family and a young girl.  It's a story that touches audiences deeply and makes them laugh just as hard. As Shelley says, "I take them on an adventure, both emotionally and visually. There is no denying that my story is tragic, but it's my story and time and writing without shame has been my comedic relief. Hold Mommy's Cigarette is not an exploitation of what has happened in my life, but rather, an acceptance of where it may lead. It is a dark comedy, a vulnerable piece about life, mental illness and survival."
The play chronicles her early life, leading up to her lowest point – a suicide attempt.  Yet fate and her husband intervened, and Shelley survived.  She now uses Hold Mommy's Cigarette as a vehicle to talk about depression and to showcase how she was able to turn her deep sadness into tremendous success.  It's an inspiring experience that opens up a much needed conversation around suicide and mental illness.
As a part of the Edgewood Health Network, we're very proud to be helping Shelley spread her message of hope. Especially since addiction is a disease that often leaves it's sufferers feeling completely hopeless.
The Edgewood Health Network wants to "play it forward" by giving away  free tickets to Hold Mommy's Cigarette. We think everyone should have a chance to see this show! Tickets will be available for April 16, 17, 18 and 19 in Toronto.  Go to https://www.ticketscene.ca/series/285to register and use the promo code EHN.
As Shelley often says, "best life ever!"
Binge Eating Disorder Deserving of More Recognition and Treatment Options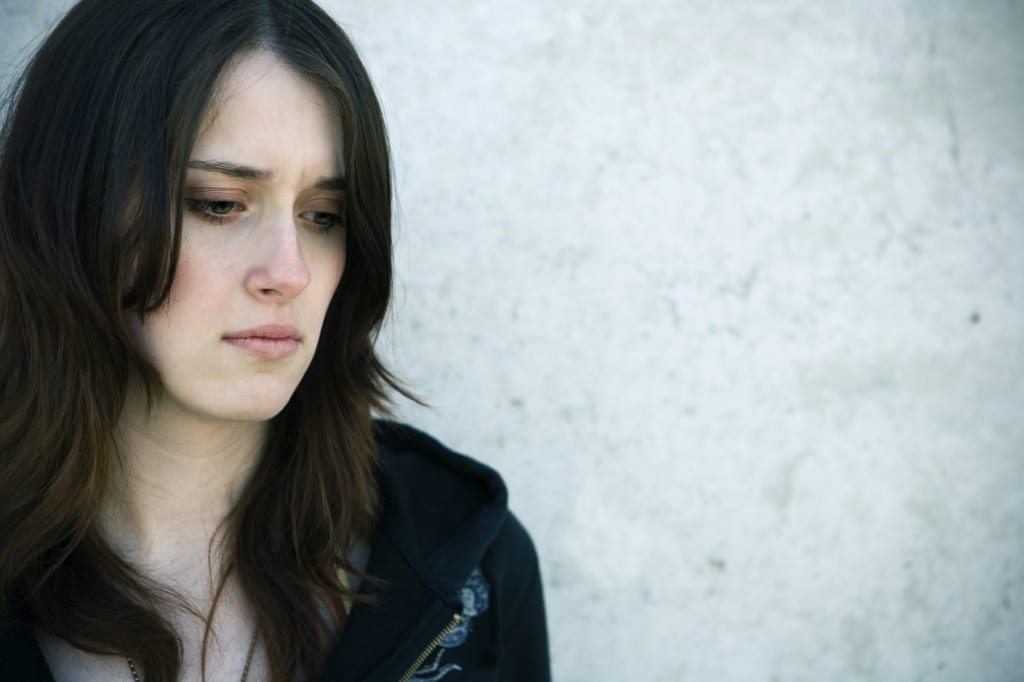 Eating Disorder Awareness Week is February 1–7, 2015 and Bellwood Health Services is using this opportunity to raise awareness of Binge Eating Disorder – the most common but least talked about type of eating disorders.
When asked about eating disorders, most people immediately think of Anorexia Nervosa. Although anorexia is a very serious and sometimes life threatening eating disorder, years of movies, and magazine articles focusing on celebrities struggling with this issue, has given us the idea that it is also the most common of all eating disorders.  In fact, it is actually the least prevalent of the eating disorders.
Research has found that binge eating disorder affects 3.5% of women and 2% of men, with an average lifetime duration of 8.3 years (Hudson, Hiripi, Pope & Kessler, 2007).  This means that binge eating disorder affects more people than anorexia and bulimia combined, and can be life-long problem.
The primary symptoms of binge eating disorder are consumptions of large quantities of food, and the individual feels as though they have no control over this consumption. The individual often eats large amounts quickly, and secretively. Unlike bulimia, the individual does not attempt to compensate for food intake through purging or over-exercising.  Binge eating disorder affects men and women fairly evenly, and the affected age group is broader than other forms of eating disorders.
According to Lauren Goldhamer, Eating Disorders Therapist at Bellwood Health Services, there are many misconceptions about binge eating that have helped keep it in the shadows.  "Most people feel shame, and hide the problem from others.  In fact, in front of others, they may eat normally or even appear to be dieting to conceal the problem.  You usually cannot determine if someone is struggling with binge eating based on their body size.  For these reasons, the problem can be 'invisible.'"
Bellwood Health Services is one of the few residential eating disorders treatment programs in Canada that treat binge eating disorder.  "The lack of quality or available treatment options are often reasons why there are not more people seeking help for the problem," states Ms. Goldhamer.  Other reasons why few people tend to seek treatment include:
Feelings of shame and guilt that could result from others learning about the problem
A belief that it is not a serious issue and that they do not deserve help the way those with anorexia or bulimia do
Difficulty in discussing their concerns with their family physician
Mental Illness – Let's Reduce the Stigma! Let's Talk.
1 in 5 people are dealing with a mental illness. As you may know, today is "Bell Let's Talk" day, and this is an initiative carried out by Bell Canada, in order to work towards reducing the stigma of mental illness. These anti-stigma campaigns are trying to target the deeply ingrained biases that many of us have when it comes to talking about addiction, and mental illness. The root of stigma comes from our upbringing, our family of origin, a lack of understanding, and perhaps a lack of personal experience. The stigma around mental illness is a significant issue in our society today, as many people still feel shame and embarrassment for visiting a therapist, taking medication, or requiring accommodations.
The stigma concerning mental illness has a deep effect on the individuals who are struggling with these issues. The effects of stigma can be compared to carrying an extra weight, as these individuals may react to the stigma by choosing not to speak about their illness. Coping with the stigma associated with mental health adds an extra burden to these individuals, and maintaining stigma in our society can lead to individuals not choosing to get help for fear that they will be ostracized , or viewed differently.
The workplace is one environment in which it is especially difficult for individuals to speak about mental illness. As a treatment centre that focuses on treating individuals and families with addiction and mental health issues, we encourage all employers to be progressive and informed about their workforce. To assist with fostering an environment that is free of stigma here are some guidelines:
–  Be supportive, non-judgmental, and accommodating of all employees, regardless of their health issues, or the position that they hold within the company
–  Provide diversity education, and educate all staff about the basics of mental illness, and how to practice work-life balance
–  Foster an environment that is safe, supportive and encourages employees to feel comfortable coming forward to ask for any accommodations they may require
–  Provide a range of effective Employee Assistance Programs as an added support for employees
With each person on the planet that starts breaking down the barriers related to mental illness, the closer we will find ourselves to a world where people do not feel shame for seeking the help that they need.