Tips to Return to Work Post-Addiction Treatment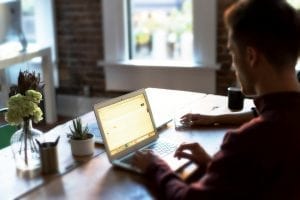 How do you balance your job and new responsibilities towards recovery? For people who have just completed an inpatient substance abuse treatment program and plan on returning to work, you may have several questions.
Do I tell my boss that I was in rehab?
What do I tell coworkers who want to know where I've been these last couple of months?
How will I handle work responsibilities and my recovery?
All very valid questions and with time you will become more experienced and better able to handle.
When it comes to early recovery, we know it's crucial that you plan ahead your daily itinerary because having extra time can lead to boredom and boredom is a slippery slope for relapse. Planning ahead will allow you to handle unexpected questions and avoid certain situations that are risky for your recovery.
We spoke to David Paul, Addiction Counsellor at Bellwood Health Services, whom works closely with many individuals and employers who have sent their employees to Bellwood for addiction treatment. David Paul has many years of experience working with individuals to help them plan and transition back to their communities and into their jobs post- treatment.
To Disclose or Not To Disclose
If your employer hasn't been a part of your recovery from the beginning and you're returning to work, you may be wondering whether or not to tell them. David Paul states, "You are not obligated to tell them.  By law, a person is entitled to take medical leave without disclosure of the issues or problems. But, you may want to inform your HR Manager, in case you need some more help with your recovery, for example appointments, 12-Step meetings, or therapist meetings. This disclosure to your HR Manager should all be confidential! Honesty is really the best policy."
Relationships with Co-workers
So far, you've had experience ending relationships with people in your personal life that were helping fuel your addiction. It was tough but very much needed. You will need to make choices regarding who to hang out with at work and how to maintain professionalism in your workplace too.
David Paul explains, "Everyone needs balance in his or her life. One should focus on their job duties and make wise choices with the people they hang out with at work. If there are others that have addiction issues at the workplace one should steer clear of these people and really only communicate for work related issues, duties, supervision etc."
This doesn't mean that you can't build healthy relationships with others at work. You may find other employees in your workplace that are in recovery too. David Paul shares, "If there is someone else in the workplace that is in recovery you may want to touch base with them, as they would understand what you are going through and trying to accomplish."
Preparing Your Return-to-Work
One of the very first things you should do is arrange to speak to the company's employee assistance professional (EAP) if available, counsellor or therapist and the addiction rehab centre where you went for treatment to help you prepare your return to the workplace. In An Employer's Guide to Workplace Substance Abuse published by the National Business Group on Health, it states that employers have an important role in combating stigma in the workplace and helping employees understand that they can seek treatment without jeopardizing their careers. It also reminds employers that although they may not know which members on their team is in recovery, they must understand that there's a balance between wanting to help and respecting an employee's request for privacy.
David Paul says, "You should work on a return-to-work plan which may include graduated return-to-work. Meaning 3 days a week to 4 days to eventually full hours. You may have to switch your shifts. For example, perhaps not do night shifts, maybe not evening shifts and the company may have their own ideas of your return to work. Usually they are accommodating as they want to get you back to work in a safe way and conducive to your recovery."
Communication with your human resources or occupational health and safety department will help you stay safe while transitioning back to the workplace. David Paul suggests, "You could have a conference call or face to face meeting with your HR or company nurse to discuss your return to work and any issues or requirements you need in order for you to return safely. Easy does it."
Explaining Your Absence
Your co-workers might be surprised to see you back at the office because they aren't sure where you've been. They might point blank ask you why you were away. There are smart ways on how to handle these situations. David Paul provides some advice and tips on how to manage. "Hold your head up high, try to go back with confidence, and tell only one story if people ask where have you been. Keep it consistent.  I was off for health reasons and I am better now. End of story."
David Paul continues, "There will probably be rumours. Remember, they are only rumours and let them go- just ignore them. You are probably not the only person in the company that has had or has an addiction problem. Don't buy into it or encourage further talks around your absenteeism."
5 Tips on How to Handle Workplace Functions
According to David Paul, in early recovery it's wise not to attend any functions where alcohol will be served. As your recovery gets stronger, you may be able to attend some functions. You are the best judge of your health. You must do what feels right in order to stay sober.
If your employer or company nurse knows where you've been, go and talk to them and explain how it can trigger you to go to events where alcohol is served. Politely request to be excused from this event.
You may be able to take a "buddy" with you to the event. Go for the dinner and leave before the dance partying begins.
You may want to be in touch with your sponsor or counselor a few times throughout the event.
Leave early, take breaks, go outside and stay grounded.
If you have to stay in a hotel for work purposes, ask that the Mini Bar be locked or emptied before you get there.
It Gets Easier
It may seem difficult at the beginning with all the adjustments you're making in order to work through your recovery. Still, these are the types of decisions that must be made to keep you safe and on the right path. Some reminders that David Paul shares with us:
Do not make any major decisions for the first year of your recovery. For example, quitting your job, selling your house and relocating unless you really have to for legitimate reasons.
Remember, you are entitled to your anonymity but you must own and care for your own recovery.
When you've been sober for a few months, you'll start to gain clarity about your past and the best way to navigate your new life without the use of mood altering substances.
Put your old behaviours behind you and show by example the new you.
If you need help with transitioning back to work or you're an employer that needs assistance with an employee, give us a call at 1-800-387-6198. To learn more about our treatment and support services for employees and employers, click here.
Four Reasons to Boost Your Heart Health
It's February and Valentine's Day is coming. What better time to think about your heart! Why not check out these tips to help boost your health:
A heavier body weight may be linked to heart disease. Compared to people of normal weight, overweight people are at 22% higher risk of having a stroke. In obese people, the risk rises to 64%. This was published in a 2010 report in the journal Stroke, which obtained results from 25 studies involving over two million people. Consider changing your food choices. A healthy diet (check out the Canada Food Guide) is about 80% of the solution. Improving food choices (especially decreasing processed food), eating out less and being mindful of portion size are a good place to start. Remember to start off each day with a healthy breakfast that includes protein. Change it up; variety is the spice of life!
Exercise is roughly 20% of the solution to maintaining a healthy body weight. If your goal is to reach a healthier weight, it is essential that when you exercise, you maintain 65-80% level of intensity for over 30 minutes several times per week. Try doing a variety of workouts and consider exercising with a partner.
Smoking causes major stress on the heart. If you smoke, consider talking to your doctor about getting help to kick the habit. According to the British Heart Foundation, smokers are almost twice as likely to have a heart attack as non-smokers. After a few months without smoking, your cardiovascular exercise will become easier and more enjoyable.
Change your mood! Are you feeling blue? Short days mean less sunshine, and many of us feel down when we aren't getting enough light. The good news is, just twenty to thirty minutes of moderate exercise can cause the release of endorphins. These endorphins make us feel happy! Exercise may be an effective way to improve your mood!
So this Valentine's Day, why not plan an active date with your sweetheart? Go skiing, or skating, go for a walk or do an exercise class together! Then go home and cook up some healthy food and savour it!  Take good care of your heart!
Wendy Lee, BA, Kinesiology, has been working in the Physical Health Department at Bellwood since 2009. She has over ten years of experience working in community rehabilitation clinics and in the outpatient orthopedic clinic at York Central Hospital as part of their Physiotherapy team.
Mindfulness: From Distraction to Stillness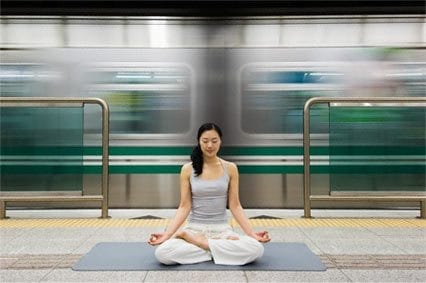 Stillness.  The calm surface of a lake at dawn.  The silence of an empty chapel.  The soft quiet of a night full of stars.  How we wish at times for our minds to settle, and just be still.  For the pointless worries to stop, that ceaseless chatter.  What we should have done, what we should be doing, what we should be preparing for.  The tyranny of the shoulds.  Our minds are constantly doing, always trying to fix things, change things, make things better.  Trying to close the gap between where we are, and where we think we should be.  From the second we get up in the morning, to the time we fall asleep at night.  What should I have said to her on the phone last weekend?  What can I do about my weight?  All big questions, to be sure, but do they never stop?   Why can't we shut our minds off?  It's something I hear in the office all the time.  I can't focus, doc.  I can't turn my brain off.  It won't let me sleep.  It must be ADHD.  Isn't there a pill you can give me?
Modern society doesn't help.  There's always another distraction out there.  Something else to do.  Cellphones, Facebook, Twitter, Google.  More channels on TV.  More ads.  Faster cars.  Better hair.  Whiter teeth.  Another thrill, another sensation.  Don't stop, or you might miss something. A constant need for 'more'.  It isn't hard to see where addiction fits in.
What's the answer?  How does one stop 'doing, doing, doing', and just 'be'?  How do we learn to control our minds, and not have them running in circles, taking us with them?  For a few, the diagnosis really is ADHD, and treatment for this can help.  For most of us though, the problem isn't that we can't pay attention, but that we've forgotten how to. This is where the gentle practice of mindfulness can help. Mindfulness is the awareness that emerges through paying attention, in the present moment, to things as they are.  It's what happens when you start to notice what's going on, both outside you, and on the inside, in your thoughts and feelings. Noticing what it's like to eat an apple and enjoy it, rather than 'scarfing' down lunch so fast you can't remember 10 minutes later what you just ate.  Noticing what your thoughts are, but then remembering that they're just thoughts, and that you don't have to react to them.
A simple way to begin being mindful is to take a minute and just focus on your breathing. Try it.  Let your breath be your 'anchor'.  Notice how each breath in fills you with energy, and how each outward breath lets go of tension.  Sit with your breathing for a moment, and notice what happens.  Let whatever happens happen.  You might notice how the soles of your feet feel on the floor.  You might become aware of all the sounds around you.  Notice it, and then come back to being aware of your breathing.  A thought might cross your mind.  Just notice it, like it's a cloud crossing the sky.  Then gently let it go, and come back to your breathing.  You don't have to react to every thought.  Thoughts and feelings come and go all the time, like bags coming down the baggage chute at the airport.  If you choose, you can sit with them and let yourself experience them.   On the other hand, you can let them go, and just come back to your breathing.  You can control what you pay attention to, and for how long.  You can learn to control your mind, rather than letting your thoughts and impulses run away with you.  It's a skill, which means it takes practice, but it's a skill worth learning.   And the payoff, ultimately, is stillness.
By: Dr. Charlie Whelton, M.D., FRCP(C), ASAM Certified
Giving Back to Others: One of the Greatest Gifts in Addiction Recovery
At Bellwood Health Services, we have a group of volunteers who assist our team of clinicians and our clients 7 days a week. Their acts of kindness and selflessness portray what it truly means "to give back to others". Some of the Bellwood Volunteers have been through addiction treatment themselves and are in recovery. So, the question is, "Why is it important to our Volunteers and others in recovery to give back?"
Why Give Back?
"For it is in giving that we receive." ― St. Francis of Assisi
Recovery from drugs alcohol or other behavioural addictions is a process not a life experience. As one continues on a path of sobriety, it becomes easier to realize and open ourselves to healthier and better decisions. One can find inner peace much better and has a better sense of gratitude for where they are now because of who helped them and because of their own courage to change their life around.
Gratitude is a part of recovery. It's the feeling of being thankful for having received something. In recovery, one is grateful for having received the tools and knowledge from rehab or a support group to stay sober. Helping others is an important component of recovery in aftercare.
Helping people because someone helped you is a way of saying thank you. It helps you stay focused on the road of recovery and stay connected with others. Helping and sharing your own experiences with others can be reasons that someone finally discovers peace in their life or experience some relief from an awful day they may be having.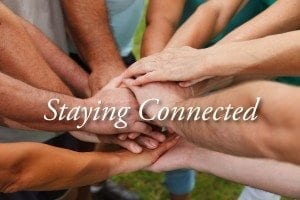 Many of the Bellwood Volunteers had mentioned the following as some of the reasons why they volunteer at Bellwood Health Services:
They are grateful and want to give back

Helping others helps their recovery

It is inspirational and gives them hope
The Benefits of Giving Back for YOU
Studies show that individuals in recovery that continue to help others find sobriety are more likely to stay abstinent than those who do not help others.
Other benefits of giving back:
Improves self-esteem and self confidence

Feel more empowered in your recovery

Improves your resilience against mental illnesses, such as depression

Helps improve your community

Find more purpose and meaning in your life

Stay connected and not isolate

Develop new skills

Gain a better perspective of what life is like now in recovery, what's really important to you and the benefits of living clean.
What you can do to give back:
Work on yourself: May seem selfish or quite opposite of what I have been saying but you must ensure that you are not neglecting your needs so that you are able to physically, psychologically, and spiritually "give back" selflessly.

When you are ready, become someone's sponsor – a guide through someone's recovery process. It's a selfless service that can be offered to another individual who needs help learning how to live a healthier life without addiction.

Volunteer your Time: In a Canadian study, 85% of Ontario volunteers rated their health as "good" compared to 79% of non-volunteers. More research is showing that the good feelings you experience when helping others may be just as important to your health as exercise and a healthy diet. Bellwood always has volunteer opportunities at our treatment facility in various roles. Click on this link to learn more about these volunteer opportunities.

Donating to a charity or good cause.
These are just some examples of what you can do to give back. Start with small acts of generosity if you are not ready to make bigger commitments. You may offer to make coffee at your next 12-step meeting or extend your seat the next time you see a parent with a child on the TTC. The opportunities are endless when it comes to carrying out compassionate deeds.

"It's been a privilege to have served you." – Dr. Gordon Bell, Founder of Bellwood Health Services
References
https://www.choosehelp.com/topics/drug-rehab/the-importance-of-rehab-aftercare
https://www.psychologytoday.com/blog/here-there-and-everywhere/201212/25-quotes-giving
https://hr.buffalo.edu/files/phatfile/Reasons_To_Give_Back.pdf

https://journaltimes.com/lifestyles/relationships-and-special-occasions/reborn-from-from-addiction-to-recovery-giving-back-to-others/article_217964ae-a572-11e3-b244-001a4bcf887a.html

Most Important Questions to Ask a Treatment Provider
Have you begun to realize that you need professional help with your substance abuse, gambling, eating disorder or sex addiction? You've started to Google and read about various treatment facilities but still are not sure which one to choose.
Bellwood has developed a list of questions to help you choose a suitable addiction treatment centre that will meet your needs. Choosing your treatment provider is one of the most important decisions you will make in recovery.
Addiction treatment is an investment in your overall health. Make sure you understand all the facts!
What are the treatment centre's success rates?

Do they measure outcomes?

Are the success rates valid?

What process was used to determine and validate their results?

Who was involved?

Is the facility accredited?

Did the facility go through an independent health review to evaluate the quality of their services?

Is there 24/7 medical care?

Do they offer limited off-site support or full-time on-site support by a medical team?

What are the qualifications and credentials of the treatment staff?

How many years of experience does the treatment centre have?

Will you receive comprehensive care from a multi-disciplinary team?

Who will provide the treatment for you? Addiction doctor, therapist, counsellor, nutritionist etc.

Will there be a nutritionist to address your nutritional needs?

What type of help is available for families and loved ones?

Are there continuing care or aftercare programs available?

Do they provide programs to help you continue to maintain sobriety once you graduate from your treatment program?

What is the reimbursement policy?
To read a more comprehensive version of this list, please visit the following link: Questions to Ask a Treatment Provider
5 Tips to Help You Survive the Holidays in Early Recovery
The holidays can be a stressful season for many of us, especially when old family traditions still exist and you have started to develop new and healthier ones.  It can be difficult for family members or friends to understand that you can't join the family for Christmas dinner this year because it raises bad memories or that being near alcohol is just too triggering for you at this point in your recovery.
Early recovery from alcohol or drug addiction can be very challenging.  Yet, with the right tools and support, you can stay sober and prevent relapse from overriding all the great progress you made during rehab.
So whether you are or are not attending a Christmas celebration(s), here are Bellwood's 5 tips to help you survive the holidays in early recovery:
Stay connected.  It can get busy around the holidays with all the shopping, Christmas potlucks and holiday parties.  Yet, it's still important to continue practicing the recovery skills you learned in treatment to ensure you continue on your road to a healthier and happier lifestyle.  Whether it means going through Bellwood's Aftercare Program or attending your 12-step meetings- make sure you don't miss a meeting!  Plan ahead!  If you know you are going to be out-of-town, do some research and jot down the addresses of local 12-step meetings in your vacation destination.  Crises happen- even during the holidays and it's important to have the support and reassurance of your fellow brothers and sisters.
Avoid situations where the dangers of abusing drugs or alcohol may occur.  If you know that a company Christmas celebration will have alcohol and it is too triggering to be around- than do not attend or go with someone who is supportive of your recovery.  Avoid and steer clear of places and old "friends" that made you use.
Eat and snack on time to avoid those mood swings because they can be triggers for relapse.  Pay attention to your basic needs such as your hunger.  As Margaret Fieldhouse, our nutritionist, at Bellwood Health Services, would say, "Eat your 3 snacks and 3 meals a day.  Make sure you eat your protein and be mindful of your sugar intake!"  Bring healthy snacks with you on long trips and plan your meals ahead.
Get proper rest and exercise.  Ensure you are getting enough sleep so that you have the energy and right attitude to get you through the day. Plus, exercising on a regular basis can help you sleep better and feel better too when you are experiencing anxiety or stress.
Acknowledge when you need help.  Reach out to your sponsor or give Bellwood a call to help you get through the challenge that you are facing.  Early recovery from addiction is not the same for everyone.  Listen to the red flags and get the support that you need.
Remember: Don't get…
Hungry
Angry
Lonely
Tired
Carbohydrates: The Simple and Complex Truth
Written by: Natalie Tilluckdharry
According to Health Canada, 'carbohydrates are the body's most important source of energy'. However, it is one of the most widely criticized nutrients in food. Following the influx of popularized 'low carb' diets in the 1990's, carbohydrates have taken the blame for obesity and have since held a negative connotation in the minds of many. In addiction and recovery, carbohydrates play a role in energy levels, anxiety, fatigue and cravings. Certain carbohydrates can help to improve these symptoms in those recovering from drugs, alcohol and food addiction.
The Basics of Carbohydrates
Carbohydrates are one of three macronutrients our body relies on to produce energy. It is our body's primary source of energy, as carbohydrates are broken down into glucose. Our body runs on glucose, which is converted in the mitochondria to usable energy called ATP.
However, not all carbohydrates are created equally. They are comprised of two groups: simple and complex carbohydrates.
Simple Carbohydrates
Sugar
Honey
Syrup
Juice
Milk
Chocolate, candy, soda etc.
Simple carbohydrates are broken down and absorbed quickly. Most of these products are refined, and limited in vitamins, minerals or fibre. The enzymes in our body easily digest them, and can trigger a spike in insulin, creating a 'sugar crash'. Simple carbohydrates begin to break down into smaller components as they enter our mouth, with the help of enzymes in our saliva. Some of the glucose from these simple carbohydrates is absorbed sublingually (beneath the tongue) and our blood glucose levels begin to rise. The body further breaks down the simple carbohydrates in the stomach, and the remaining glucose is absorbed within the small intestines into the bloodstream, raising blood glucose levels. This creates a burst in energy levels, which is short lived. The body reacts to this sudden rise in blood glucose by signalling the pancreas to secrete insulin – a hormone that regulates the concentration of glucose in the bloodstream. As insulin is released, it initiates glucose uptake, creating a sudden drop in blood glucose. This 'sugar crash' has a major effect on our physical and mental state.
Effects of Simple Carbohydrates
The swift changes in blood glucose cause feelings of highs and lows from jitteriness and excitability to anxiety, fatigue and mood swings. This is a concern for those in recovery from drugs and alcohol. In early recovery, when symptoms of low mood and anxiety are prevalent, foods rich in simple carbohydrates can amplify these feelings. Also, many people afflicted with addiction also suffer with concurrent mental health disorders including depression, anxiety and sleep disorders. While foods high in simple carbohydrates are often sought out for comfort or to satisfy sugar cravings, too much can create negative consequences in ones' recovery by altering mood and emotions. So should addicts avoid simple carbohydrates altogether? Not at all. Indulging in these foods is part of healthy eating when used in moderation as part of a balanced diet.
Complex Carbohydrates
Rice

Pasta

Breads

Cereals (bran, oats, etc.)

Starches (i.e. potatoes)

Fruits

Vegetables
Complex carbohydrates are rich in vitamins, minerals and fibre. Fibre, which is not digested or absorbed by our body, slows down the rate of absorption of glucose and does not create the highs and lows as mentioned above. As glucose is slowly absorbed in the small intestines, the demand on the pancreas to secrete large amounts of insulin is less significant. This creates a slow and steady rise in blood glucose without the 'crash', and provides long lasting energy. Fibre also helps reduce risk of heart disease, elevated cholesterol, and improves gastrointestinal health, which is often compromised in many addicts. Grain products that are refined during the manufacturing process such as white rice and pasta lose the outer layer of the grain, which contains much of its nutritional value. However most products are now fortified, meaning foods are enriched with extra micronutrients. Although there is a difference in quality of white versus whole grain products, they both offer various health benefits and importance in our diet. Health Canada recommends making half of daily grain products as 'whole grain'.
Effects of Complex Carbohydrates
Various vitamins and minerals are found in complex carbohydrates. For example, B vitamins are found in grain products, fruits and vegetables. B vitamins function in the production of energy, the central nervous system and synthesis of neurotransmitters. We require certain amounts of these vitamins in order for our body to carry out these essential roles. During the addiction, when drugs and alcohol are abused, healthy eating is often not practised. Many addicts consume a diet low in complex carbohydrates such as fruits and vegetables, creating inadequate levels of these vitamins – also known as insufficiencies. This affects the numerous roles that these vitamins perform, causing serious damage affecting the nervous system and cognition. In recovery from addiction, complex carbohydrates help to stabilize energy levels, restore vitamin and mineral functions within the body and reverse the damage incurred from the effects of the addictive substance.
Carbohydrates, like all foods have a place in healthy eating. The simple negative association that has been developed with this entire group of food means we deprive ourselves of the many health benefits they offer. Canada's Food Guide for Healthy Eating recommends that adults consume 7-10 servings of fruits and vegetables per day, in addition to 6-8 servings of grains a day. These amounts help us meet our needs for vitamins, minerals and nutrients and contribute to your overall health and vitality (Health Canada, 2011). In recovery, choosing the right foods can help our bodies heal and continue to live a sober life.
For more information on recommendations for grains, fruits and vegetables, go to Health Canada's Healthy Food Guide for Eating:
https://www.hc-sc.gc.ca/fn-an/food-guide-aliment/index-eng.php
In the next article, we will explore how carbohydrates influence emotional eating and why food can become an addiction.
Tips for problem gamblers during the holiday season
In my previous post, I talked about general tips on coping during the holidays. But if you are recovering from a gambling problem, there are additional challenges. This is the shopping season and the time of big sales. There are a lot of deals and it is tempting to over-spend. A big debt can be a trigger for relapse. It's dangerous because it can easily lead to thinking of ways to make quick money.
Stay focused on your budget. Keep your receipts and be accountable. Controlling finances and making restitution payments are a major part of recovery from a gambling problem. If you need help staying on track, get your partner or a family member involved.
When spending time with family and friends, be careful about having a few drinks. Remember, drinking lowers inhibitions. What do you do when you get together? Do you play cards? Make sure you have a safety plan around entertainment.
Control your car so that you are not dependent on someone else for transportation. Have enough money for a taxi. Be prepared to leave some functions in order to protect yourself.
Hopefully, families and friends will be sensitive to your recovery and not give you lottery tickets. However, if you receive one, plan what you will do with it.
If you successfully navigated through all the activities, look back at how you did it? What went well, what would you do differently next time? Be cautious about being complacent. Some people survive the holidays only to relapse in January.
Be well everyone!
M. Linda Bell
Chief Executive Officer – Bellwood Health Services