Intensive Outpatient Program: An affordable and effective option to inpatient treatment!
"IOPs are equally effective when compared with inpatient and residential treatments.
IOPs have emerged as a critical facet of 21st century addiction treatment for people
who need a more intensive level of service than usual outpatient treatment,
and they allow participants to…step down successfully from inpatient services."
–Published in Psychiatry Service Journal June 1, 2014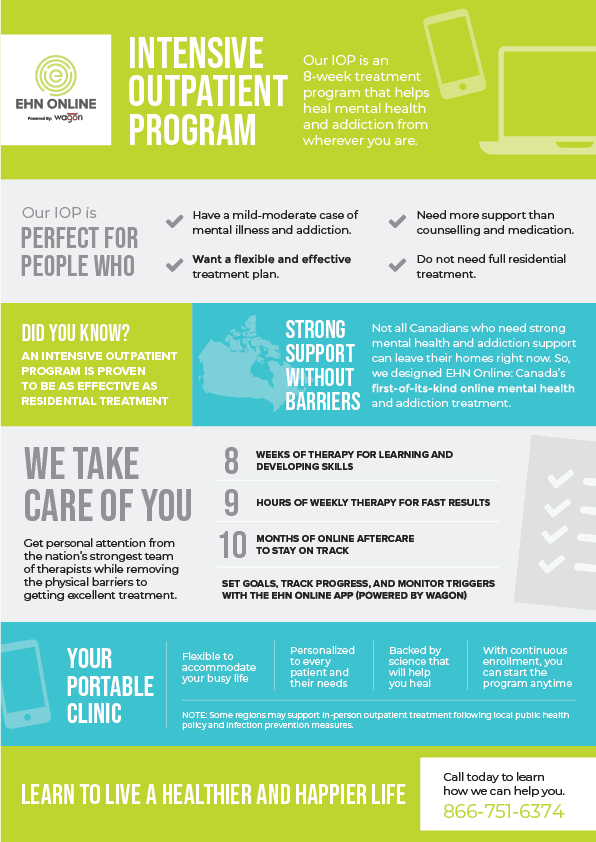 Not everyone can leave their homes and jobs for a residential addiction treatment facility. But it doesn't mean that help isn't available. For them, EHN Canada's Outpatient facilities offers an in-depth, short-term outpatient program that meets the needs of the individual and sets them on the journey to recovery. Consisting of a consultation and two phases, the program also includes education on:
Addiction
Cognitive Behavioural Therapy
Relapse prevention techniques
Group therapy sessions
Anxiety management techniques
Healthy living practices
Assessments
Recovery Plan
Family involvement and education
Homework / Outside support
Recovery meetings
A continuous enrollment process for this program allows clients to immediately register for this intensive program any time after their consultation with one of our clinicians.
IOP is a 8-week evening program that allows the patient to stay at home while receiving evidence-based treatment!
What are the benefits?
90% of clients stay sober during the 8 week program
Continue to work or go to school
Regular drug testing to ensure abstinence
Practice recovery skills in real time
Immediate intake
Individual counselling
Financing available
When it comes to addiction, no two patients are alike. IOP is ideal for individuals that are wishing to know more about their substance use, or for those that have had a relapse and wish to get back on track or for the person graduating out of an inpatient situation and require additional support transitioning back into the real world.
Our outpatient clinics are located in Montreal, Toronto, Calgary, Vancouver,  Nanaimo.