By Jeff Vircoe
Edgewood's Executive Director Carrie McVeigh sees a much higher purpose in her role.
With just over a year at the helm of one of Nanaimo's most cherished centres, Carrie McVeigh, Senior Executive Director at Edgewood Treatment Centre, has made a positive impression on staff and clients. Within the Edgewood community, she is known as someone who listens and cares, researches the problem, formulates a position, and takes action – and as a result, the centre is better for it.
Edgewood, EHN Canada's facility located in the harbour city of the east coast of Vancouver Island, provides treatment for those suffering from mental health and substance use disorders, that is inclusive and, delivered through a culturally appropriate and trauma-informed lens. The centre treats on average 550-690 patients annually.
INCLUSIVITY FOOTPRINT ALREADY ESTABLISHED
In addition to strong evidence-based trauma, core and second-stage programs, an indigenous counselling program has taken strong roots, offering inclusion and safety through culture and land-based teachings. An LBGTQ+ group has also taken off on Carrie's watch, offering another marginalized group a safe place to make their way through their recovery. Now there are also plans to bring back the in-person family and children's programs.
Carrie's footprint is evident.
You could say that Carrie has a background in people. After following her father-in-law onto a labour relations path, this proud mother of three, completed her education in the field of human resources and business, earning her designation as a Chartered Professional in Human Resources. She has over 30 years of experience in people and business leadership, including extensive experience within the education sector. She's held executive-level roles including that of Chief Operating/Financial Officer and Associate Superintendent, Human Resources & Labour Relations.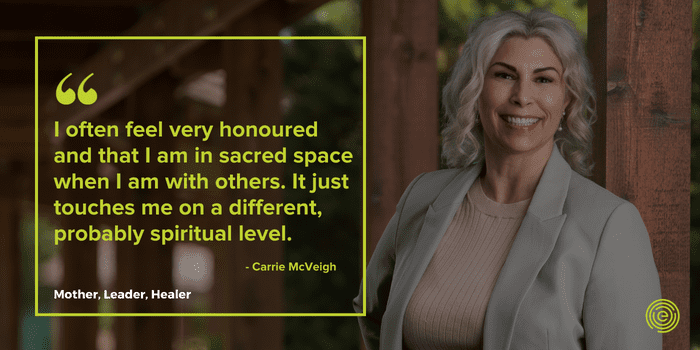 After years at school districts in Nanaimo-Ladysmith, Campbell River, and Mission, along with other prominent positions in the Lower Mainland, Edgewood, admittingly, was not on her list of places to work. With its approximately 120 employees and 120 patients, Edgewood was significantly smaller than the school district where she was COO and overseeing nearly 15,000 students and over 2,200 employees.
So, when opportunity came knocking in the form of her daughter who was friends with the daughter of a management team member at Edgewood, she admits at first, she didn't think it would amount to much.
"They really want you to call," her daughter, said a few weeks later.
So, Carrie got curious.
The ensuing chat with Dr. Christina Basedow, EHN Canada's Vice President of Operations, turned into a job offer which she has never once regretted accepting.
LIVED EXPERIENCE AT THE HELM
Edgewood is more than a job to Carrie. She had three family members go through treatment at different times, inpatient, extended care, the Insite Family Program, and the Bounce Back program for children. The "House of Miracles" has affected her life and the lives of her loved ones since she first came in contact in the search for recoveries in 2011. It has always been sacred ground to her.
"I used to drive by Edgewood just to fill my bucket," Carrie says quietly. "I would be on way home from work, long before I ever worked here. I would drive by because of my connection to it, and feeling like Insight, the in-person intensive family program, saved my life. It was so critical."
Accepting the job as Edgewood's Executive Director puts her in a place of prominence on a team that has literally been entrusted with lives. Carrie says, "The higher purpose was huge. Huge."
She believes that leadership is fundamentally about building relationships, passion, authenticity and the ability to be vulnerable and humble.
Her personal philosophy is grounded in the belief that trauma, mental health and addiction are interdependent, and that treatment needs to come from staff who employ strategies for self-care, have lived experience and employ evidence-based & well/honed clinical practices, through a trauma-informed lens.
"Staff must evolve their practice through lifelong learning. Patients suffering from addiction and struggles with their mental health, need to be met where they're at and, to do so, we need patients to feel safe and regulated in order to be treated. Patients and families entrust staff with a matter that is of life and death and so, I believe that staff need to show up in every way, as the best version of themselves putting patients at the centre," she says.
Carrie is committed to the hard and messy work of Truth and Reconciliation and Equity Diversity and Inclusion, including deepening her own learnings in these areas, to ensure organizational growth and commitment to a work environment that is a place of belonging for all. Her core belief is that patient care is at its best when staff are engaged, feel supported, held accountable, understand their role, have a sense and belonging. Further, she maintains that this is how Edgewood maintains a steady stream of clients wishing to start their journey of recovery.
Dr. Basedow praises her, saying, "Carrie has a deep personal connection to Edgewood and to recovery. Her experience within her own family struggling with addiction has only strengthened her passion for our field of work. She cares about patient experience and about the staff who work with them. She brings a huge heart and deep hope to the position."
She continues, "Carrie brings in a strong focus on equity, diversity, and inclusion. She is deeply involved in creating an inclusive environment in which all walks of life are celebrated and connected. She has strongly supported enhancing indigenous treatment options and ways of healing. Watching Edgewood move into this space is beautiful to witness."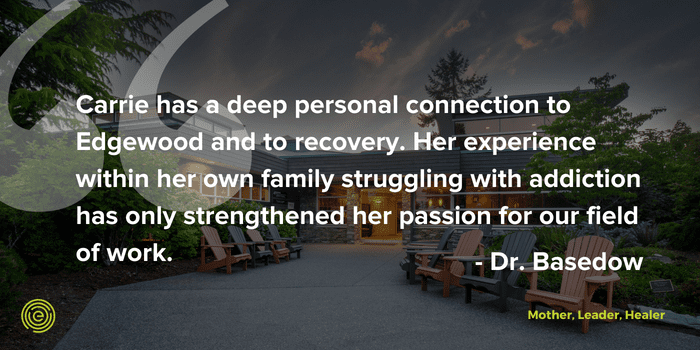 Carrie sat down with our team for a Q&A to answer some of the questions people unfamiliar with treatment centres, and those very familiar with them, might have.
YOU DON'T HAVE A CLINICAL BACKGROUND, BUT YOU KNEW A LOT ABOUT ADDICTION BEFORE YOUR START AT EDGEWOOD. HOW HAS THAT IMPACTED YOUR ROLE?
Carrie: True. I feel like there isn't anything specific around addiction that I am learning that maybe I haven't experienced. But I am learning small things all the time. Just getting to know Edgewood and the way Edgewood runs and works. That has been the challenge. Getting to know a new organization, how they function, how they work. The role EHN Canada plays. It is constantly changing. Edgewood was this beautiful little organization and over time has experienced the growing pains that come with being part of a larger organization. It is about growing up. There has been a lot of growing up in terms of practices and policies, things that big organizations need and must have.
AS AN EXECUTIVE DIRECTOR AT A NATIONALLY KNOWN TREATMENT CENTRE, HOW WOULD YOU DESCRIBE YOUR DAY-TO-DAY?
Carrie: I don't think that there is any day that looks alike. I am sure you have heard that from others. You could be talking to a CEO of the company one moment; you could be talking to a patient the next. You could be talking to anyone about a million other things that could go sideways in a day. And many that go wonderfully. You can plan your day out, have things in your calendar, and the work and people take you in a million other directions. I just love it when (Clinical Director) Joel Hughes goes 'So … we've got some interesting stuff we need to talk about …' Oh no, what now?" So, you have no idea what may be coming next and therefore there is no typical day, completely. You just never know what is going to happen. The reason – you are dealing with staff who have trials and triumphs and clients who are very sick and who desperately need our help.
YOU ARE A FAN OF BRENÉ BROWN. HOW DOES THAT TRANSLATE TO YOUR LEADERSHIP STYLE HERE AT EDGEWOOD?
Carrie: I think it is just being willing to show up, to be seen and to be vulnerable. To be willing to be in the arena with your teammates and not just a figure head. To promote belonging and connection. It is about being strong but vulnerable and dealing with difficult matters, as we must sometimes in leadership. But be clear, kind, compassionate and empathetic at the same time.
YOUR OWN FAMILY'S JOURNEY TO RECOVERY MUST TOUCH YOUR HEART STRINGS OFTEN HERE?
Carrie: Yes, and that is good, and it is not so good. There definitely can be this flood of emotions that will come at times with how real and raw it is. For instance, today we had to discharge a patient. Well, in a sense, those were my kids. Both of them have been on the street, homeless. This disease touches people regardless of who they are. It is really such a family disease. When I took the Insight program I was at the lowest. I was just so broken. I was just a sponge. You know, just give it to me.
Talk about a shame spiral. You're the Executive Director at Edgewood, a middle-class parent. What the heck is wrong with me that I have allowed my kids to be out on the street? Over the last 15 years I tried everything imaginable to save them. To help them. Through Insite I realized that when I share my story, I help myself and others. I learned that I am not unique or special and, that I have nothing to be ashamed of. It's hard, though, not to go to that place.
The one thing I am grateful for is that through all of it I have maintained a really good relationship with my children. I can confidently say they are both in recovery now, but even through relapses I know that they knew all they needed to do was pick up the phone and say I need help, and I am going to love and accept. When they don't want help, I have to set boundaries – easy to say but hard to do.
So, being here at Edgewood, it's really a God shot. I feel immense gratitude to be here. I do feel like there is a reason. There is a connection.
WHY HAVE EQUITY, DIVERSITY, AND INCLUSION BEEN SUCH A FOCUS FOR YOU?
Carrie: We have been focusing a lot on Equity, Diversity, and Inclusion. We have an EDI committee that we just put into place last year. Obviously, we have a ton more work to do there. Coming from the education system which is quite forward in the way of Truth and Reconciliation, and Indigenous ways of knowing and being, it is important to me. Mary Hill is doing a wonderful job here as a counselor. We just put Noah in the position of a cultural support worker, which is really cool, and I think, his position is the first of its kind within EHN Canada.
I know there is something about Indigenous culture and the way Indigenous people view the world that resonates for me. I often feel very honoured and that I am in a sacred space when I am with others. It just touches me on a different, probably spiritual level. Just a knowing.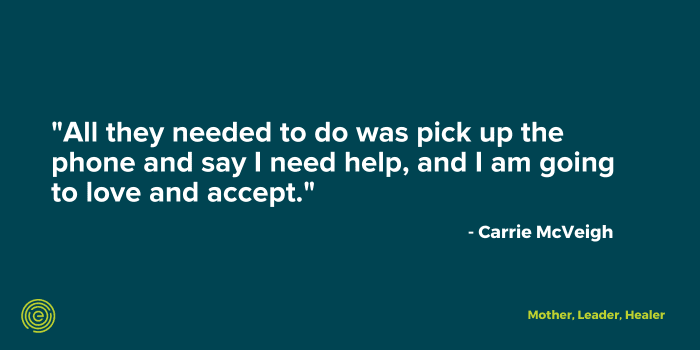 HOW DO YOU SEE THE STAFF AS AN ENTITY AT EDGEWOOD?
Carrie: Every day I am in awe of the work that is done by Edgewood staff, and I truly mean it. Whether it is somebody in housekeeping, or a clinician, everyone plays an integral role in patient care. I think sometimes they don't see it. But somebody in housekeeping helping somebody first thing in the morning, with just a smile can make or break a person's day. When you consider the number of patients living among us, and the amount of teamwork that goes into 24/7 care, it is really amazing. The compassion and the care. There are so many people that have been touched by addiction and that is why they are working here.
AND ON THE OTHER SIDE, WHAT IS YOUR RELATIONSHIP LIKE WITH PATIENTS?
Carrie: Well, Cake Nights are probably one of my favourite things to do because in all the day-to-day meetings and corporate stuff, and census and projections, and patient outcomes and employee satisfaction, I get to go and be present at a Cake Night and just take it in. I am in awe every time. It just grounds me. It reminds me why we do what we do. I just love it. It is just amazing. I get emotional at cake nights for sure.
Most patients are very grateful. Beyond that they have an understanding that they are not well and are working through a lot. It is interesting being in this office because you hear a lot of patient conversation going up and down these hallways. Generally, my door is open, though some days it can be just back-to-back meetings including things you don't plan for, and the door has to be closed.
But often when I am working later into the evening and the door is open, patients are so good at calling me out for working late. One patient was like, "You know that is how it all started for me – workaholic." This is beautiful, they are calling me out! They notice everything!
WANT TO TALK TO US ABOUT TREATMENT OPTIONS?
Please contact us at 1-866-570-2746 if you or a loved one is struggling with an addiction or mental health disorder.