LIFE ON THE FRONT LINES: DR. GARY RICHARDSON IS ONE OF THE COUNTRY'S MOST ADDICTION SAVVY PHYSICIANS
­­­­­By Jeff Vircoe
Gary Richardson was a young physician in a new country when the warning came. It arrived loud and clear.
An elderly patient in his private practice heard he was leaving to go to work at an addiction treatment centre, and she wanted to offer some advice about his soon-to-be clientele.
"Just remember they're all liars on wheels."
And with that one pronouncement, the young doctor was introduced to the most common perception about the tens of millions in North America who suffer from substance use disorders. The judgement, the stigma, that says users are, at their core, dishonest and basically unworthy of the love and compassion with which members of society with other illnesses are treated. Essentially, throwaways.
Thankfully, Richardson kept an open mind to that advice. Today, 15 years later, having treated over 14,000 addicts, his mind remains open, his reservoir of compassion as full as ever. Addicts crying for help continue to arrive. He and his team continue to provide it.
Gary Richardson is the Director of Medical Services at Edgewood Addiction Treatment Centre in Nanaimo, B.C. on Vancouver Island. Established in 1994, Edgewood mental healh and addiction treatment centre treats alcoholics and other addicts, many of whom struggle with multiple mental and physical health complications, with its multi-disciplinary team of physicians, psychiatrists, nurses, Masters-level clinicians and others. It's a daunting challenge, one the staff take seriously. In fact, staffing at this 85-bed inpatient facility is nearly 150-strong. Nobody slips through the cracks here.
Dr. Richardson's decade and a half as a full-time physician at one of the country's busiest and longest-serving addiction treatment centres has enabled him to form uniquely qualified opinions based on science, spirit, experience and plenty of evidence.
Richardson was born and raised in Port Elizabeth, a city of 1.3 million on the most southern portion of the African continent. Though 51, his youthful face hides his age well. He's fit. He smiles easily and often. Always polite, he makes a point to use first names when addressing those around him.
During his fifth year studying medicine, he married Karen, a friend with whom he had grown up his whole life. The couple's parents were friends, so Gary likes to say they knew each other from their stroller days.
After completing his internship in 1990, he spent much of the next year and a half working in hospitals in South Africa. The couple purchased a home before deciding to travel and work abroad for a year. Karen, a school teacher, had once been a high school exchange student with the Rotary Club and had spent a year in Canada. She was a big fan of the country. Before settling down to raise children, they felt the time was right to travel. In 1992, they arrived in Lampman, 50 km northeast of Estevan in southern Saskatchewan, where Dr. Richardson commenced work as a family doctor.
It was a bold endeavor in a new country with a new climate. Though he had seen smatterings of snow at higher elevations in his home country, it wasn't Canadian Prairies snow. The new physician learned the hard way about the severity of Canadian winters.
One blustery, snowy, mid-winter night, while heading for dinner at another physician's house, his car broke down on a side road. Wearing just a light jacket in a -50 windchill storm, he endeavored to free the vehicle from the snow. "I got the front bumper rocking, my wife's trying to go back and forth," he says with a smile. After some time, they managed to get the car free and made their way to their dinner engagement. Their dinner host was alarmed.
"As he opened the door, he just looked at my ears and he went, 'Oh dear, you're in trouble.' He could see that the top part of them had frozen," recalls Richardson. "I slept the next few weeks with a headband on. I was concerned that my ears were going to end up being deformed. I had sensitive ears for years to heat and cold. That was a good learning experience."
While the Richardsons were adapting to their new climate and country, their homeland was also in a process of change. Apartheid, a system of racial segregation to which South Africa had adhered since 1948, was heading for an explosive ending. As Nelson Mandela was freed from prison in 1990, he began to work with President F.W. de Klerk's government on a new constitution. The two would share the Nobel Peace Prize in 1993, enfranchising the non-white majority and ending the apartheid system two years after the Richardsons arrived in Canada. But, by then, the couple had already begun to see Canada as home.
"It took leaving the country to be able to look at things more objectively," says Richardson. "To realize that there was a lot of stuff there that we thought was normal, but it wasn't."
After working in Saskatoon and developing a host of what have become lifelong friends, "we just sort of decided to extend our stay," he says. "After a couple of years, we realized that this is where we wanted to live. We were very grateful to be here. We wanted to start a family here."
Three children and 15 years later, they remain. A motorhome trip to Vancouver Island with their newborn son and visiting parents in 1995 left a huge impression on the Richardsons.
"When we saw the Island, my wife and I looked at each other and said, 'Wow! If there's ever an opportunity to live out here…' It was incredible!"
Opportunity knocked when they had a chance to purchase a general family practice. They made their way to Nanaimo in 1998, leaving behind deep connections in Lampman, Regina and Saskatoon.
"Karen and I always say that our time in Saskatchewan Canadianized us. On so many fronts, we are very grateful for our time there."
The Richardson family in Canada grew. And, over the course of the next 12 years, all the couple's blood-family members, including parents and in-laws, would leave South Africa and join them on Vancouver Island.
In Nanaimo, Dr. Richardson joined a frantic pace of handling medical issues for an exceptionally busy clinic. It was go-go-go, and the young doctor, now with two young children and another on the way, was soon overwhelmed. For nearly four years he kept the pace, paying the bills, going flat out. Like most doctors, his heart was in the right place, wanting to help people. But there was only so much of him to go around.
"I reached a point where I was probably pretty close to burn out. I was trying to be the best husband I could be, the best dad I could be, the best physician I could be. I was spread pretty thin. I had a good few-thousand [patients]," he recalls.
"Retrospectively, I didn't know how to say no. People would come to me with significant medical histories. I remember having someone coming to me with severe eating disorder, and here was a specialist coming to me and asking if I'd take them on as a family doc … I didn't know how to say no. I just wanted to help people, but didn't have really good boundaries."
Richardson is a man of deep faith, and he believes things happen for good reasons. One Sunday, a visitor to the church the Richardsons attended told him about a job coming up at a local addiction treatment centre. That facility was Edgewood. The founder and owner was Jane Ferguson, a woman who just happened to be one of his patients.
"It was one of those conversations where time stopped for a moment," Richardson recalls.
"Jane was actually one of my patients. I'd looked after her for almost two years before my coming to Edgewood. I knew all about Jane. She was Edgewood. So, I had heard all about this incredible place and the work that she did. I think she respected my current position as a family doctor at that time. She could tell that I loved it."
The interview process was successful and Richardson was offered the position. He began work in 2002.
With a background in private practice and emergency rooms, Edgewood presented an unfamiliar environment for the new doctor. With 85 residential inpatients and another 40 onsite in extended care at any given time, the pace of work was manageable – especially when compared to the more than 3,000 patients he had been looking after in his private practice.
But, working at a busy treatment centre presented a daunting and steep learning curve. After all, addiction was a new realm in which Richardson, like most doctors, had had little training. There was so much to learn. Withdrawal management can be a life-threatening proposition. Certain substances bring higher medical risks. There are many cognition issues. Plenty of patients have experienced serious trauma.
And then there's the shame of it all. Sometimes an addict fresh out of the fire is less than honest – or downright defiant – about the extent of the issues he or she faces. The 'liars on wheels' warning proved appropriate in that sense. But it is also understandable.
"The battle is intense when patients arrive here," Richardson says with a shrug. "Because the last place the disease wants the patient is in these walls, in this building."
Being a major part of a medical team of counselors, psychiatrists, nurses and physicians fired up Richardson in a way he hadn't felt before.
"To be working in a place that so passionately works at putting the disease in its place, that's the part that I love. Confronting the disease very aggressively and from every angle is what we do as a team. And we see beautiful people come out."
In 2003, Jane Ferguson would die in a horrible private plane crash near Penticton, B.C.. Shaken but united, Richardson and the rest of the staff came together in their grief. Several joined in an ownership agreement with Ferguson's family, allowing the centre to continue the work Jane had started.
Today, Edgewood mental health and addiction treatment centre has over 4,000 alumni, a family of previous patients in regular contact with the facility that launched their recoveries, on its mailing list. As well, it has created the Edgewood Health Network, Canada's largest provider of addiction treatment and mental health services, with treatment centres and clinics from Nanaimo to Montreal.
After 15-plus years at Edgewood, Richardson continues to see his arrival and tenure at the centre as being something that was meant to be.
"Typically, in my medical career, I got itchy feet after four or five years of working in the same area. That never happened here. To me that was a sign."
Richardson would go on to be certified twice in addiction medicine, once through the American Society of Addiction Medicine (2004) and again a decade later through the American Board of Addiction Medicine. But the formal letters behind his name do not adequately explain the truth of working with patients in their battle to be free from mental health addiction. Richardson has seen all facets of the mental, physical and spiritual warfare that is addiction treatment. His compassion level has not wavered since he arrived.
"I just love seeing the people get healthy. I love seeing the transformation in people's lives. To be a small part of that is such a privilege. Going into the medical field, you want to see people change and get healthy and be part of that. We get to see that every day of our lives here."
Going back to the warning he received about addicts being 'liars on wheels', he understands as well as anyone the fight necessary to find recovery.
"For people active in addiction, they generally are liars on wheels, because nothing else matters to them but to use. But the flip side of that is I see people that had been liars on wheels and they do a complete 180-degree turn. They find themselves in an environment where it's safe to actually get honest. Get brutally honest," he says.
He is aware of the stigma addicts face, and he treats them as he treats staff, with respect, integrity, and straightforwardness. He discusses all aspects of the disease with the patients, and does not hesitate to talk prognosis with someone who feels they want to leave early, before what is recommended. When it comes to advice, he is more than likely to bring up the word honesty as one of the most valuable tools for getting well.
"You know that saying, 'You're as sick as your secrets?' Well, your secrets stand between you and health or you and recovery. When I find a patient clearly getting honest with me, I take a moment to actually say, 'I appreciate your honesty."
He continues, "My way of putting it into context is I speak of fertile ground. Anything that the person is keeping secret or keeping bottled up that speaks to emotions and feelings becomes fertile ground for the illness. I speak of needing to purge themselves of all that fertile ground so that, by the time they leave Edgewood, there isn't any fertile ground left for the illness. Then, carrying it forward into their recovery on a daily basis, to actually practice that, so they are being true to themselves, being honest. So they are not laying down any new fertile ground for the illness."
He understands the liars-on-wheels warning. He knows how it works. And he knows Edgewood is a special place.
"Why am I passionate about that? It is a privilege to work in a place where feedback is allowed and is so important, so critical. It makes for an incredible work environment," he said. "As much as the work is tough that we do, because there is such a team, on a daily basis I can see how different things happen and how different members of the team play different roles in terms of the patients getting healthy. Seeing the clinical [team] interacting with the medical [team], people walking through medical stuff, sometimes really tough stuff. Having this amazing team that is doing all this good clinical work with the patients."
"Even bigger than that is the love and support that everyone gets as patients and as staff. I hear it all the time, when people walk into this place, that there's something about it, right? For that to be one's workplace, well, I feel really blessed."
Play It Forward for Mental Health Awareness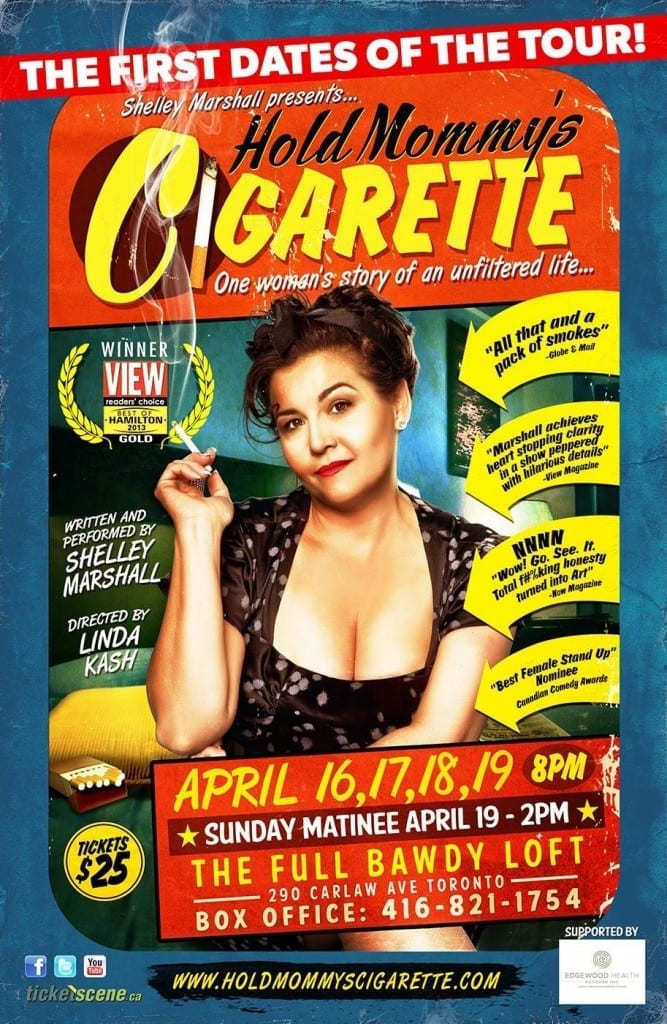 Henri Matisse said that creativity takes courage.  That's exactly how you would describe Shelley Marshall – courageous and creative.  Hilarious is another word you might use.  She's a comedienne, a mother and a mental health warrior.  And she's partnered with the Edgewood Health Network to bring her award winning autobiographical play Hold Mommy's Cigarette across Canada.
This one woman show is the story of Shelley's life and the impact a history of mental illness has on a family and a young girl.  It's a story that touches audiences deeply and makes them laugh just as hard. As Shelley says, "I take them on an adventure, both emotionally and visually. There is no denying that my story is tragic, but it's my story and time and writing without shame has been my comedic relief. Hold Mommy's Cigarette is not an exploitation of what has happened in my life, but rather, an acceptance of where it may lead. It is a dark comedy, a vulnerable piece about life, mental illness and survival."
The play chronicles her early life, leading up to her lowest point – a suicide attempt.  Yet fate and her husband intervened, and Shelley survived.  She now uses Hold Mommy's Cigarette as a vehicle to talk about depression and to showcase how she was able to turn her deep sadness into tremendous success.  It's an inspiring experience that opens up a much needed conversation around suicide and mental illness.
As a part of the Edgewood Health Network, we're very proud to be helping Shelley spread her message of hope. Especially since addiction is a disease that often leaves it's sufferers feeling completely hopeless.
The Edgewood Health Network wants to "play it forward" by giving away  free tickets to Hold Mommy's Cigarette. We think everyone should have a chance to see this show! Tickets will be available for April 16, 17, 18 and 19 in Toronto.  Go to https://www.ticketscene.ca/series/285to register and use the promo code EHN.
As Shelley often says, "best life ever!"
How Sugar Affects the Brain: Video Highlights Similar Effects Between Drugs & Sugar
Food is one of our primary sources of pleasure, and critical to our survival. In a healthy reward pathway of the brain, food is a natural stimulus that produces feelings of pleasure from the release of dopamine. This gratifying feeling makes this activity worthy of repeating, as we want to experience it again.  However, not all foods have the same effect on the brains' reward system. So why do certain foods activate the brains' reward system more than others? Sugar, salt and fat are three substances that 'hijack' the brains' reward system, by releasing a burst of dopamine, similar to the effects of drugs and alcohol. As more research emerges, we gain knowledge about how a diet of large portions of refined and processed foods affect the way our brain responds to food. Some individuals develop a dependence on these foods to feel happy and satisfied, and eventually develop a tolerance by needing more of these 'addictive' foods to experience feelings of pleasure. Dependence and tolerance are fused with the fundamentals of addiction, reinforcing the link between food and addiction. This video from the TED Talks series highlights how foods high in sugar can have a similar effect on the brain as drugs, alcohol and other addictive behaviours.
Why Not Make Addiction Recovery Your Family's New Year's Resolution?
Living with someone who has an addiction is not fun. Broken promises, lies, disappointments and fear tend to be the norm. Putting on a good face, covering up the problem and not talking about it are also the norm.
Trying to have "normal" family celebrations is a challenge.
A friend of mine, a physician in addiction medicine, told me this story about a patient of his. It is about a man, a father, a husband who had a serious drinking problem. Vacations, birthdays and holidays had been ruined over and over again because he always got drunk. His family was sick and tired of it. He refused to stop drinking, refused to get help and carried on in spite of their pleas.
Since the father never really participated in celebrations the family decided to exclude him and carried on without him.
One Christmas day, a neighbour noticed that the blinds in one of the bedroom windows were flickering open and then would close, then open and close and it repeated over and over. The neighbour got concerned and walked across the street and knocked on the door. The family was having a great time and was just about to sit down to a lovely Christmas dinner. The neighbour reported his concern and asked if he could check the bedroom. The family had no objections.
When the neighbour opened the door he was astonished. There on the floor was his friend, the father of the household, gagged, trussed up and lying on the floor near the window. Between his tied up hands was the cord for the blinds.
The neighbour went back out to the dining room and asked the family what was going on. They very casually reported that on special occasions they would wait until dad was drunk, then tie him up and put him in the bedroom to sleep it off. This ensured that dear old dad was quiet and safe and also guarantee that the family could enjoy the festivities in peace; without any trouble. It worked well every time they said. The neighbour was dumbfounded.
When he returned home, he called the police who came and rescued dad.
If your Christmas was another nightmare this year, why not try something new in 2014. If you are a family member call Bellwood and find out about the education and counseling services we have for adults and kids living with someone with an alcohol or drug problem or any other kind of dependency problem.
If you identify with the dad in this story, call Bellwood. Ask about our treatment and rehab programs. You have nothing to lose by making a call and coming in for a chat.
Help us help you. Call 416-495-0926 or 1-800-387-6198
Join us for a live chat.
Don't wait, call now. We are here to help you.
A peek into – The Many Faces of Addiction Symposium
In a few weeks, Bellwood will be hosting a very special event, and we are quite excited.
We are excited with the breadth, depth and freshness of this year's The Many Faces of Addiction Symposium and can't wait to see everything unfold in Toronto on October 16th and 17th.
Now in it's fourth year, the goal of the Symposium has always been to bring together experts in the field of addiction and mental health to discuss and gain new insights; to learn what's new and the best practices on helping those struggling at home, in the workplace, and in our communities overcome addictions.
This year we are expecting nearly 200 delegates from across North America to learn from the best, share first hand knowledge and examine the illness of addiction. We are looking forward to the delegates exploring the latest and proven treatment options, workplace management techniques, recovery best practices and much more.
Based on emerging new areas in addiction and delegate feedback, this year we have carefully designed sessions to focus on the areas of concurrent trauma/PTSD and substance abuse, Internet and gaming addiction, best practices for managing employees with addiction, and clinical techniques for achieving excellent results. Each session has been structured to delve into the depths of addiction in a dynamic and interactive framework.
Over the year, the organizing team has worked hard to bring together leading experts, clinicians, and academics from Canada and the United States to seek out answers to the tough questions surrounding addiction and mental health.
This year's expert keynote presenters include:
Lisa M. Najavits, PhD, Professor of Psychiatry, Boston University School of Medicine and lecturer at Harvard Medical School –  Numbing the Pain: PTSD and Substance Abuse
Ryan Van Cleave, PhD, faculty member at the Ringling College of Art + Design; Patricia Morgan, MA, CCC, counsellor and author specializing in strengthening personal resilience – The Digital Dilemma: An Inside Look at Internet Addiction; Video Game Addiction: Surrender and Consequences in the Electronic Age;  Surviving and Thriving in the Workplace . . . in a Super-Connected World
Dr. Ray Baker MD, FCFP, ABAM, consulting physician specializing in Occupational Addiction Medicine – Best Practices for Managing Employees with Substance Use Disorders
Scott D. Miller PhD, co-founder of the Center for Clinical Excellence, clinical trainer and author – Achieving Clinical Excellence: Four Steps to Superior Performance
Ali Liénaux RSW -TSI MSW (Equiv), Vice President of Clinical Services and Operations at Integrated Workplace Solutions (IWS) – The Duty to Accommodate: Substance Abuse at the Workplace
and many more.
Yes, there is no doubt we are excited!
We would like to invite you to join us and take advantage of this opportunity to hear from leaders in the addiction and mental health field; and gain new insights into how to help those who are struggling at home, in the workplace, and in our communities.
Whether you are a healthcare or corporate professional, or an individual whose life has been touched by addiction, we are confident that this year's Symposium will provide education, training and information about new tools and emerging practices to help people heal from addiction.
Mark your calendars; registration is open and space is limited.
See you on October 16th and 17th at the Ontario Science Centre.
Integrative Medicine and the Power to Heal (Part 2)
Part 2 of Dr Coker Ross's session at 3rd Annual Bellwood Addiction Symposium describing how Integrative Medicine improves outcomes and promotes the healing of mind, body and spirit in the treatment of trauma, addictions and eating disorders.
4th Annual The Many Faces of Addiction Symposium:
Early bird registration is now open! Join renowned experts in the field of addiction and mental health at 4th Annual Bellwood Addiction Symposium. Recognized as one of Canada's leading addiction education events, the Symposium brings together thought leaders from across North America.
Discover engaging and interactive sessions that examine the illness of addiction, explore treatment, share research, workplace management and recovery best practices.
Don't miss the early bird registration special. The deadline is Sept 12, 2012.
Click here for more information.
Integrative Medicine and the Power to Heal (Part 1)
Part 1 of Dr Coker Ross's session at 3rd Annual Bellwood Addiction Symposium describing how Integrative Medicine improves outcomes and promotes the healing of mind, business body and spirit in the treatment of trauma, addictions and eating disorders.
4th Annual The Many Faces of Addiction Symposium:
Early bird registration is now open! Join renowned experts in the field of addiction and mental health at the 4th Annual Bellwood Addiction Symposium. Recognized as one of Canada's leading addiction education events, the Symposium brings together thought leaders from across North America.
Discover engaging and interactive sessions that examine the illness of addiction, explore treatment, share research, workplace management and recovery best practices.
Don't miss the early bird registration special. The deadline is Sept 12, 2012.
Click here for more information.