Breathing under water: living with health, wholeness, serenity and addiction
B Y  L E E  H A U S M A N N  M A , I C C A C
"Breathing Under Water"
I built my house by the sea.
Not on the sands, mind you;
not on the shifting sand.
And I built it of rock.
A strong house
By a strong sea.
And we got well acquainted, the sea and I.
Good neighbours.
Not that we spoke much.
We met in silences.
Respectful, keeping our distance,
but looking our thoughts across the fence of
sand.
Always, the fence of sand our barrier,
always, the sand between.
And then one day,
— and I still don't know how it happened —
The sea came.
Without warning.
Without welcome, even
Not sudden and swift, but a shifting across
the sand like wine,
less like the flow of water than the flow of blood.
Slow, but coming.
Slow, but flowing like an open wound.
And I thought of flight and I thought of
drowning and I thought of death.
And while I thought the sea crept higher, till
it reached my door.
And I knew then, there was neither flight, nor
death, nor drowning.
When the sea comes calling you stop being
neighbours
Well acquainted, friendly-at-a-distance,
neighbours
And you give your house for a coral castle,
And you learn to breathe underwater.
~ Unpublished poem by Sr. Carol Bieleck,
RSCJ
UNDERSTANDING
It's approximately 7:30 on a cold, clear February morning. I am standing at the floor-to-ceiling windows admiring the skyline of downtown Vancouver from our hotel room at Executive Suites. Our tentative plan is to take a side trip to Edgewood in Nanaimo and visit former clients. When travelling, I always bring my own instant coffee. I have gone from being an epicure of fine wines and hard drugs to a connoisseur of coffee. Our suite comes well equipped with an electric kettle for my morning indulgence. This suite also features a luxurious whirlpool tub which juts out into the walking space of our room. I pour the hot water into my favorite mug from home. As I am stirring, I walk towards the windows to admire the view and suddenly I am on the floor, coffee mug smashed on the marble edge of the tub, blood gushing from my hand. Nausea wellsup in my stomach as I realize what happened. I tripped over the whirlpool tub. I look at my left hand and two fingers are cut open. It doesn't look good.
My partner calls for a taxi to take us to St. Paul's Hospital. It's a challenge for me to get into the cab with a smashed up hand and white bath towel soaked in blood. The driver gives me a frown of disapproval, warning me not to get blood on his seats. As we drive up to the emergency doors of the hospital, my hand is throbbing and the nausea increases. The staff at St. Paul's is efficient and compassionate. After an agonising insertion of four needles to freeze my hand, I see the emergency doctor who quickly and competently sews up my fingers. No tendons were severed, but he suspects a nerve was sliced. This needs to be looked after when I return home.
Seven days later, I am prepped at SunnyBrooke Hospital for emergency hand surgery. I change into gowns, the standard one in front, one in the back. I am asked to lie on a hospital bed, answer a series of questions while an IV is inserted into my wrist. I ask, "What is this for?" The nurse says, "Just something to relax you." I hadn't expected this. The hand surgeon had said I didn't need anything. Then without warning, the dopamine hits my brain and I'm getting ecstatic in the anticipation of mood altering drugs. I can't believe it! I have been clean and sober for over twenty years, but when this information hits my brain I am feeling considerable anticipation and excitement. The anesthetist is standing over me in the operating room. I hear the shuffle of instruments, and then the drug hits! Ah, I'm feeling it, that first intense rush in my lower throat, then the captivation of my brain with intoxication, warmth and relaxation, like a mother's hug. But I'm an addict, and it's never enough. And I can't believe what I do next. I have the audacity to say to her, "Did you know that if one dose is good, two will be better?" Through the haze, I hear her say, "Uuumm? Ok."
"It all comes flooding back. How well
I know these rules. I teach this. I live
this. Active addiction, it's just one
step away, one drink away, one
drug away."
More. Never enough. No "Off" button. Never safely use again. Can't stop at one. Obsession of the mind. Allergy of the body. Powerless. It all comes flooding back. How well I know these rules. I teach this. I live this.  Active addiction, it's just one step away, one drink away, one drug away.
The surgery is over and the benzodiazepines wear off. I'm prescribed Tylenol 3s. My daughter picks me up and drops me at home. I take the Tylenol as prescribed the first time, but the second time I think, "Two are good but four are better." My addict is back, but not for long. I reach out to my partner, a good member of Al anon. He comes to take them away. A sigh of relief. The next day, I am at work and everything is back to normal, except my bandaged hand. Am I going to drink or use drugs again? No, I won't. How can I say that with such conviction and so conclusively? It's because I have learned to breathe under water.
Breathing under water is my ability to face a life crisis or have a brush with mood altering substances and not return to my addiction. When faced with difficult challenges and feeling like I am gasping for air, I have learned to accept the things I can't control and let things be. I can drop into a place within myself that allows me to keep breathing without becoming consumed by external circumstances. "The New Testament called it Salvation, Buddhism calls it Enlightenment and the 12 Steps call it Recovery." (Richard Rohr, "Breathing Under Water")
I am a woman, a mother, a partner,a therapist, an active AA member, and I am an addict. My addiction is my treasured gift.
When I hit bottom, a timely Grace saved my life and led me to the rooms of 12 Step recovery. This crisis has been an opportunity for great spiritual growth. Using the tools laid before me through the 12 Steps, I was able transform my thinking, my belief system and my interactions with this world. I opened up to a new way of seeing, a new level of clarity, and a higher level of consciousness. I had no success until I acknowledged that all my human strength and willpower weren't enough to fight this disease. I was going to drown. But instead, I surrendered. I was then taught to breathe under water through the "Work" of recovery. My journey began with rigorous honesty and humility. I had to admit I was at the end of my human capacity to stop my addiction and learn to surrender. In this surrender, I found a strength far greater than my own.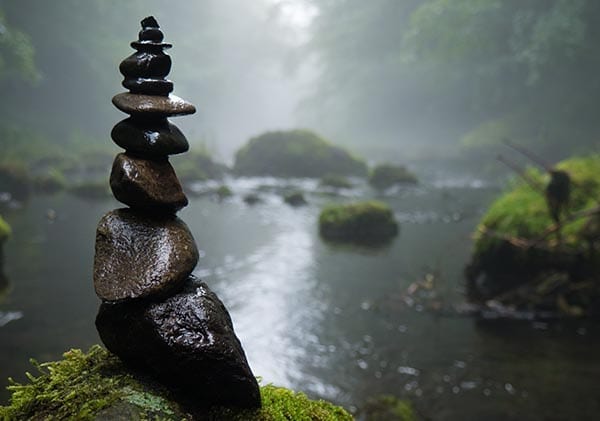 Hope replaced the hopelessness. The idea of faith was presented to me, but one that was expansive and inclusive. I then made a decision to turn my will and life over to the care of this power. Once I had built a foundation of faith, I was able to summon the courage to do a fearless, moral inventory. I needed to examine my life and my actions and take responsibility for harm I had done to myself and others. "The unexamined life is not worth living," stated Socrates. Working through the Steps helped me to identify unhealthy patterns of behaviour. In my case, pride, ego, self-righteous anger, gossip, people-pleasing, and judging and controlling were all qualities that needed to be addressed. It required humility to realize my limitations while acknowledging my strengths. The paradox of humility is that I am both great and small. Continued daily mindfulness and reflection helps address issues in the moment, stopping them from growing into resentments or tensions. Self searching has become a habit and helps me to achieve and maintain emotional sobriety. I am able to sustain this through a meditation practice and service to others.
"In my case, pride, ego, self-righteous
anger, gossip, people-pleasing, and
judging and controlling were all
qualities that needed to be addressed.
It required humility to realize my
limitations while acknowledging my
strengths. The paradox of humility is
that I am both great and small."
Breathing under water isn't always easy. Some days I wonder, "Am I going to drown?" No, I am not. I have built a foundation for living that I step into with ease. When the waves of life threaten to disrupt my serenity, my work in recovery has taught me to drop into my centre and draw from the internal resources of faith, strength and love. I am then able to breathe under water. Inspiration for this article is taken from Richard Rohr's book, Breathing Under Water, Spirituality and the Twelve Steps.
Lee Hausmann MA, ICCAC joined Bellwood Health Services in 2011 as a therapist focusing on individual and group therapy and has been involved in the field of addictions for over 20 years.
Lee holds a Master of Arts Degree in Addiction Counselling from the Hazelden Graduate School of Addiction Studies in
Minnesota. During her post-graduate specialization, she also completed her clinical training which included new patient
assessments, chemical dependency diagnosis, treatment planning, and aftercare recommendations. Lee is also a member of the Canadian Addiction Counsellors Certification Federation and holds an ICCAC certification.
In addition to her work at Bellwood, Lee maintains a private practice helping both men and women address their chemical dependency. She founded Women of Substance — an organization that supports women in recovery and their spiritual growth.
Intensive Outpatient Programs started in Toronto and Calgary
We are excited to announce that our two newest clinics, EHN Toronto and EHN Calgary, have begun their first sessions if our Intensive Outpatient Program (IOP).  We know that not everyone needs an inpatient residential treatment program.  And we also know that not everyone is able to attend one; Sometimes work or family commitments prevent us from leaving home.  But that doesn't mean you shouldn't get the best care possible for your addiction.  Our IOP programs consist of 9 hours of therapy per week for 12 weeks.  We include psycho-social education, group therapy, family therapy and individual counselling.  The IOP program provides education on addiction and an introduction to recovery.  We teach our clients about anxiety management, relapse prevention, healthy living and we provide them with a recovery plan. We use evidence based practices that are tailored to meet the needs of the individual and we connect them with a whole new network of peers in recovery.  It's about providing an understanding of addiction, insight into their own addictive behavior, and building new habits for a happy, healthy life in sobriety.
Our Toronto clinic will be taking continuous admission to their IOP program while Calgary will run sessions a few weeks apart. Head to https://www.edgewoodhealthnetwork.com/locations/sandstone/ or https://www.edgewoodhealthnetwork.com/locations/bellwood/ for more information.  Get started down your path to recovery with the Edgewood Health Network.
Registration is Open for 2015 Healing and Treating Trauma and Addictions Conference
Registration is now open for our 2015 fall conference!
Historically, the Edgewood Foundation has partnered with Jack Hirose to put on a conference about healing and treating trauma, addictions and concurrent disorders. With amazing speakers like Don Meichenbaum, Stephen Grinstead and Margaret Wehrenberg, the conference has been an informative and expanding experience for over 2500 clinicians.
This year, the Edgewood Health Network is joining that partnership and taking the event national.  Instead of one city, we'll be in three! Clinicians across the country will get a chance to attend in either Richmond (Vancouver), Winnipeg or Oakville (Toronto).  And with a full roster of knowledgeable speakers and practical workshops, it's a chance to expand your skills as a mental health professional.  Here are a few of the presentations we'll be featuring:
Creativity, Healing and the Recovery Process
Pushing Your Clinical Skills and Effectiveness to the Next Level
Rewiring The Brain After Trauma: A Brain-Based Therapy Approach
Best Practices in Sexual Compulsivity Recovery for Couples
Anger Management and Domestic Violence Treatment in a New Era
Understanding and Treating Cannabis Use Disorder
This event is eligible for up to 21 continuing education credit hours for the full three day attendance.
We look forward to seeing you there! Register here: https://conference2015.jackhirose.com/
Play It Forward for Mental Health Awareness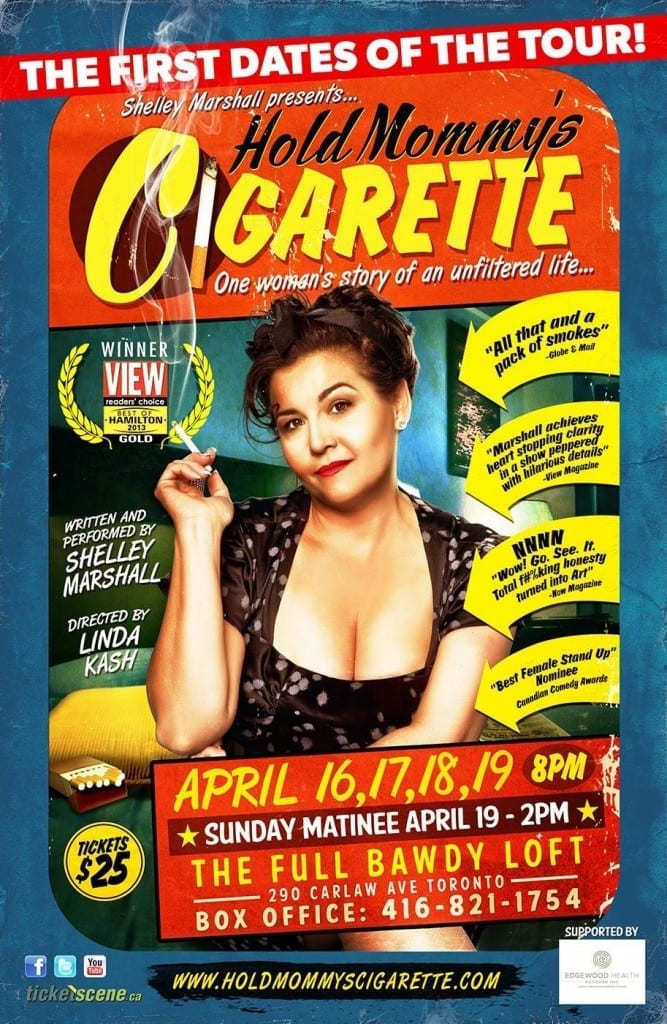 Henri Matisse said that creativity takes courage.  That's exactly how you would describe Shelley Marshall – courageous and creative.  Hilarious is another word you might use.  She's a comedienne, a mother and a mental health warrior.  And she's partnered with the Edgewood Health Network to bring her award winning autobiographical play Hold Mommy's Cigarette across Canada.
This one woman show is the story of Shelley's life and the impact a history of mental illness has on a family and a young girl.  It's a story that touches audiences deeply and makes them laugh just as hard. As Shelley says, "I take them on an adventure, both emotionally and visually. There is no denying that my story is tragic, but it's my story and time and writing without shame has been my comedic relief. Hold Mommy's Cigarette is not an exploitation of what has happened in my life, but rather, an acceptance of where it may lead. It is a dark comedy, a vulnerable piece about life, mental illness and survival."
The play chronicles her early life, leading up to her lowest point – a suicide attempt.  Yet fate and her husband intervened, and Shelley survived.  She now uses Hold Mommy's Cigarette as a vehicle to talk about depression and to showcase how she was able to turn her deep sadness into tremendous success.  It's an inspiring experience that opens up a much needed conversation around suicide and mental illness.
As a part of the Edgewood Health Network, we're very proud to be helping Shelley spread her message of hope. Especially since addiction is a disease that often leaves it's sufferers feeling completely hopeless.
The Edgewood Health Network wants to "play it forward" by giving away  free tickets to Hold Mommy's Cigarette. We think everyone should have a chance to see this show! Tickets will be available for April 16, 17, 18 and 19 in Toronto.  Go to https://www.ticketscene.ca/series/285to register and use the promo code EHN.
As Shelley often says, "best life ever!"