Gateway Executive Director Shawn Carter turns a lifelong passion for care into a life-changing career in mental health and addiction.
When it comes to mental health and addiction, Gateway Executive Director Shawn Carter has seen firsthand the impact it can have on people. It's part of the reason he became interested in this type of care early in his life.
Today, he leads the treatment for some of Canada's bravest community members: military, veterans, first responders, and frontline healthcare workers, at our unique Gateway facility in Peterborough, Ontario.
We talked to him about his philosophy when it comes to treatment, as well as where he hopes to see the conversation go in the future.
WHAT FIRST DREW YOU TO WORKING IN ADDICTION AND MENTAL HEALTH?
Shawn: At a pretty young age, I developed an interest in helping others and understanding mental health. A huge contributor to that was watching some of my own family members struggle with mental health and addiction. That ultimately led me to do my undergrad in psychology and master's in behaviour analysis, which then carried on into various clinical and leadership roles where I've focused on providing mental health services to people who are struggling with varying conditions.

WHAT IS YOUR OWN PERSONAL PHILOSOPHY WHEN IT COMES TO RECOVERY?
Shawn: Throughout my career and my personal life, I've observed the challenges that people face when they're struggling with mental illness or addiction. Often, I've found that those struggles have been related to stigma, access to quality care, having difficulties engaging in activities that bring them meaning, things like being able to go to work, the relationships, and being able to engage in recreational activities.

And that's really formed my philosophy, which is that everyone's journey is going to be personal and unique to them. Every recovery journey is going to look different than the next person's. And that we really have to get to know the people that we're treating to be able to provide them with good quality care.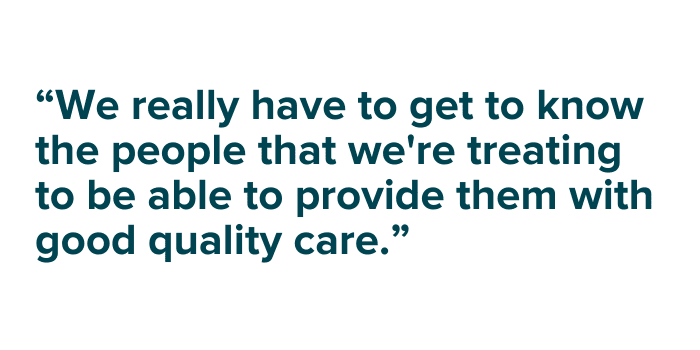 Another part is understanding that recovery is not linear. It's often a lifelong process that requires consistent attention. Once you enter that recovery journey, the water's never going to be perfectly still – there's always going to be a current. Our role as mental health providers is to help people identify ways that they can ride those waves.
I am also driven by a passion for supporting not only individuals but their family members as well. When someone is struggling, it has a huge impact on the family system and all those around them. I think that's an area that doesn't get as much attention.
HOW DID YOU FIND YOUR WAY TO GATEWAY?
Shawn: I'm a behaviour analyst by background. I first started my career working with children with autism spectrum disorders. I also worked on eating disorders and supported children, adolescents, and adults with depression and anxiety. I worked in lots of different community settings, families' homes, hospitals, and school settings.
Before coming to Gateway, I led the launch of an outpatient clinic that was designed to provide psychotherapy services on an outpatient basis for first responders struggling with PTSD, depression, and anxiety. That really ignited a passion for this population that's done so much to keep our country and our community safe. This led me to my role at Gateway, which truly has been the honour of my career. I value all the experiences I've had, but this one, in particular, to be able to give back to people who have done so much for us is such a true honour.
WHAT MAKES GATEWAY SPECIAL PLACE TO BEGIN RECOVERY TREATMENT?
Shawn: Gateway is a space in which both clients and the staff can be themselves and feel safe being vulnerable. Our team is incredibly skilled and offers many interventions that keep the focus on the needs of our clients.
But most importantly, what makes it extra special is the peer support provided by clients to other clients in the program. It is an important feature of the program that you don't always get when you're seeing a therapist weekly individually. The ability to be supported by others who may have gone through similar experiences again makes Gateway so special. What we know of military members, veterans, first responders and healthcare workers in particular, is that camaraderie is such an important tool.
There may be a few little similarities between being a police officer in the community and being a nurse who works in an emergency department. However, there is a commonality:
these are all people who have greatly sacrificed parts of themselves in the service of others, and there seems to be this real mutual solid respect of each other. That really helps everyone recover together.
HOW DO UNIQUE RECOVERY JOURNEYS COME TO LIFE GATEWAY?
Shawn: We exclusively treat military, veterans, first responders, and healthcare workers. And while we have Core programming that targets PTSD and substance use, we also recognize that there are going to be variations in how we support people with various things they're struggling with. Often these conditions don't happen in a vacuum. You don't often meet someone who's struggling with addiction and isn't also struggling with depression, anxiety, or trauma.
At Gateway, one of the things that makes it really special is the offering of many holistic interventions. So, Reiki, yoga, mindfulness, integrative restoration, in addition to opportunities to participate in a large number of recreational activities.
WHAT IS A MISCONCEPTION THAT PEOPLE MAY HAVE ABOUT GATEWAY?
Shawn: I think sometimes when people hear that there's access to a golf course, or that we take people to the curling club nearby, or to movies, out for dinner, some people interpret that as a bell and whistle. People think we're just doing all this fun stuff.
But it's actually far more clinical than that. Mental illness can be incredibly isolating where people have trouble interacting with those in the community and often avoid things that may remind them of their traumatic experiences. People stop engaging in the activities that are important to them or that once brought them joy. So, our Recreation Therapist, Grace, will often say that her job is to help people re-experience joy. And I just can't imagine a more fulfilling job than someone who gets to help you.

So, to have a supportive environment where you can go to a restaurant where there might be alcohol being served but with supportive people who are going make sure that you're able to do that and use the coping strategies and the tools that you've acquired through treatment is a really meaningful experience.
WHAT IS EXPOSURE THERAPY AND HOW DOES IT WORK?
Shawn: Exposure therapy is being exposed to situations, scenarios, and environmental stimuli that are related to past traumatic experiences.
We have a relationship with Fleming College, for example. They have a training ambulance that we have access to. So, if we've got a paramedic who is absolutely terrified at the sight of an ambulance or being inside an ambulance, this partnership allows them to be exposed to those environmental stimuli in a really safe environment.

Without being able to practice those skills and having those opportunities for exposure, we don't feel like we're setting people up for success when they leave.

HOW WOULD YOU DO EXPOSURE THERAPY FOR PEOPLE THAT EXPERIENCED TRAUMA ON A BATTLEFIELD?
Shawn: If this is an active military member who has plans to go back into the military, there are, for example, pieces of equipment that they may have to deal with when they return to the military. It may be weapons-related; it might be environment-related; it might be about vehicles. So that might be a really great opportunity to do exposure therapy. And obviously, we don't have access to many of those things that they may come in contact with. So, we also use virtual reality, where there's the opportunity to be exposed to things that we don't have in Peterborough. This provides exposure to stimuli that closely resemble things they will need to have comfort around in the future.
Sometimes it's even being able to be exposed to triggers around anxiety. For a veteran for example, perhaps there's no need to re-expose them to a particular market setting in Afghanistan, for example, where something traumatic happened, but perhaps crowded spaces now have become something that someone avoids because of that traumatic experience.

But for a veteran, for example, exposure therapy may not be appropriate when it relates to a traumatic event. There is no point in re-exposing someone to something they may never have to experience again. The idea would then be perhaps if they're struggling with substance use, that we'd use those same exposure therapy principles to allow them to walk by a liquor store and be able to cope with seeing people come out with alcohol.

HOW MANY PATIENTS COMING TO GATEWAY WANT TO GO BACK TO WORK VERSUS THOSE WHO DON'T?
Shawn: We would say about 50 to 60% of our clientele are referred through WSIB. So, these are folks who have been psychologically injured at work. The vast majority of them are typically people who are receiving this treatment in an effort to return to work. There are some who come to us who are contemplating, "Is that really the line of work I want to go back into?" Others obviously provided a tremendous service to our country and aren't planning to return to work. Some are of age that they've retired and they're not in that line of work anymore.

CAN PREVENTATIVE TREATMENT HELP PREPARE THEM FOR WHAT THEY'RE GOING TO SEE ON THE FIELD?
Shawn: It would be amazing if really great mental health services were provided within these workplaces. I think there's been a lot of effort made in that regard. A lot of workplaces now are doing a much better job of providing education and peer support resources.

There are also amazing community providers. Wounded Warriors is a partner that we're really proud of having a relationship with. They provide a program called Before Occupational Stress, where they're actually going into these employment settings in front of first responders and healthcare workers to provide education and preventative resources to help them understand what trauma does to us.

We also have a partnership with the International Association of Fire Fighters. We have delivered presentations around mental health and trauma to support their members.

DOES A MOMENT STAND OUT IN YOUR MIND WHERE YOU THOUGHT, "THIS IS WHY I DO THIS WORK"?
Shawn: Every day is filled with those examples. We have graduation ceremonies when clients leave our care. We really get to know our clients in a way that you don't always have the luxury of doing in an outpatient setting when you're seeing people, you're not seeing people every day, every moment.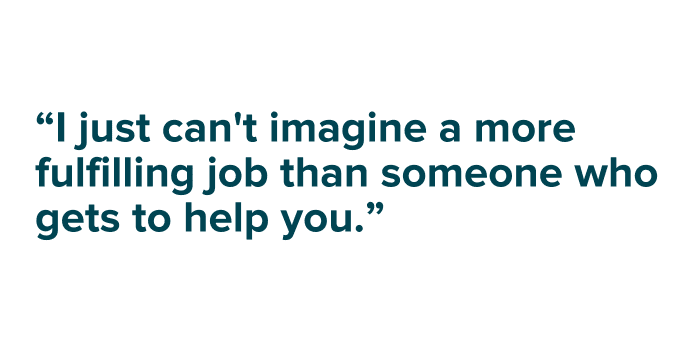 In graduation, we see the culmination of those efforts over the seven to nine weeks. Many of them are facing things they've avoided or not realized impacted them for so many years. To be able to celebrate those achievements is such a powerful experience and it's filled with laughs and tears.
HAVE YOU EVER HAD A MOMENT WHEN YOU THOUGHT, "I DON'T KNOW IF I CAN DO THIS ANYMORE"?
Shawn: There have been times as a clinician that I've just felt the weight of doing this work, day in and day out. You have to actively put strategies in place not to take what you're doing at work home and not let it stick to you. That's the analogy we often use as therapists – the unsticking. If you don't have really great strategies and practices, it can be really easy to let that stick and have it sort of impact you at home. There have definitely been moments where I've thought perhaps this isn't for me because I had a hard time separating and not thinking about something that had happened at work.
And then there's that term that people use. It's a common term as of late, which is like "compassion fatigue" and that's a very real experience. But I think there are so many things that can be done to help protect staff from experiencing that.

MILITARY, VETERANS, AND FIRST RESPONDER COMMUNITIES ARE VERY DIFFERENT THAN THE PUBLIC AT LARGE, ESPECIALLY IN TERMS OF TALKING ABOUT FEELINGS AND PERCEIVED WEAKNESS. WHAT HAVE YOU SEEN AT THE GROUND LEVEL?
Shawn: Their roles do require a certain level of toughness, being able to shut off emotion when you're in really difficult situations, resilience or what some people call the "warrior mindset" that truly does save lives at the moment.

However, outside of those difficult scenarios, there aren't a lot of mental health supports. So, it's no coincidence that rates of conditions like PTSD, depression, and anxiety are greater in these populations than in the general public. That's why access to quality care by professionals who are trained in those cultures is critical.
WHERE DO YOU WANT TO SEE THIS CONVERSATION GOING NEXT?
Shawn: I'd love to see more mental health supports embedded in workplaces that really focus on prevention, as well as education about trauma, about mental health for people who are going into these lines of work, and then continued support when they're actually doing the work.
There needs to be a greater emphasis placed on the family members and those in the immediate surroundings of the people in these difficult roles, knowing that it's not just the traumatic events or the symptoms of PTSD or substance use that impact the family. It's the impact of the shift work, the gruelling hours, and the state in which these individuals very understandably come back from these really difficult shifts. It could be their partners, their children, their parents, their friends, that there could be so much more information provided so that there's just a better understanding of that individual.
There are resources out there, but they certainly need to be a lot more emphasis placed on the family unit or system as well.
SHAWN, THANK YOU FOR YOUR TIME.
Read more about who our treatment programs can help.