Calgary Outpatient EHN Canada
An outpost for those seeking help with addiction, Calgary Outpatient EHN Canada provides an outpatient program involving addiction education, therapy, prevention techniques, assessments, and plans for recovery. Our Calgary team works with families, employers, friends and the individual to establish healthy recovery within a supportive community. We know that each patient is the product of unique circumstances, which is why we tailor our treatment to the requirements of each individual. Whatever your needs, we will meet them, and set you on a personalized journey to recovery.
Intensive Outpatient Program: An affordable and effective option to inpatient treatment!
"IOPs are equally effective when compared with inpatient and residential treatments.
IOPs have emerged as a critical facet of 21st century addiction treatment for people
who need a more intensive level of service than usual outpatient treatment,
and they allow participants to…step down successfully from inpatient services."
–Published in Psychiatry Service Journal June 1, 2014
Not everyone can leave their homes and jobs for a residential addiction treatment facility. But it doesn't mean that help isn't available. For them, Edgewood Health Network Calgary offers an in-depth, short-term outpatient program that meets the needs of the individual and sets them on the journey to recovery. Consisting of a consultation and two phases, the program also includes:
Education on addiction / Cognitive Behavioural Therapy / Relapse prevention techniques / Group therapy sessions / Anxiety management techniques / Healthy living practices /Assessments / Recovery Plan / Family involvement and education / Homework / Outside support / Recovery meetings. A continuous enrollment process for this program allows clients to immediately register for this intensive program any time after their consultation with one of our clinicians.
IOP is a two phase program that allows the person to continue to work and stay at home while getting evidence-based treatment!
What are benefits?
90% of clients stay sober during the first phase 8 week program
Free aftercare for 9 months
Continue to work or go to school
Regular drug testing to ensure abstinence
Practice recovery skills in real time
Immediate intake
Individual counselling
Affordable
Financing available
When it comes to addiction, no two patients are alike. IOP is ideal for individuals that are wishing to know more about their substance-use, or for those that have had a relapse and wish to get back on track or for the person graduating out of an inpatient situation and require additional support transitioning back into the real world.
We provide education on addiction / Cognitive Behavioural Therapy / Relapse prevention techniques / Group therapy sessions / Anxiety management techniques / Healthy living practices / Assessments / Recovery Plan / Family involvement and education / Homework / Outside support / Recovery meetings
IOP is a two phase program that offers flexibility for all:
First phase is a 8-week intensive peer program with groups running 4 times per week and counselling sessions for a total of 9 hours.
Monday to Thursday: 6:00 – 8:00pm
A total of 4 groups per week, 2 groups are psycho-ed and 2 are process groups, all of which are taken place offsite, at the CBI facility in Bridgeland community. A weekly one-hour individual counselling session is also included.  These sessions are scheduled based on patient need.
*For patients with atypical schedules, eg. working students or parents of children with after school activities, we can be flexible with combining day or evening groups as necessary.
Second phase provides nine months of once-a-week process recovery groups. EHN Calgary also offers a women's recovery process group.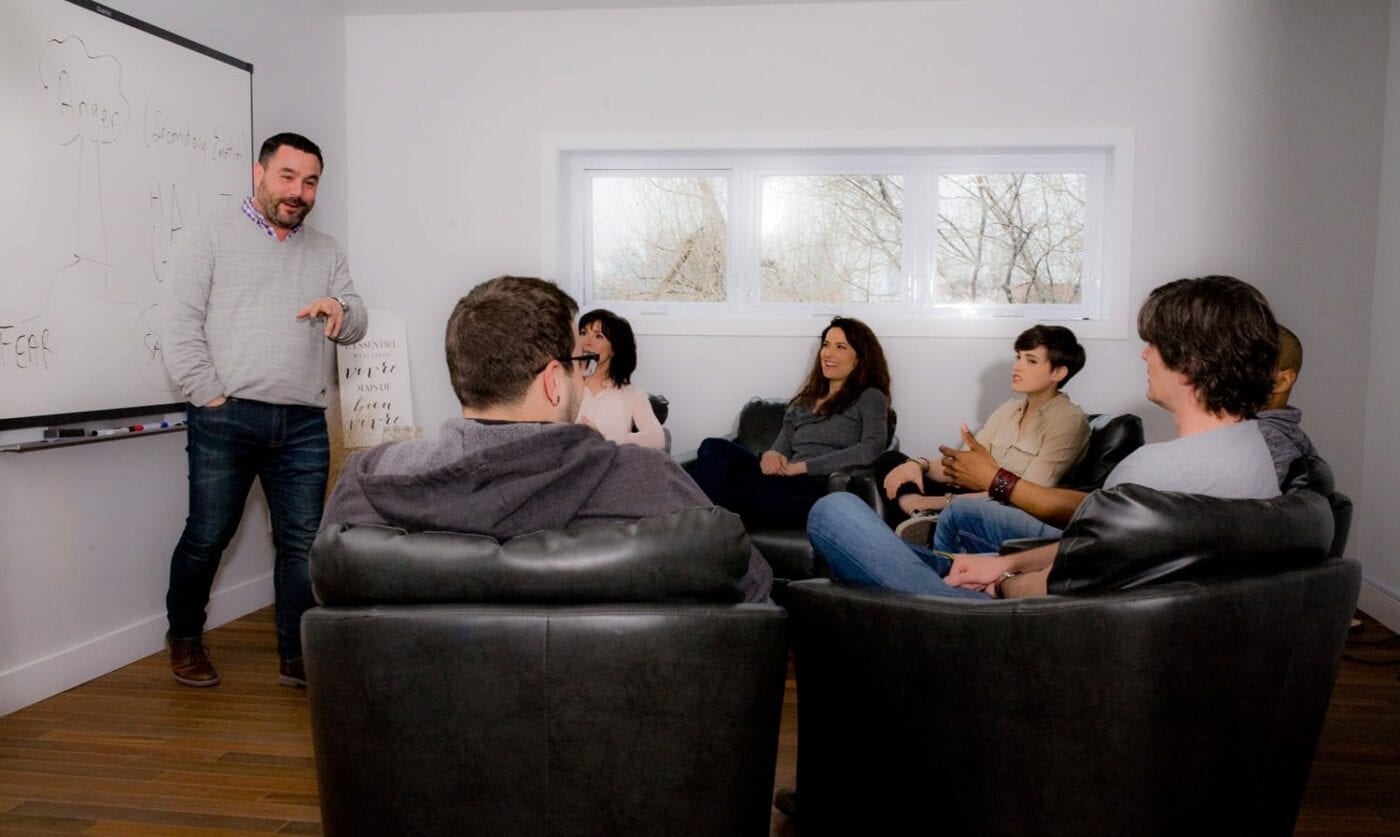 Assessment / Treatment Placement
We are committed to providing tailor-made treatment plans instead of blanket solutions. And our industry standard screening tools allow us to do this, by determining the patients' suitability for residential treatment, individual counselling or an outpatient program. By providing a proper assessment and placing our patients in programs that will be the most beneficial to them, we can start the journey to recovery off on the right foot.
Individual and Family Counselling
Keeping your feelings pent up inside is no way to deal with addiction. Through counselling, patients are able to receive the support they need in a caring and compassionate environment. Our qualified therapists help to guide patients towards their goals and establish a healthy recovery. Family counselling provides a safe zone for family members to communicate their own needs and emotions. After all, we are all in this together.
Aftercare and Relapse Prevention
Those who participate in an aftercare program after they finish treatment are much more likely to stay sober. Our aftercare programs provide a support network of patients in early recovery. Guided by a qualified clinician, aftercare is a place to work through interpersonal, employment, legal, and stress related problems.
Relapse happens. And it can be damaging for the patient, as well as their families and loved ones. We can prevent a return to addiction through a relapse examination that focusses on modifying the thoughts, feelings, attitudes and behaviours that contribute to the desire to use again.
We also offer an Aftercare group for women along with a separate group for men, both of which are offered Tuesday evenings.
Financial Assistance

Please call 587-350-6818 for upcoming sessions
This workshop includes discussions, group therapy and lectures that explore a range of topics including:
Relationships
Addictions
Healthy boundaries
Spirituality
Intimacy issues
Co-Dependency
Expressing emotions
Self-care
Each workshop runs over 2 consecutive weekends.
Calgary Specialty Services
Recovery Coaching
A recovery coach provides encouragement, support, and guidance during that difficult first year in recovery. Our qualified addiction counsellors work with patients to develop a recovery plan and address barriers to ongoing sobriety. This kind of support improves outcomes and helps sustain long-term recovery.
Return to Work Planning
Addiction can affect your professional life in ways that you never intended. That's why, once treatment comes to an end, we will work with you and your employer to ensure a healthy and safe return to your job.
8-Week Cognitive Behavioural Therapy Group
How do you change negative thinking? This program provides clients the skills and tools to intervene on unhealthy and negative thoughts using cognitive behavioural therapy (CBT). Stress management, healthy boundaries, assertive communication, and resilience are some of the topics that will be addressed to help participants improve their relationships and dialogue with their own selves and with others. Individuals do not have to be in recovery to participate.
Couples Counselling
Open, safe and effective dialogue is crucial to a great relationship. Our certified counselor can help couples resolve conflict, communicate openly and facilitate the ability to reconnect. Being in recovery is not a prerequisite to using these services.
Drug Testing and Monitoring
We are a collection site for legal drug testing and monitoring for court ordered or legal matters. Hair and urine samples are collected in our office and analyzed by our lab under the supervision of our Medical Review Officer. We can test for 30, 60 or 90-day usage and legal documentation is provided.