As Bellwood's Senior Executive Director Joanna Anderson explains, she is doing the work she was meant to do.
Bellwood Health Services has a long history of pioneering work from passionate people. And the reason we're able to continue to offer innovative care is because of people like Senior Executive Director Joanna Anderson.
Anderson took her love of talking to people and transformed it into a career filled with compassion and hope. And it's not something that has gone unnoticed amongst her peers.
EHN Canada's leader of government relations, Dr. Dionne Duncan, says about her colleague, "She is so impactful. She is so giving. She was naturally meant to do this work. And she changes the lives not only of the clients, but of the people who work here. She was meant to do this."
To find out more about why this is the work she was meant to do, we sat down with Joanna for a Q&A. Here's what she had to say.
WHAT FIRST DREW YOU TO WORKING IN THIS FIELD OF ADDICTION AND MENTAL HEALTH?
Joanna: There were a few moments in my life that ended up being turning points that pushed me towards addiction and mental health. I certainly didn't start off here; that was not my intention.
Early in my career, I worked in politics and enrolled in a Master's Degree in Public Administration. As I reflected on my skills and what I actually enjoyed doing, and it really was about talking to and connecting with people. I thought about different options and narrowed down that Social Work as a career that would allow me to talk to people, and it married my background in politics. Social work has a long history of advocacy and trying to better communities in the fight for equity and justice.
WHAT HAS BEEN YOUR EVOLUTION AT BELLWOOD, WHERE YOU STARTED AND WHERE YOU ARE NOW?
Joanna: I came to Bellwood in 2017 as a part-time clinician in the eating disorders program.  I started to think about ways that we could do things more efficiently or help more people by adding an outpatient program. When I brought these ideas forward, [EHN Canada's Chief Operating Officer] said, "Do you want to be our Deputy Clinical Director?"
As I transitioned into that role, I integrated the Eating Disorder Program into Bellwood's programming instead of it being a completely separate program. This allowed us to serve a population seeking concurrent services that at that time, had no other options for treatment in Toronto. Eventually, I managed both outpatient and inpatient services as Clinical Director.
In early 2022, I was promoted to Executive Director when EHN acquired Gateway Recovery Centre in Peterborough, ON. Gateway is a center exclusively for members of the Military and First Responders. Clinically, the opportunity was interesting to me.
Working with folks with eating disorders and substance use disorders, there's a high prevalence of interpersonal trauma, even if clients have not been admitted to a trauma program. So, I was very interested in learning more about PTSD and Cognitive Processing Therapy. It's one of the modalities that we use at both Bellwood and Gateway, and I was interested in being able to take that learning and adjust it for other populations.
Earlier this year, EHN asked me to come back to Bellwood as the Executive Director when our Executive Director, Terry, retired. It's been quite a journey, but it's been an incredible opportunity because it's given me the ability to support the work of our incredible clinical team working with trauma and PTSD, eating disorders, substance use, and a range of behavioural addictions
In my current role, I'm able to operationalize the mission and vision of EHN Canada at Bellwood and Gateway while also exploring growth opportunities. We're opening a program for youth in June 2023. It's been a nice evolution and EHN Canada has really given me the opportunity to grow as a leader and clinician.

WHAT IS YOUR OWN PERSONAL PHILOSOPHY WHEN IT COMES TO RECOVERY?
Joanna: I often hear people coming into treatment say that once they are through treatment they are recovered. I wish it was that easy. Similar to AA's philosophy, I believe it really is about taking one day at a time. Every person has to figure out what that means for them and work their own program. There isn't a right way to do that, except for putting what works for you into practice daily, and finding a community of support.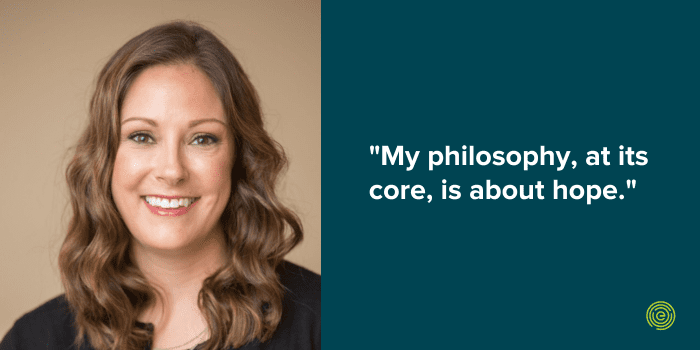 Essentially, my philosophy, at its core, is about hope. It's hope that things can be different, and it's hope that, if you keep showing up and doing the work, that you can change your own life and change your own circumstances. It sounds simple but when enacted, is so powerful.
HOW IS RECOVERY CHANGING?

Joanna: We recently hosted a Cake Night at Bellwood. In the past, the focus was primarily on sobriety from substances, but that night we had one woman stand up and say, "I'm five days in recovery from self-harm and that's the longest I've ever gone." We also had others say, "I'm in recovery from the symptoms of OCD and even being here and shaking hands or engaging with other people, that's being in sobriety for me."
With that, I'm really proud of the work we've done here at Bellwood in that we've opened up the definition of recovery beyond drugs and alcohol. It's also about mental health and wellbeing. This concept is individually defined, and that's what makes our community so beautiful and affirming – each person can determine what it means to have a life well lived.
WHAT MAKES BELLWOOD A UNIQUE PLACE TO SEEK TREATMENT?

Joanna: Our team embraces people where they are at when they ask for help. We see beyond the symptoms or the behavior and truly seek to understand what happened for folks, and what their goals are beyond treatment. No matter the diagnosis, clients have similar stories.
Perhaps there's an underlying mood disorder or struggle with emotional regulation. Folks often have a hard time coping with the stressors of their lives and, understandably, drugs and alcohol are going to make that feel better. At Bellwood, we recognize that people use a variety of things in an attempt to feel better: pornography, sex, love, work, gaming or food. There are many, many different ways to numb out.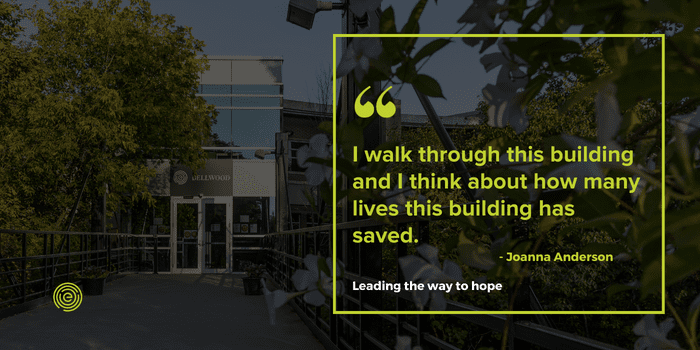 And so, tying it back to recovery, it's about learning the skills to remain present in your own life and building a life that you don't feel like you need to escape from or numb out from. And that's why a major focus of our program is learning and integrating DBT skills. DBT teaches mindfulness. It teaches you to just observe your thoughts and not judge them. It teaches you to be able to sit with those difficult emotions and 'ride the wave'. You can have a thought, but you don't have to act on it.
WHY IS BELLWOOD'S CONCURRENT PROGRAM SO EFFECTIVE?

Joanna: We've never seen mental health and addiction as separate here at Bellwood. Our program has always been a concurrent program with the recognition that concerns with mood, such as anxiety or depression, are often the drivers of other symptoms. After many years of doing this, we have come to see that for a lot of people the alcohol, drugs, food, sex, etc. is not the problem – it's the solution.
We've always treated addictions and mental health concurrently – that is, together, at the same time – and I think that's a big part of what's made Bellwood different. And no matter what, we'll work with folks as long as they're willing to show up and do the work. When people are not met where they're at, it causes shame. And shame is the thing that keeps people stuck. We've had very strong, positive feedback from our clients that that is what makes Bellwood different, and it's what has helped them be successful in their recovery journey.
IS THERE A MOMENT IN YOUR CAREER WHEN YOU THOUGHT "THIS IS WHY I LOVE DOING WHAT I DO?"

Joanna: When I was the Clinical Director, we used to host Cake Nights quite often. Hearing people's stories of what they went through, what brought them to rehab, the fortitude and perseverance that it took to make it through the program, and the work they continue to do now that they're back in their homes and communities is quite moving.
Another moment is a client's graduation. Our clients are often exhausted or defeated on their first day. Sometimes people will require detox. For some, it's probably the most terrifying day of their life. Contrasted to then see people at the end of their stay here is quite profound. Clients look not only physically different but spiritually and mentally different too. Every time I go to graduation, I cry. Every single time.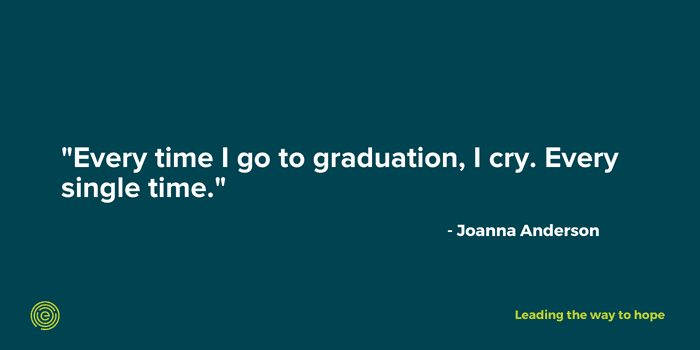 I am also stuck by how much courage our clients have to walk through our doors. There are so many people who have the same or similar struggles, who don't reach out for help or who don't change. The difficult and courageous choice to seek treatment is where we see the impact on family generations. You repeat whatever you don't address.
While witnessing client graduations, I think "Wow, you took your power back. You changed this narrative. You changed the trajectory of your family and of your children's family and of your grandchildren's family." And so, watching people step into their power and make those kinds of choices, it's deeply moving. It really is.
AND WHAT ARE SOME OF THE HARDEST MOMENTS YOU'VE HAD?
There have definitely been some days where I have felt overwhelmed. As you can imagine, COVID presented a myriad of challenges for our organization. It was very difficult for some time to find staff. And as we all saw, while the need for support and mental health and addiction treatment was increasing, healthcare's ability to respond was decreasing.
When I have days like that, I will go on a walk. I walk this building and I think about how many lives this building has saved. That's honestly what I do when I'm having a hard day, or I'm in my own head, or I need to reset my focus.
WHERE DO YOU WANT TO SEE THAT CONVERSATION AROUND RECOVERY GO FROM HERE?
Joanna: We've started to address the stigma surrounding mental health and addictions. We still have a lot of work to do, but we've certainly started to open up the conversation.
I'd like to see conversations around recovery lead to people feeling able to access help easily and readily. Opening up the conversation is one thing, but we haven't built the system capacity to facilitate all the people talking and opening up.
People can talk about their anxiety or their depression, substance use, eating disorder, or self-harm, but we need to take the next step – to put the infrastructure into the system now for people to be able to access help in a timely way.
It's part of the reason why we're opening a youth program: because, when you listen to the stories shared here, a lot of people will tell you that it was in their adolescent years that they started to feel misunderstood. Feelings of not belonging, not fitting in, having no one to talk to, or being bullied are often the precursors to experimenting with substances.
It gives me hope to see that younger generations are more willing to open up conversations about mental health and recovery, to acknowledge what they're thinking and feeling, and to seek help for it.
When I went that first cake night, I was with a friend who said, "I wonder what my family would have been like if my dad could have gone to a place like this."
That was when it really dawned on me that the work, we do here doesn't just impact the person, it changes families. It changes communities. It allows people to go back to work. It allows them to show up as a friend, and to get back to contributing to their communities.
The last step in the 12 steps is "Now that you've learned these things, go and share them with others." We focus on that a lot with Thrive, our recovery community. We have an incredible alumni community who remain very involved with Bellwood. Having the opportunity to speak with somebody who has completed the program and is actively doing the work in recovery can have a profound impact. It allows people to say, "Well, if there's hope for that person, there could be hope for me."
WANT TO TALK TO US ABOUT TREATMENT OPTIONS?
Please contact us at 1-888-767-3711 if you or a loved one is struggling with an addiction and/ or a mental health issue.