A Q&A about EHN Online's virtual programs to treat addiction and mental health disorders.
From trivia night to yoga class, we do more online than ever before. But should therapy be one of them? How effective is virtual treatment for addiction and mental health disorders? How does it work? And who is it right for?
For answers, we talked to EHN Canada's Director of Quality and Special Projects, Lorena Stewart. We asked her about EHN Online's Intensive Outpatient Programs (or IOPs), our virtual treatment options for those struggling with addiction and/or mental health disorders.
Here is what she had to say.
CAN YOU TELL US ABOUT YOUR ROLE HERE AT EHN CANADA?

Lorena: I joined EHN Canada in January 2023, as the Director of Quality and Special Projects. Currently, I am supporting Operations in the Intensive Outpatient Programs (or IOPs).

WHO MIGHT BENEFIT FROM AN IOP?

Lorena: Outpatient Services has three Intensive Programs: Substance Use, Mood and Anxiety, and Workplace Trauma. In addition to our three Intensive Programs, we have the Healthy Minds Youth Program and provide individual counselling.

The Substance Use Program is for people who are experiencing concern and negative consequences related to their substance use. These clients examine the way and the why they use substances.

The Mood and Anxiety Program is for clients experiencing mental health concerns, focusing on building constructive and positive thoughts and behaviours.

The Workplace Trauma Program supports first responders, military, and healthcare workers exposed to traumatic experiences in their workplace resulting in psychological stress, and increased substance use as a coping mechanism. This program provides a concurrent approach to support wellbeing.
Outpatient Services provide virtual care and support to clients who may have barriers to treatment, and there's a big convenience factor. For example, parents who are unable to leave their children or those who do not want to (or simply cannot) step outside of their lives for treatment.
There's also the cost factor. IOPs cost significantly less than going to an Inpatient facility, so if paying for treatment is a concern, this may be a good option.

HOW DOES SOMEONE GET STARTED WITH AN IOP?
Lorena: When someone calls us for help, we want to provide options and the best fit for their concern. We recognize that reaching out for help is a big step; our mission is to walk this journey with the client. Our admissions staff completes an assessment with the client and provides comprehensive Program information including what online therapy is, what is expected of the client, and the support provided throughout the treatment.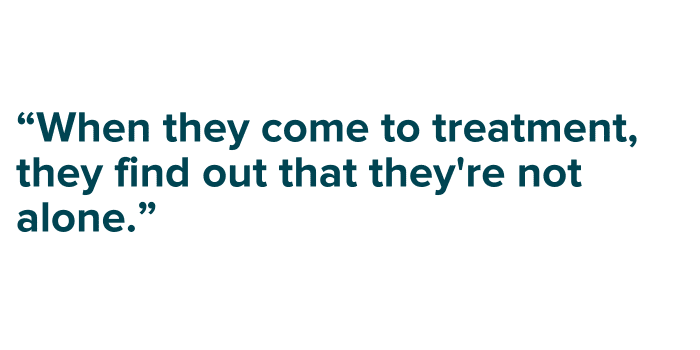 We are very purposeful in the way in which we communicate with our clients so that it's not overwhelming. New clients are orientated to virtual care including the Wagon App and using Teams or Zoom.

AND WHAT ABOUT ONCE TREATMENT STARTS?
IOPs are eight weeks of intensive treatment with a mix of group and individual sessions. Each week includes four days of group therapy sessions; each group therapy session is two hours along with an individual 50-minute session with a counsellor for a total of nine hours of treatment per week.
A typical group session might begin with a grounding technique to support mindfulness and be present in the session. There are check-ins for clients to share, followed by an educational component, based on a particular topic or technique, and then open discussion time
ARE CLIENTS STILL ABLE TO MAKE A DEEP CONNECTION AND BUILD COMMUNITY EVEN THOUGH IT'S A VIRTUAL PROGRAM?
Lorena: For sure. I witnessed a group in which the clients had been together for an 8-week intensive program. Within that group, four people were graduating and were moving into the second phase, Aftercare, 10 months of group therapy once a week for two hours.
What I saw in that group were clients who had connected through this journey and wanted to stay connected. They talked about setting up their WhatsApp connection, so that they could continue to support each other after they had completed their IOPs.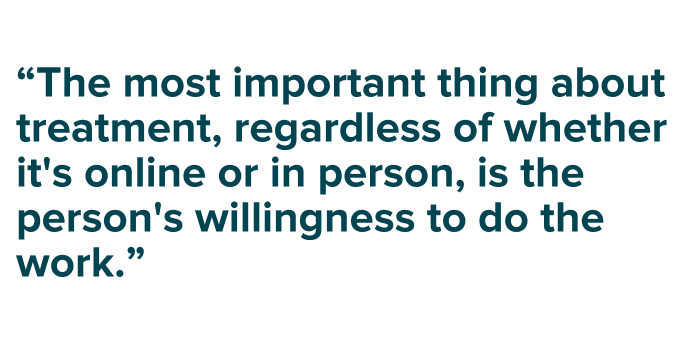 We know that for people who have substance use disorders the importance of having a community with whom to walk this recovery journey. It is about making those connections, and staying around like-minded people. So even though people are in different time zones, I saw this connection happen very organically. It spoke to the quality of the treatment happening and the connections they were being made.
You get out of it what you put into it. How these sessions are provided really allows for that connection to happen. What I see is how connected they are. It's the people who are there, their willingness to practice the principles that they're being taught, and really coming to a place of understanding.

What I've seen is people feel that they are the only ones – it is their individual suffering. When they come to treatment, they find out that they're not alone. It is very much that connection.

DO YOU THINK ALL THE ONLINE INTERACTIONS DURING PANDEMIC LOCKDOWNS TAUGHT US HOW TO HAVE VIRTUAL ENGAGEMENT THAT IS MORE MEANINGFUL?
Lorena: Yes. While our outpatient programming was running well before the pandemic, I think it opened people's perception of how we do things. It was very normalized. We were all forced to work from home, to communicate online, and it was a real opportunity to see that you can see your physician online, you can do therapy online, and for many, it actually makes it much easier. I think it has broken down some barriers for sure.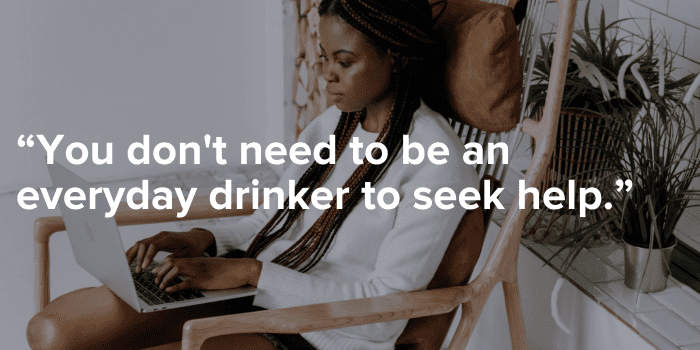 THERE'S SOMETIMES A NEGATIVE PERCEPTION ABOUT ONLINE TREATMENT. HOW WOULD YOU ADDRESS PEOPLE WHO HAVE CONCERNS ABOUT DOING VIRTUAL TREATMENT?
Lorena: That's a really good question. The most important thing about treatment, regardless of whether it's online or in person, is the person's willingness to do the work. I think it's easy to just sit back, not engage, don't follow through – but then it's not going to work. The same can be said for an inpatient facility. If you're not willing to do the work there, it's again not going to work.
This is an amazing program with an amazing team. The clinicians are highly trained and skilled.
What is unique about our program and the care that we provide is that it is across the nation, reaching clients in their own homes where they can continue to live, potentially work if they're able to, and be there for their families.

I think people would be surprised about the experience I shared, about what it looks like when people are completing the 8-week program, how the people in that program are talking to each other, and the support they're providing each other. It was a beautiful thing to see.
The research supports that IOPs are very effective. Overwhelmingly we are seeing a decrease in symptomology related to depression, a decrease in symptoms in cravings for substances. But again, you've got to be willing to do the work. And the question is, are you willing to do the work?

THE CLICHÉ OF THERAPY – THE COUCH, THE SILENT THERAPIST – IS VERY FAR FROM THE REALITY. WHAT IS THE EXPERIENCE OF TREATMENT, BOTH ONLINE AND IN PERSON, REALLY LIKE?
Lorena: I think people would be surprised about the work when we talk about therapy. What is the work of therapy? What is the topic of the day? And how do you relate to that topic? And then the willingness to share what it looks like in your life, how you apply this new coping strategy versus picking up a drink or a drug or whatever the choice habit of choice is. What we do well is that we provide best-practice, evidenced-based, informed-care educational elements to each client throughout our programming. It is a well-thought-out and purposeful program.

DO YOU THINK THERE'S A PREVENTATIVE ELEMENT IN DOING AN IOP, FOR THOSE WITH MILD TO MODERATE SYMPTOMS WORRIED THEY WILL ONLY GET WORSE?
Lorena: I think it's really clear in the literature that substance use disorder is a progressive disease. If people are finding that substance use is interfering with their relationships, their jobs, or how they're feeling about themselves, then that's a really good time to ask, "Do I need help with this?" We know and research shows that it does get worse. The symptomology does get worse. So no, you're not an everyday drinker, but you don't need to be an everyday drinker to seek help.
There's that sense of "I know it's not good right now and it's really hard." It's still extremely hard to reach out for help. I always say if you're reaching out for help, it's not an accident. You know within yourself you have a problem. And so really listen and be open in that moment to get the help that you need.
Rock bottom looks different for everybody. For some people, it's "I'm sick and tired of being sick and tired," and for others that rock bottom is more like what you see in the movies.

DO YOU SEE A DECREASE IN STIGMA AROUND ACKNOWLEDGING MENTAL HEALTH AND ADDICTION? PEOPLE TALKING MORE OPENLY ABOUT IT?
Lorena: I think there's a there is certainly a decrease in stigma. I love Gen-Z, that are sober-curious, and there are bars now that are alcohol-free. That's really great. And I think it is a result of social media and people being open about their sobriety. It is making a difference.
If you're asking yourself, "Why am I having a problem with this", know that there is another way. There is hope, there is a whole new way of life waiting for you. Be courageous and call us.
LEARN MORE ABOUT EHN ONLINE AND IOPs
If you think a virtual treatment program might be the right option for you, can find out more about our options here or call us at 1-866-963-1483. We're happy to help.