Opinion by EHN Guest Writer
Written by Lorelie Rozzano, an internationally recognized author and advocate.
Born on December 16, 1965, in Lagos, Nigeria, Mohammed Elewonibi recalls growing up in an alcoholic house, afraid and full of anger.
His father was an aggressive alcoholic, and some of Mohammed's earliest childhood memories are ones of fear. He was afraid in his own home, afraid for his mother, afraid for his brother, and afraid for himself. When a severe beating from his dad put him in the hospital, Mohammed's mother finally found the courage to say "enough!" and began making plans to keep her young sons safe.
At 11 years of age, Mohammed moved from Nigeria to Victoria, BC. It wasn't a smooth transition: growing up as a large Nigerian male in a predominately white, west coast Canadian city was not easy. Mohammed says all he ever wanted was to blend in with the crowd, but all he ever did was stand out.
He graduated from Victoria High School where he excelled at soccer and basketball. He received a scholarship and began his college career, where he first started to play football—subsequently winning the Outland Trophy for the most outstanding lineman in college football. Back in the day, Mohammed was flat-out tough. A college football standout weighing nearly 300 pounds. He could do it all. He played offensive lineman, played guard, played tackle. He was fast and mean—very fast, very mean, and very tough. But underneath that tough guy image he was sill that young fearful boy. In Mohammed's own words, "football players aren't supposed to be afraid."
Looking at Mohammed, you'd never know he was suffering. He worked hard not to show his fear, but he could never truly escape from it until he tasted alcohol. When under the influence of alcohol or drugs, for the first time in his life, Mohammed wasn't afraid. He quickly became a weekend warrior, drinking, using drugs, and reveling in his moments free from fear.
Despite living in fear, Mohammed continued to succeed on the football field by giving it his all.  He was a member of the NFL's 1991 Super Bowl winning team, the Washington Redskins. He played a season with the Philadelphia Eagles. He signed with the Buffalo Bills and even played with the Barcelona Dragons. This garnered a lot of attention. He was featured in Sports Illustrated and was on Monday Night Football. His life was the macho man's dream but it seemed everyone wanted Mohammed's life, except for himself. Mohammed felt like an imposter and his biggest fear was that someone would tap him on the shoulder and say "I know you're faking it."
Through it all, he drank hard, drugged hard, and crashed and burned hard. Ultimately, drugs and alcohol took a successful, respected professional athlete to a point of desperation and despair. He did many things of which he is not proud, and he knows he broke his mother's heart. He recalls stealing prescription medication from anyone's medicine cabinet that he could get his hands into. He even stooped so low, he pawned his prized Super Bowl ring to get high. It was then that he realized that he had fully lost control of his addiction and he knew his life had become unmanageable.
In 1996, after a serious knee injury, Mohammed checked into drug rehab where he attended meetings, connected with a support group, and managed to maintain his recovery for four years. As his NFL profession began to wind down, Mohammed found himself back in Canada where he began playing for the CFL and was named BC Lions Man of the Year in his second year with the club. As his career in the CFL continued to flourish, he stopped going to recovery meetings, began slipping back into old ways, and relapse was inevitable. Around that time, a fellow football player introduced him to crack: Mohammed tried it once and was hooked. The pills returned, the booze flowed, and his career tanked. Mohammed recalls vacationing in Mexico, where he crossed a line—by shooting heroin—something he swore he would never do.
At 35 years old, Mohammed once again found himself at his mother's house in Victoria, BC, suicidal and broken. To this day, Mohammed credits his mother with saving his life. On February 3rd, 2000, she packed his bags and drove him to Edgewood Treatment Centre in Nanaimo, BC. As the days and weeks passed, Mohammed immersed himself in the treatment program's safe, supportive, and structured environment. No one promised him roses or that life would be easy, but through hard work and dedication, Mohammed learned valuable recovery skills and counted each day without drugs and alcohol as a success.
Mohammed has rebuilt himself, putting the pieces back together from a very public life and career gone awry. Since achieving his own recovery, Mohammed has dedicated his life to helping others do the same. He has been in recovery for over 18 years, with a decade and a half of public speaking in schools, working as a probation officer with street gang units, and in a treatment program inside a prison. He also has many years of working with at-risk, poverty-stricken members of society.
These days Mohammed Elewonibi wouldn't scare a fly. In fact he's way more likely to choke up with emotion and get teary than he is to snarl at you. But make no mistake, there's still plenty of fight left in the 53-year old Super Bowl champion. Today, Mohammed's fight is against mental health and substance use disorders—his own, and those of the individuals with whom he works daily—and he's winning!
Life has been a roller coaster for Mohammed: physical abuse from his father, moving to a new country, sports injuries, drugs, alcohol, having children, new jobs, moving, fame, money, and a marriage breakdown—but Mohammed says his heart is open now in a way that it wasn't before. Every positive change in Mohammed's life has come from allowing people to help him. While Mohammed still sometimes feels that he is weak when he needs to ask for help—he knows that it's not true. The truth is that showing vulnerability and asking for help requires strength and courage.
Today, Mohammed works as a Clinical Counsellor at Edgewood, the same facility where he started his own recovery 18 years ago. He shares his experience and newfound insights with many people. He wants you to know that recovery is possible for anyone. When you embrace your emotions, you experience growth, wisdom, and inner peace. Mohammed has learned that by developing the one most important relationship in life—one's relationship with oneself—that he can let go of fear and genuinely love himself and others. He brings passion, heart, and soul to everything he does. He is most proud of the relationships and mutual respect that he has developed with his family, friends, and colleagues. Miracles do happen and recovery has been good to Mohammed.
Hear Mohammed Talk at Our Community Forum
We invite you to join us for Edgewood's Open House and Community Forum, where Mohammed will be giving a talk, "Tackling Addiction." The date is Thursday, April 25th and admission is free, but registration is required—please register now!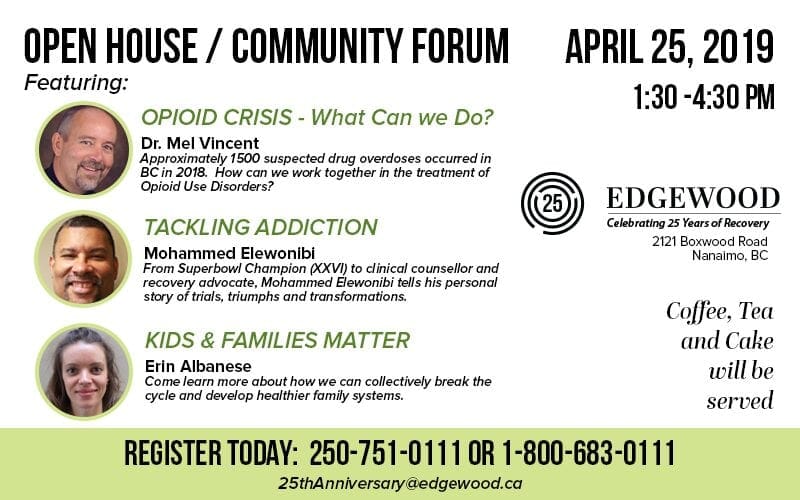 We Can Help You
If you would like to learn more about the treatment programs provided by EHN Canada, enrol yourself in one of our programs, or refer someone else, please call us at one of the numbers below. Our phone lines are open 24/7—so you can call us anytime.
1-866-926-4196 for Bellwood Health Services in Toronto, ON
1-587-602-0266 for EHN Sandstone, in Calgary, AB
1-866-946-4806 for Edgewood Treatment Centre in Nanaimo, BC
1-866-627-8604 for EHN Whiterock, in Surrey, BC
1-866-965-4345 for Clinique Nouveau Départ in Montreal, QC