Addiction and Mental Health Treatment Rehab Facility
Bellwood Health Services Remains Open for Residential Patients
Bellwood Health Services is an essential healthcare facility and is accepting patients safely. As long as our patients need help, we will help them and take additional burden off public emergency rooms. We continue to go above and beyond Public Health recommendations to maintain the safety of our facility.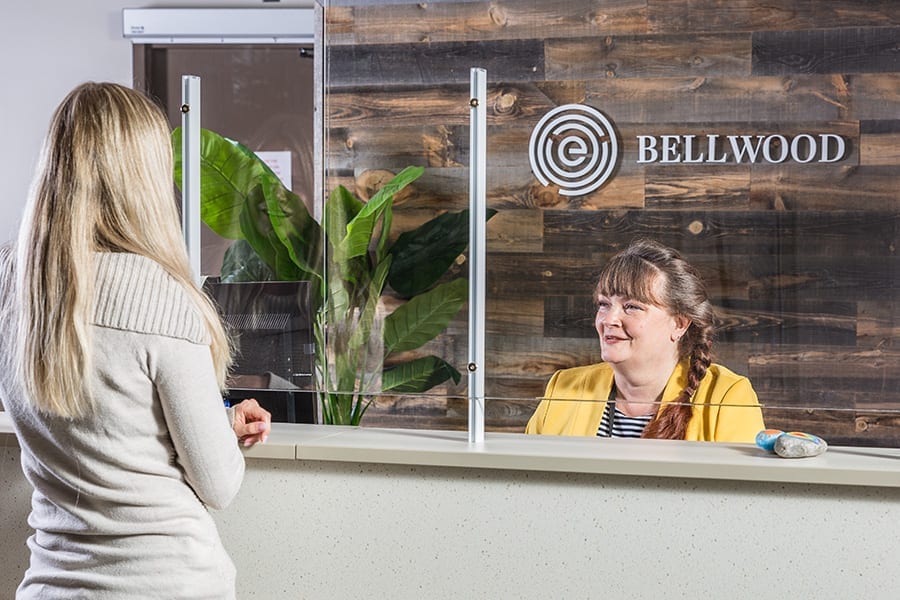 Restoring Hope, Rebuilding Lives
At Bellwood, we have been treating addiction and related mental health disorders for over 30 years. Our abstinence-based treatment model is rooted in the work of our co-founder, Dr. Gordon Bell, a pioneer in the treatment of addiction in Canada. Bellwood as an addiction treatment rehab centre is defined by our long-standing experience, combined with our commitment to excellent patient care.
Addiction impacts every area of a person's life. We believe that treatment should therefore be holistic, and should address not only our patients' psychological wellbeing, but also their physical health, social world, and spiritual life. This comprehensive biopsychosocial approach is reflected in our inter-professional team of counsellors, doctors, nurses, occupational therapists, nutritionists, family therapists, and physical health staff. We strive to be strengths-based in our approach, believing that patients possess strengths and skills that can be built upon to serve their recoveries.
An Innovative Space in Toronto Designed For Recovery
Bellwood's patients benefit from our serene and secluded setting. This oasis of calm in the heart of Toronto gives patients a chance to heal – to take a break from their lives, gain some perspective, and begin to put in place plans and practice the skills that will be essential to their recoveries.
Our primary goal is to restore hope in our patients' lives. Our committed and compassionate staff take incredible pride in their work, in the process of helping our patients set the foundations for healthier, happier, and more meaningful lives.
At Bellwood, we realize that aftercare is critical for successful long-term addiction recovery. That's why one year of aftercare is included for all eligible patients who complete our residential rehab programs. We also provide the option of online aftercare through our EHN Online (Powered by Wagon) Outpatient Clinic.
Bellwood Health Services includes many different amenities while also providing a safe and private environment that is conducive to helping patients focus on their addiction treatment and recovery. Take a tour of our facility below.
If you would like to enrol in one of our treatment programs, have any questions, or would like to book a facility tour, please call us at 1-800-387-6198. Our phone lines are open 24/7—so you can call us anytime.
World-Class Inpatient Addiction and Mental Health Treatment Programs
We are open, honest and willing. We understand the many issues behind addiction, and how difficult and complex it can be to treat. This is why we continually strive to provide the best treatment in the country. Bellwood's programs are accredited with Exemplary Standing by Accreditation Canada, which is the highest level of safety and quality certification awarded to healthcare facilities.
At Bellwood, we believe it is important to measure our successes. Our research shows that 83% of our substance use patients who participate in our comprehensive treatment program and who also enroll in aftercare supports are successful in their recovery. Our most important validation comes from our patients themselves: 97% of patients who have completed a Bellwood program say they would recommend us to others who are struggling with an addiction. Our continuum of care is key to long term recovery.
Bellwood supports peer-led groups, such as 12 Step and SMART recovery. Peer-led groups have many benefits, including promotion of self-responsibility, world-wide fellowship, and a structured safe environment that has been shown to reduce the risk of relapse.
We are here to support and guide you, not just for a week, a month, or a year, but for the rest of your life in recovery. Give us a call today.